Philips Sleep Apnea Machine Caused Pulmonary Fibrosis, Other Lung Problems: Lawsuit
August 05, 2021
By: Irvin Jackson
Following a massive Philips sleep apnea machine recall issued in June, a growing number of class action lawsuits have been filed on behalf of consumers who were exposed to gas and foam debris released into the air pathways of various different CPAP, BiPAP and ventilators. While most of those complaints seek compensation for replacement of the defective devices and medical monitoring to detect future health problems, a recently filed lawsuit indicates use of a recalled Philips DreamStation BiPAP machine caused a South Carolina man to suffer a variety of serious respiratory problems.
In June 2021, Philips announced that more than 3.5 million CPAP, BiPAP and ventilator machines sold since 2009 may have been releasing toxic chemicals and substances directly into the lungs of individuals who rely on the devices for treatment of sleep apnea and other conditions.
The issue stems from a defective polyester-based polyurethane (PE-PUR) sound abatement foam used to reduce noise and vibrations while using the CPAP and BiPAP machines. However, the manufacturer is now telling consumers that the foam may break down, releasing black debris, chemicals and gases directly into the air pathways of the breathing machines.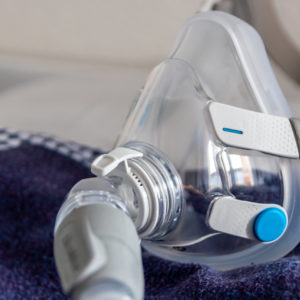 Philips CPAP Recall Lawsuit
Given the serious health risks linked to the problem, consumers who rely on the machines for sleep apnea and other non-life sustaining therapy are being urged to immediately stop using the devices and contact their doctors to discuss treatment alternatives.
Nearly a dozen Philips sleep apnea class action lawsuits have already been filed on behalf of individuals now left a worthless machine, seeking damages to cover the replacement costs and medical expenses associated with monitoring for injuries that may develop in the future.
In one recent complaint (PDF) filed in the U.S. District Court for the District of Massachusetts, Bartholomew McGuire indicates that exposure to the debris and chemicals released by the DreamStation sound abatement foam may have caused a variety of severe lung problems, including bronchiectasis, honeycomb of the lungs, early pulmonary fibrosis and other respiratory issues.
McGuire purchased a DreamStation BiPAP machine after he was diagnosed with sleep apnea in 2020, and indicates his device was among those found to contain the defective sound abatement foam.
"Philips did not communicate any information about the serious health risks posed by its PAP Machines to anyone except its shareholders until June 14, 2021, via the Recall Letter," the lawsuit notes. "It is unclear when the Defendants first learned of the Defect, but they admit to receiving 'user reports' and complaints about the Defect and to conducting testing that confirmed the potentially serious health consequences from the defective PE-PUR sound abatement foam. Based on the recall year range, Philips has known about the Defect for years, meaning that the Defendants have known consumers were exposed to and experiencing the physical symptoms caused by their PAP Machines."
In addition to the injuries, McGuire's complaint also includes class action claims similar to those presented in other lawsuits filed after the sleep apnea machine recall; alleging Philips has failed to offer replacement machines, refunds for the recalled machines, and has not offered to pay for new machines, leaving potentially millions of people without proper breathing devices, which can cost in the neighborhood of $1,000.
Given similar allegations raised in complaints filed throughout the federal court system, a panel of federal judges has been asked to centralize and consolidate that Philips sleep apnea machine litigation before on judge, including all class action complaints as well as individual injury claims that may be brought on behalf of consumers diagnosed with cancer, respiratory issues or other health problems that may have resulted from exposure to chemicals and debris released by the PE-PUR foam.
"*" indicates required fields