Philips DreamStation Auto CPAP Caused Bronchitis, Pneumonia and Other Side Effects, Lawsuit Alleges
October 06, 2021
By: Irvin Jackson
According to allegations raised in a product liability lawsuit filed last week, regular use of a recalled Philips Respironics CPAP machine caused a California woman to develop chronic bronchitis, pneumonia, and other respiratory side effects, after breathing chemicals from deteriorating sound abatement foam.
The complaint (PDF) was filed by Claudia Hogan in the U.S. District Court for the Northern District of California, indicating that Koninklijke Philips N.V. sold sleep apnea machines with a defective polyester-based polyurethane (PE-PUR) foam that was intended to reduce sounds and vibrations from her DreamStation Auto CPAP device.
After using the sleep apnea machine nightly between May 2017 and June 2021, Hogan indicates she began to experience chronic bronchitis, COPD, sarcoidosis, pulmonary hypertension, severe headaches and was diagnosed with pneumonia at least three times, which has already resulted in substantial medical expenses and injuries. In addition, after learning that the Philips DreamStation Auto CPAP foam deteriorates and releases dangerous gasses and chemicals, Hogan indicates that she has experienced anxiety about other long-term side effects and health risks.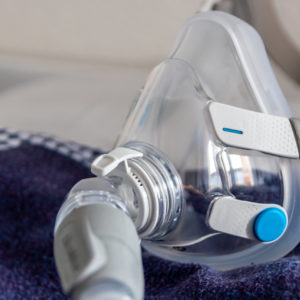 Philips CPAP Recall Lawsuit
The DreamStation device used by Hogan was among the estimated 3.5 million CPAP, BiPAP and mechanical ventilators recalled by Philips in June 2021, following years of users reporting they were finding black particles and debris in the machine, face masks or tubing. The manufacturer ultimately acknowledged the PE-PUR sound abatement foam was breaking down and degrading, warning consumers to immediately stop using the machines for sleep apnea treatment due to the serious health risks.
Lab analysis has found the degraded CPAP foam may release a number of harmful chemicals, including toluene diamine, toluene diisocyanate and diethylene glycol. In addition, several Volatile Organic Compounds (VOC) have been identified from testing.
Hogan indicates she never would have purchased the Philips DreamStation Auto CPAP if she had been informed about the risks associated with the device, yet the manufacturer continued to allow consumers to use the sleep apnea machines every night, long after discovering that the sound abatement foam may deteriorate and send particles into the air pathways.
"Defendants have not disclosed when they first discovered or received reports from users of their Sleep and Respiratory Care devices 'regarding the presence of black debris/particles within the airpath circuit (extending from the device outline, humidifier, tubing and mask),'" according to the complaint. "At a minimum, as a result of user reports, Defendants were aware of the off-gassing and degradation of the PE-PUR Foam used in the Recalled Devices at some point prior to the recall yet continued to manufacture and sell the Recalled Devices with such awareness. During this period, Defendants unreasonably and unjustly profited from the manufacture and sale of the Recalled Devices and unreasonably put users of the Recalled Devices at risk of development of serious adverse health effects, including organ failure and cancer."
The claim now joins a growing number of similar Philips DreamStation CPAP lawsuits being pursued in courts nationwide, alleging that users have been diagnosed with various types of respiratory injury and cancer following exposure to the chemicals from degraded PE-PUR foam.
Koninklijke Philips, N.V. generated over $23 billion in revenue last year, and is expected to face massive liability from lawsuits and CPAP machine settlements over the next few years. In an earnings report issued prior to announcing the recall, the company advised investors it had taken a provision of about $295 million to cover the costs of the recall, which will likely only cover a small fraction of the compensation and damages the company will ultimately be required to pay.
Daniel

August 11, 2022 at 10:36 pm

After submitting my application for an upgraded CPAP machine for my wife, it dawned on me that my wife 2 months ago was diagnosed with COPD . And that many years of using this machine could have caused or worsened this COPD disease that she just recently was diagnosed having.
"*" indicates required fields