DreamStation CPAP Recall Lawsuit Alleges Degraded Foam Caused Asthma, COPD and Throat Tumor
November 05, 2021
By: Irvin Jackson
According to allegations raised in a recently filed product liability lawsuit, exposure to Philips CPAP sound abatement foam, which degraded and released toxic particles directly into the machine's air pathways, caused a New York man to suffer a wide array of health side effects, including asthma, blood clots, respiratory problems and a throat tumor.
The complaint (PDF) was filed this week by Mark Edwards in the U.S. District Court for the Eastern District of New York, indicating that degradation of the Philips CPAP foam caused his need for hospitalization, surgery, and other damages.
A Philips DreamStation CPAP recall was announced earlier this year, impacting millions of CPAP, BiPAP and mechanical ventilator devices that contained a polyester-based polyurethane (PE-PUR) sound abatement foam, which was intended to reduce noise and vibrations caused by the machine. However, the manufacturer now warns that the foam can break down and release particles and gases which may be toxic and cause adverse health effects.
According to the lawsuit, Edwards purchased a Philips DreamStation Auto CPAP device in about February 2017, which he then used every night to help with his sleep apnea. However, about a year later, in January 2018, he began suffering respiratory problems, blood clots, headaches, nightmares and bouts of dizziness. That same month, doctors diagnosed Edwards with asthma, chronic obstructive pulmonary disease (COPD) and found a large tumor in his throat which needed to be surgically removed.
"Plaintiff has incurred substantial expenses for medical care and to replace the device," the lawsuit notes. "In addition, Plaintiff experienced breathing problems, surgeries, and hospitalizations during use of the Philips' recalled machine. Since being notified of the recall, Plaintiff has experienced anxiety concerning the serious health risks he is facing from possible exposure to offgassed or degraded PE-PUR Foam in the Recalled machines, including the machine used by Plaintiff."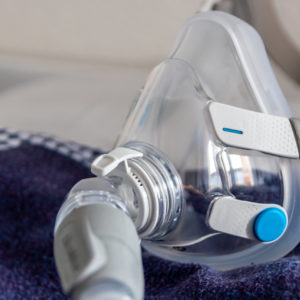 Lab analysis has found the degraded CPAP foam may release a number of harmful chemicals, including toluene diamine, toluene diisocyanate and diethylene glycol. In addition, several Volatile Organic Compounds (VOC) have been identified from testing.
Edwards' claim now joins a growing number of similar Philips DreamStation CPAP lawsuits being pursued in courts nationwide, many including allegations that users have been diagnosed with various types of respiratory injury and cancer following exposure to the chemicals from degraded PE-PUR foam.
Last month, the U.S. Judicial Panel on Multidistrict Litigation ordered all federal Philips CPAP class action lawsuits consolidated before one judge in Western Pennsylvania for pretrial proceedings.
Such consolidation is common in complex product liability litigation, where a large number of claims have been presented by former users of the same product, alleging similar injuries. However, the panel only consolidated class action lawsuits, and left it unclear whether individual lawsuit claims, like Edwards', would be added to the multidistrict litigation in the future.
Centralizing the DreamStation CPAP claims is expected to help avoid duplicative discovery, prevent contradictory rulings from different judges, and serve the convenience of the parties, witnesses, and the courts. However, if the manufacturer fails to reach settlement with owners of recalled CPAP machines, each individual case may later be remanded back to the U.S. District Court where it was originally filed for a separate trial date.
"*" indicates required fields