Recalled DreamStation CPAP Device Caused Respiratory Problems, Irritation, Inflammation, Lawsuit Claims
September 29, 2021
By: Irvin Jackson
According to allegations raised in a recently filed product liability lawsuit, use of a recently recalled Philips DreamStation CPAP device caused a man to suffer a host of respiratory and asthma-like problems, after exposure to chemicals and debris from the sound abatement foam used to reduce vibrations and noise caused by the sleep apnea machine.
Michael Tobin filed the complaint (PDF) in the U.S. District Court for the Western District of Texas on September 27, naming Koninklijke Philips and its North American subsidiaries as defendants.
Philips recalled an estimated 3.5 million DreamStation, CPAP, BiPAP and mechanical ventilators in June 2021, following years of users reporting that they were finding black particles and debris in the machines, face masks or tubing. The manufacturer ultimately acknowledged that polyester-based polyurethane (PE-PUR) sound abatement foam used in the devices was breaking down and degrading, releasing debris directly into the machine's air pathways.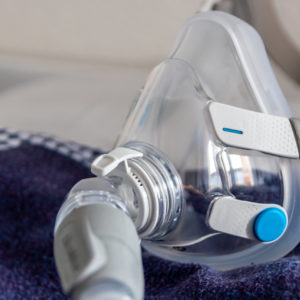 Philips CPAP Recall Lawsuit
As a result of the serious health risks for consumers faced from the recalled DreamStation CPAP devices, the FDA urged owners to stop using the machines for sleep apnea therapy and other non-life sustaining treatments.
Lab analysis has found that the degraded CPAP foam may release a number of harmful chemicals, including toluene diamine, toluene diisocyanate and diethylene glycol. In addition, several Volatile Organic Compounds (VOC) have been identified from testing.
According to the lawsuit, Tobin, of Texas, was diagnosed with sleep apnea and bought a DreamStation CPAP device in July 2019. The lawsuit indicates Tobin would have never purchased the device if he had known it contained substances which could cause respiratory irritation and possibly cancer as well.
"After using the machine, Plaintiff began to suffer irritation and inflammation to his nasal passages and airways, skin and eyes, headaches, and asthma-like symptoms, including difficulty breathing," the lawsuit states. "Because of the recall, Plaintiff has been forced to cease the use of the device, and does not have a replacement machine readily available."
The first information released by the company about the Philips DreamStation CPAP foam problems was not sent to users of the machines, but rather included in a statement for investors in April 2021, two months before consumer recall was announced. However, at that time, Philips reassured investors that it had already developed a second-generation device, known as the DreamStation 2, which does not experience the same issues with degrading sound abatement foam.
On June 30, the FDA issued a safety communication, urging consumers who were not relying on the devices for life-sustaining therapy to immediately stop using the recalled sleep apnea machines and contact their doctors to decide on alternative treatments for the condition.
Despite issuing the recall in late June, Philips only announced a repair and replacement plan for affected devices earlier this month, and indicates that it could take up to a year for the company to service all of the affected devices.
Tobin's claim now joins a growing number of similar Philips DreamStation CPAP device lawsuits being pursued in courts nationwide, alleging that users have been diagnosed with various types of cancer and respiratory injury following exposure to the chemicals from degraded PE-PUR foam.
Koninklijke Philips, N.V. generated over $23 billion in revenue last year, and is expected to face massive liability from lawsuits and CPAP machine settlements over the next few years. In an earnings report issued prior to announcing the recall, the company advised investors it had taken a provision of about $295 million to cover the costs of the recall, which will likely only cover a small fraction of the compensation and damages the company will ultimately be required to pay.
"*" indicates required fields