Chemicals in Firefighter Foam Can Suppress Immune System's First Line of Defense: Study
February 21, 2023
By: Irvin Jackson
As a growing number of firefighter cancer lawsuits continue to be filed against manufacturers of aqueous film forming foam products used to combat fuel-based fires, the finding of a new study highlights how toxic "forever chemicals" found in a variety of firefighting equipment and products makes the immune system weaker and the body more susceptible to disease.
Per- and polyfluoroalkyl substances (PFAS) have been included in firefighter foam and safety equipment for decades, due to the ability to resist heat, grease and water. However, the chemicals are known to build up in the human body and environment, and have been linked to a myriad of serious health risks.
In a new study published this month in the Journal of Immunotoxicology, researchers indicate that PFAS chemicals in firefighter foam and other products reduce the body's ability to order white blood cells to kill invading organisms. This could lead to the body's immune system being less responsive to invaders, researchers warn.
The findings may provide compelling evidence to explain why firefighter foam may cause cancer, and play an important role in pending lawsuits brought over the development of testicular cancer, kidney cancer, pancreatic cancer, bladder cancer and other injuries. Hundreds of former firefighters already claim that chemical manufacturers like 3M Company and DuPont knew or should have known about the PFAS cancer risk, yet thet withheld important safety information and warnings for decades.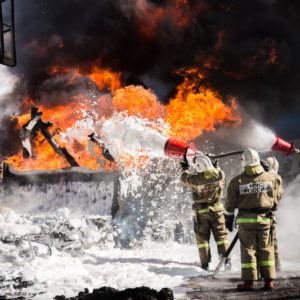 Researchers in this study looked at the effects of PFAS exposure on cultured human cells and Zebrafish larvae, and found exposure to some of the toxic chemicals, especially a compound known as GenX, may suppress an immune system response known as the neutrophil respiratory burst. Neutrophils are a form of white blood cell, a key part of the immune system, which attack invading pathogens.
The neutrophil respiratory burst is considered one of the body's first lines of defense against invading organisms.
While GenX PFAS chemicals were designed specifically to replace older, more toxic compounds, it had the strongest association with neutrophil respiratory burst suppression, the researchers warned.
Researchers said the study is the first of its kind to study how PFAS chemicals can inhibit the respiratory burst.
"The study here is also the first to show that GenX suppresses innate immune function in three different models from two different species," the researchers noted. "With the present findings, the fact that the respiratory burst can be inhibited by xenobiotics has been further cemented."
2023 Firefighter Foam Chemical Lawsuit Update
Given common questions of fact and law raised in firefighter lawsuits against chemical manufacturers and other companies involved in the sale of firefighting foam, the litigation is currently centralized before one judge in the U.S. District Court for the District of South Carolina, for coordinated pretrial as part of a federal MDL or multidistrict litigation.
According to a docket report (PDF) released by the U.S. Judicial Panel on Multidistrict Litigation (JPML) on February 16, 2023, there are currently more than 3,700 lawsuits included in the MDL. In addition to firefighter lawsuits over the PFAS cancer risk, the litigation also includes a number of complaints brought by local water suppliers over the costs associated with removing PFAS chemicals from their water systems, as well as PFAS water contamination lawsuits now being pursued by individuals who lived in areas known to have high levels of the chemicals in their water, usually around military bases, airports and other firefighter training locations, where the chemicals seeped into the water supply.
As part of the coordinated management of the growing litigation, the U.S. District Judge presiding over the cases has established a "bellwether" program, where a small group of water supplier lawsuits are being prepared for early trial dates before lawsuits over the firefighters cancer risk from AFFF are scheduled, to help gauge how juries are likely to respond to certain evidence and testimony that will be repeated throughout the claims.
"*" indicates required fields