Firefighter Foam Exposure Led To Skin Cancer, According To Product Liability Lawsuit
October 16, 2020
By: Irvin Jackson
Toxic chemicals in aqueous film-forming foam (AFFF) caused a Texas firefighter to develop skin cancer, according to allegations raised in a recently filed product liability lawsuit.
The complaint (PDF) was filed by Gilbert Gonzalez in the U.S. District Court for the District of South Carolina on October 5, indicating he was directly exposed to the firefighting foam during training exercises and while fighting actual fires.
Gonzalez was a career firefighter in Benavides, Texas, when the AFFF was used that contained toxic per- and polyfluoroalkyl substances (PFAS), which are chemicals known to build up in the body and increase the risk of cancer and other health problems.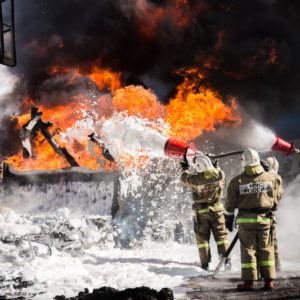 The lawsuit presents claims against dozens of chemical and safety equipment manufacturers as defendants, including 3M Company, Buckeye Fire Equipment Company, Chemguard, Inc. Chubb Fire, LTd. Du Pont, Kidde and others.
"Exposure to Defendants' AFFF has been linked to serious medical conditions, including, but not limited to kidney cancer, testicular cancer, liver cancer, testicular tumors, pancreatic cancer, prostate cancer, leukemia, lymphoma, bladder cancer, thyroid disease and infertility," according to allegations raised in the complaint, which maintains that information about the risks were withheld from firefighters and regulators.
The firefighting foams were widely for years at military bases and by some civilian firefighting organizations in response to certain fuel-based fires, but versions containing PFAS were phased out in recent decades.
The toxic chemicals are projected to take thousands of years to degrade, and past studies have shown their ability to enter and stay in the environment and human body through the air, dust, food, soil, and water. Previous U.S. Centers for Disease Control and Prevention (CDC) studies have shown PFAS chemicals primarily settle into the blood, kidney and liver, and could likely be detected in the blood of 98% of the U.S. population.
The complaint joins other firefighting foam lawsuits, which have been filed over testicular cancer, kidney cancer, pancreatic cancer and other injuries.
Given common questions of fact and law raised in the litigation, all cases filed throughout the federal court system are currently centralized in the U.S. District Court for the District of South Carolina for coordinated discovery and pretrial proceedings.
John

October 24, 2022 at 3:31 pm

I was drenched from head to toe in AFFF in 1992 when the fire sprinkler system on the USS Saratoga was set off in the hangar bay. I knew then that the stuff was nasty but they told us not to worry about any ill effects.
"*" indicates required fields