Follicular Lymphoma and Kidney Cancer Caused By Philips DreamStation CPAP Machine, Lawsuit Alleges
March 10, 2022
By: Irvin Jackson
A product liability lawsuit filed last month alleges that a recalled Philips DreamStation CPAP machine caused cancers to develop after inhaling toxic particles and chemicals released by the sleep apnea machine's sound abatement foam.
In a complaint (PDF) filed in the U.S. District Court for the Southern District of New York, Cloyd Ream indicates that that the Philips CPAP machine resulted in a diagnosis of follicular lymphoma, as well as kidney cancer and the lung injury sarcoidosis.
Ream was one of millions of individuals nationwide who regularly used a Philips DreamStation CPAP machine, which was recalled last year after the manufacturer warned that a polyester-based polyurethane (PE-PUR) sound abatement foam inside the device is prone to deteriorate and breakdown, releasing black particles, debris and chemicals directly into the machine's air pathways; increasing CPAP cancer risks.
Following the recall, thousands of individuals nationwide have begun the process of pursuing a Philips DreamStation CPAP lawsuit, with a variety of different cancers and lung damage linked to prior user of the machines.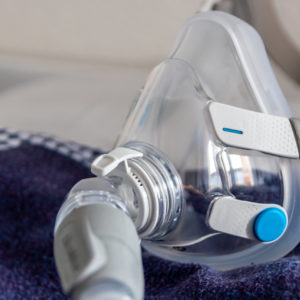 Philips CPAP Recall Lawsuit
Ream indicates the CPAP machine was prescribed to treat his sleep apnea in 2018, and he used the device on a daily basis while sleeping. In October 2020, Ream was diagnosed with follicular lymphoma, which is a type of blood cancer. He has also been diagnosed with kidney cancer and sarcoidosis, which involves the growth of inflammatory cells in the lungs.
The lawsuit claims the injuries were the direct result of the manufacturer's decision to use a defective and unreasonably dangerous sound abatement foam, and place the foam directly in the machine's air pathways.
"At the time of and subsequent to Defendants' initial design, manufacture, marketing and sale of the devices, including prior to the time of Plaintiff's initial purchase and use of the device, Defendants had the ability to eliminate the unsafe character of the devices without impairing their usefulness, as by either using non-toxic, non-carcinogenic sound abatement foam, or by simply placing the sound abatement foam anywhere else in the device besides the Device's airpath, among other reasonable alternatives," the lawsuit states. "Had Defendants properly and adequately tested the devices, Defendants would have discovered that the sound abatement foam had a high propensity for releasing toxic and carcinogenic particles when used normally by patients."
Given common questions of fact and law raised in product liability and class action lawsuits over recalled Philips CPAP devices filed throughout the federal court system, the U.S. Judicial Panel on Multidistrict Litigation (JPML) decided to centralize the litigation before Senior U.S. District Judge Joy Flowers Conti in the Western District of Pennsylvania for pretrial proceedings as part of a multidistrict litigation (MDL).
"*" indicates required fields