Roundup Non-Hodgkins Lymphoma Lawsuit Permitted to Move Forward Against Monsanto
July 08, 2016
By: Irvin Jackson
A federal judge has cleared the way for a non-hodgkin's lymphoma lawsuit to move forward against Monsanto over the side effects of Roundup exposure, rejecting a request by the manufacturer to have the case dismissed only a few months after it was filed. 
On June 29, U.S. District Judge Michael Seabright, of the District of Hawaii, issued a court order (PDF) denying a motion by Monsanto to dismiss a Roundup case brought by Christine and Kenneth Sheppard, which alleged that the manufacturer of the popular weedkiller failed to adequately warn about the risk of cancer associated with the active ingredient glyphosate.
Christine Sheppard indicates that she developed non-Hodgkins lymphoma following years of using Monsanto's Roundup to kill weeds when she owned and worked on a coffee farm in Hawaii from 1995 to 2004.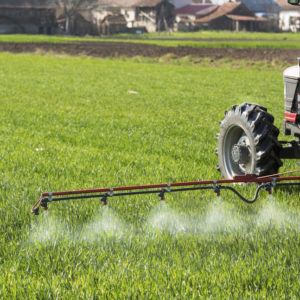 The case is one of a growing number of Roundup lawsuits being filed throughout the United States by farm workers, landscapers and others in the agricultural business who have been diagnosed with non-Hodgkin's lymphoma following heavy exposure to glyphosate, which was identified as a likely cancer-causing agent by the World Health Organization's International Agency for Research on Cancer (IARC) in March 2015.
Roundup is the most widely used glyphosate-based weedkiller on the market, and an estimated 2.6 billion pounds of the herbicide has been sprayed on America's agricultural land over the two decades since the mid-1990s, when Monsanto introduced "Roundup Ready" crops that are designed to survive being sprayed with with the chemical, killing the weeds but not the crops.
According to allegations raised by the Sheppards and other plaintiffs, Monsanto has touted glyphosate as a "technological breakthrough," suggesting that it kills weeds while not harming people. However, the lawsuit points to studies that have shown that not to be true.
The complaint (PDF) was originally filed in the U.S. District Court for the Central District of California, but was later voluntarily dismissed and refiled in Hawaii, where it was assigned to Judge Seabright.
Sheppard argues that she may have avoided a cancer diagnosis if Monsanto had warned about the Roundup risks for farmers, landscapers and others in the agricultural industry, as safety precautions could have been taken or other products could have been used to control the growth of weeds.
Motion to Dismiss Roundup Lawsuit Rejected
Monsanto sought to have the case dismissed on several grounds, arguing that it was filed after the statute of limitations had expired, that the claims were pre-empted by the Federal Insecticide, Fungicide, and Rodenticide Act (FIFRA), and other objections. However, Judge Seabright shot all of those objections down.
On the claim that the lawsuit was filed too late, Monsanto argued that Sheppard first began questioning a link between her cancer and Roundup in 2008, saying that was the time she first became aware of the potential injury caused by Roundup, but waited too long after that to file her claim. Judge Seabright disagreed, saying she had no concrete evidence at the time.
"[A]fter she 'bookmarked' an online link to a European news article in 2008 (which was later deleted), she asked several of her physicians about a potential link, and was told that they were unaware of such an association," Judge Seabright noted. "She sought and retained counsel only after March 2015 when the WHO designated glyphosate as a probable human carcinogen."
Monsanto also tried to argue that the lawsuit could not be maintained because it was based on "failure to warn" claims which are pre-empted by FIFRA labeling regulations. However, the judge noted that the claims made by Sheppard argue that Roundup is misbranded because the information provided is false and misleading; issues which should be hashed out once the case has been moved further along in the process.
Roundup Litigation
As a number of similar lawsuits against Monsanto continue to move forward in various different courts nationwide, Monsanto has raised similar arguments in an attempt to wipe out the Roundup litigation before discovery or other pretrial proceedings are conducted.
While the ruling by Judge Seabright in the case filed by the Sheppards will not be binding on other claims, it may suggest how other courts will rule on similar motions to dismiss.
In a supplemental authority notice (PDF) filed before the ruling, plaintiffs pointed out that Judge Barry Ted Moskowitz, of the Southern District of California, issued a denial in a similar motion to dismiss filed by Monsanto in a different personal injury complaint alleging that Roundup caused non-Hodgkins lymphoma.
There are currently no formal consolidated pretrial proceedings established in the federal court system for the mounting number of Roundup non-Hodgkins lymphoma lawsuits being pursued against Roundup. While it is possible that the cases will be coordinated through a Roundup MDL, or multidistrict litigation in the future, at this time cases are moving forward with discovery and motions before several different judges.
While Monsanto has indicated an intention to defend the cases at trial, if Roundup settlements or another resolution for the litigation is not reached in the future, the manufacturer could face hundreds of trials and substantial liability for individuals diagnosed with non-Hodgkins lymphoma following regular and consistent use of the glyphosate-based weedkiller.
"*" indicates required fields