Lawsuit Alleges Philips DreamStation CPAP Machine Caused Lung Cancer, Wrongful Death
February 07, 2022
By: Irvin Jackson
Koninklijke Philips and its North American Philips Respironics subsidiaries face a wrongful death lawsuit alleging a DreamStation CPAP machine caused lung cancer to develop after years of inhaling particles and debris released by a polyester-based polyurethane (PE-PUR) sound abatement foam.
Millions of Philips DreamStation CPAP Machines sold in recent years have been recalled after problems were discovered with the foam used inside the device to reduce noise and vibrations during sleep apnea treatments. The PE-PUR sound abatement foam has been found to deteriorate and break down, releasing toxic black particles, debris and chemicals directly into the machine's air pathways, which may increase the risk of  serious lung injuries and cancer risks from CPAP machines.
Michael Henderson was one of the owners of a Philips DreamStation CPAP machine containing the PE-PUR foam, but he died in March 2019, only two months after he was diagnosed with lung cancer, which his surviving wife indicates was a direct and proximate result of the CPAP machine.
Linda Henderson filed a complaint (PDF) in the U.S. District Court for the Western District of Pennsylvania on January 21, on behalf of herself and as the administrator of her husband's estate, indicating that Philips should be held liable for selling a defective and reasonably dangerous sleep apnea machine.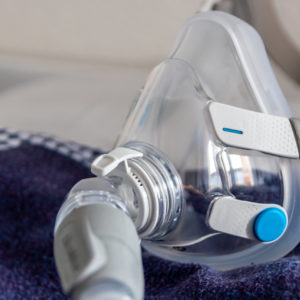 Philips CPAP Recall Lawsuit
Michael Henderson was prescribed a Philips DreamStation CPAP machine for treatment for his obstructive sleep apnea in 2010, and used the device nightly. However, he was diagnosed with malignant neoplasm of the lung, a form of lung cancer in January 2019, succumbing to the disease only a few months later.
His wife indicates that there is a direct connection between the lung cancer and Philips CPAP machine, which was included in the recall last summer, saying Philips should have known about the risks associated with the toxic foam and should have warned consumers or made changes to the devices years earlier.
According to a recently released FDA inspection report, Philips knew about the problem with the degrading sound abatement foam since at least 2015, indicating that emails exchanged with the foam supplier discussed the problem. However, no investigation was initiated or corrective actions were taken until a massive recall was announced in June 2021.
"Without knowing of the health risks associated with use of the Recalled Device, Decedent Michael Henderson used his Recalled Device regularly to treat sleep apnea until the date of his death," the lawsuit states. "As a direct and proximate result of Philips' conduct, Plaintiff's Decedent Michael Henderson suffered serious and substantial life-altering injuries, including succumbing to lung cancer in March of 2019.
Over the past few months, dozens of similar Philips DreamStation CPAP lawsuits have been filed throughout the federal court system, each raising similar allegations that exposure the deteriorating sound abatement foam exposed users to a risk of cancer, severe respiratory problems and other health complications.
Given common questions of fact and law raised in product liability and class action lawsuits over recalled Philips CPAP devices and other breathing assistance machines, the U.S. Judicial Panel on Multidistrict Litigation (JPML) decided to centralize the litigation before Senior U.S. District Judge Joy Flowers Conti in the Western District of Pennsylvania for pretrial proceedings as part of a multidistrict litigation (MDL).
"*" indicates required fields