Proposed Legislation Seeks to Protect U.S. Firefighters from PFAS Exposure in Turnout Gear
July 21, 2023
By: Irvin Jackson
A bipartisan group of legislators have introduced a new bill in Congress, which seeks to support the development of new firefighter turnout gear to prevent unnecessary exposure to per- and polyfluoroalkyl substances (PFAS), which have been linked to an increased risk of cancer and other ailments.
The new legislation was introduced on Thursday by a group of U.S. House representatives led by Debbie Dingell, of Michigan, as part of a continuing effort to reduce the risks firefighters face from exposure to the toxic "forever" chemicals.
According to a press release issued by Dingell on July 20, the "Protecting Firefighters and Advancing State of-the-Art Alternatives Act" (known more simply as the PFAS Alternatives Act), calls for the U.S. government to earmark $100 million over the next four fiscal years for research into the development of improved firefighter turnout gear which eliminates or significantly lowers their exposure to PFAS chemicals.
In addition, the bill calls for another $2 million to be budgeted annually for guidance and training for firefighters on preventing cancer risks.
Firefighter Turnout Gear Cancer Concerns
PFAS are commonly called "forever chemicals", since they are known to persist in the environment and build up in the human body, causing a number of different types of cancer and diseases.
While most of the recent lawsuits and news coverage has focused on the high levels of PFAS chemicals in aqueous film-forming foam (AFFF), which is widely used during training and response exercises to combat fuel-based fires, there is also a cancer risk from PFAS in firefighting turnout gear.
In August 2022, the International Association of Fire Fighters (IAFF) and the Metropolitan Fire Chiefs Association issued a warning to firefighters, calling for them to reduce their PFAS exposure by limiting their use of turnout gear. The groups warned that firefighters will not be able to fully avoid the PFAS cancer risk until the chemicals are removed entirely from protective gear, but they called for the development and widespread availability of such gear. In the meantime, the group indicated that firefighters should limit the use of turnout gear to only emergency situations where it is required, and then suggested fire fighters remove it as soon as possible.
Manufacturers of PFAS chemicals and safety equipment now face thousands of firefighter cancer lawsuits, involving allegations that years of exposure to the chemicals caused testicular cancer, kidney cancer, pancreatic cancer, bladder cancer and other injuries. Although the manufacturers knew or should have known about the PFAS cancer risk, fire fighters allege they withheld important safety information and warnings for decades.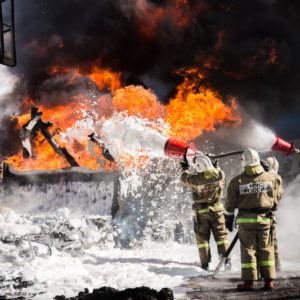 PFAS Alternatives Act
The funding called for in the newly proposed legislation would be used to accelerate the development of turnout gear that does not include PFAS chemicals, through research and testing. It would also push for the development of ways to protect firefighters from other sources of PFAS exposure, such as inhalation.
In addition to the development of safer firefighter turnout gear, the legislation also calls for better ways to warn firefighters of PFAS exposure risks and establish better decontamination procedures. This would involve new guidance and training for firefighters on ways to reduce their PFAS exposure through the proper wearing, cleaning and maintenance of their turnout gear.
The legislation proposes working with the firefighting industry and will provide grants to those developing the next generation of firefighter turnout gear.
"Firefighters' jobs are already dangerous enough without worrying about the long-term health risks of being exposed to dangerous PFAS in their turnout gear," Dingell said in the press release. "The PFAS Alternatives Act will remove this unnecessary occupational hazard and help protect firefighters as they work every day to protect us."
The IAFF has already endorsed the legislation.
Fire Fighter PFAS Exposure Lawsuits
The legislation comes amid a growing number of claims brought throughout the federal court system against 3M Company, DuPont, Tyco Fire Products, Buckeye Fire Equipment Company, Kidde-Fenwal and other manufacturers of firefighting foam and protective equipment. The lawsuits are now centralized in the U.S. District Court for the District of South Carolina, as part of a federal MDL or multidistrict litigation, since they each raise common questions of fact and law.
In June 2023, 3M Company and other manufacturers agreed to pay over $12.5 billion to settle PFAS water contamination lawsuits brought by local water suppliers. However, the companies continue to face individual injury lawsuits, and no individual claims have yet gone before a jury.
Earlier this year, Judge Gergel directed the parties to select a group of 28 representative personal injury claims for an AFFF injury bellwether pool, involving plaintiffs who say they were exposed to chemicals that contaminated drinking water.
These cases will include eight kidney cancer claims, eight testicular cancer claims, eight thyroid disease claims and four ulcerative colitis claims. In addition, they will be limited to individuals alleging they were exposed to contaminated water near Peterson Air Force Base, Colorado Springs Municipal Airport, the Willow Grove Naval Air Station Joint Reserve Base and the Naval Air Warfare Center in Warminister.
The parties are expected to select the cases by July 28, and propose a joint list of selected or proposed cases to the court by August 11. However, the court has not yet outlined requirements for selecting individual firefighter cancer lawsuits for early bellwether trials.
"*" indicates required fields