Recalled Philips CPAP Machine Caused Breast Cancer, Lawsuit Claims
December 20, 2021
By: Irvin Jackson
An Arizona woman has filed a product liability lawsuit that claims her recalled Philips CPAP machine caused breast cancer to develop, after years of exposure to toxic particles released by the device's sound abatement foam.
The complaint (PDF) was filed by Shelley Favours in the U.S. District Court for the District of Arizona last week, indicating that Koninklijke Philips and its North American subsidiaries sold a dangerous product for individuals with sleep apnea.
Favours indicates that she was prescribed and started using a Philips CPAP (Continuous Positive Airway Pressure) breathing machine in 2017, and regularly used the device every night for at least eight hours until it was recalled this year, due to a defective sound abatement foam that may degrade over time and release black particles or debris directly into the sleep apnea machine's air pathways, exposing users to a number of toxic chemicals and gases.
"Since using the CPAP machine, Plaintiff has been diagnosed with stage II ductal carcinoma, and has undergone substantial treatment including a lumpectomy and radiation," the lawsuit states. "In addition, she has suffered emotional distress as a result of her debilitating health issues."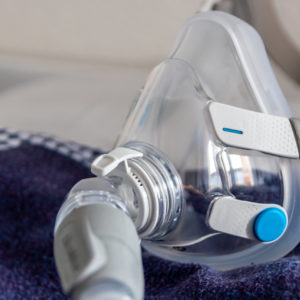 Philips CPAP Recall Lawsuit
The lawsuit alleges the Philips CPAP caused her cancer diagnosis, indicating that the manufacturer knew about these risks long before issuing a massive recall that impacted millions of machines sold since 2009.
"Patients who used the Recalled Breathing Machines have complained about black particles in their machines for several years, including Plaintiff Shelley Favours," according to the complaint. "When she started using her CPAP device for sleep apnea in July of 2017, she was not aware of the harm these particles would cause. Philips did not warn the public or its customers about these hazards until late April 2021 and did not initiate a recall until June 14, 2021."
The case now joins a growing number of similar Philips CPAP machine cancer lawsuits that have been filed by individuals nationwide, as well as claims involving severe respiratory problems, lung damage and other injuries.
These allegations were backed up by a recent FDA inspection report, which suggested that the Philips CPAP recall likely came years too late, after identifying complaints involving foam degradation back to 2015. However, the manufacturer failed to perform an adequate investigation or take any corrective actions until this year, according to the FDA findings.
Favours' lawsuit presents claims of failure to warn, design defect, negligent failure to warn, negligent design defect, negligent recall, breach of warranty, violations of Arizona's Consumer Fraud Act and unjust enrichment. She seeks both compensatory and punitive damages.
Given common questions of fact and law raised in recalled Philips CPAP lawsuits, the U.S. Judicial Panel on Multidistrict Litigation (JPML) decided in October to centralize the litigation before Senior U.S. District Judge Joy Flowers Conti in the Western District of Pennsylvania for pretrial proceedings as part of a multidistrict litigation (MDL).
Lisa

July 20, 2023 at 11:57 am

Hello, I am curious why your law office has stopped accepting breast cancer claims.🤔 it is on the list. Mine was turned down. Thank you. Used the recalled Dreamstation Auto cpap for 5 yrs (2018) Received replacement 2/2023 Diagnosed cancer 3/2023

Diana

July 30, 2022 at 2:20 am

Cpap recall machine also caused invasive ductal carcinoma for me! I've even gone as far as having genetic testing to prove not genetic. But, have been told by couple different lawyers that because I'm 50 I don't have a case even with a genetic test saying not genetic

jeneane

April 21, 2022 at 8:39 pm

I also was just diagnosed and underwent lumpectomy I have a rare cancer they don't know what caused it triple negative idc I have to do chemo and radiation also feel it's caused by the cpap machine also have breathing issues I have used this machine every night 8-10 hrs since 2016

ELEANOR

March 14, 2022 at 3:46 pm

I have seen SO many posts on Facebook regards the Phillips recall, and breast cancer wasn't usually listed. THIS post has piqued my interest as I too,have been diagnosed with breast cancer.
"*" indicates required fields