Recalled Philips CPAP Machine Caused Prostate Cancer, Lawsuit Alleges
September 17, 2021
By: Irvin Jackson
While a number of class action lawsuits have been filed since the recent Philips CPAP recall, seeking medical monitoring and other damages for owners of the sleep apnea machines, a recently filed lawsuit alleges that after years of breathing toxic particles, a recalled Philips CPAP machine caused prostate cancer for a New York man.
The complaint (PDF) was brought by Michael Bowman on September 12 in the U.S. District Court for the Southern District of New York, seeking damages from Koninklijke Philips and its U.S. subsidiaries as defendants, for selling defective Dreamstation and other CPAP machines for sleep apnea treatment, and unreasonably delaying recalls.
Bowman was prescribed a CPAP machine for his sleep apnea, and purchased a Philips DreamStation device in June 2016, continuing to use the product in a normal and expected manner for years. However, in 2018 he was diagnosed with prostate cancer the lawsuit claims was caused by the CPAP machine and toxic particles released directly into the air pathways.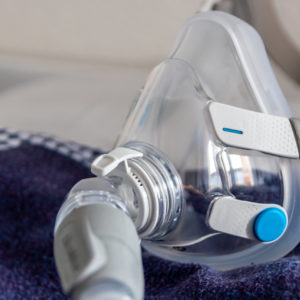 Philips recalled an estimated 3.5 million CPAP, BiPAP and mechanical ventilators in June 2021, indicating that the polyester-based polyurethane (PE-PUR) sound abatement foam in the machines may breakdown and degrade, releasing black particles and chemicals directly into the lungs of users relying on the breathing machines.
Since the recall in June, a growing number of Philips CPAP class action lawsuits have been filed in courts across the U.S., alleging the Philips CPAP machines cause cancer including, pancreatic, lung , kidney and colon cancer as well as respiratory issues and organ failure.
Exposure to the particles and gases released by the recalled CPAP machine PE-PUR foam may increase the risk of cancer, severe respiratory problems and other health complications, leading health experts to recommend that consumers immediately stop using the devices for sleep apnea. However, little information has been provided to consumers about risks of Philips CPAP machines causing cancer and other long term side effects.
Bowman's complaint now joins a growing number of similar Philips CPAP machine lawsuits now being pursued in courts nationwide, alleging that the manufacturer delayed recalling the defective products or warning consumers while it worked to develop a second-generation DreamStation 2, which was released weeks before the company recalled Philips CPAP machines with the PE-PUR foam.
"Defendants have long known that the polyester-based polyurethane (PE-PUR) sound-abatement foam in Defendants' CPAP, BiPAP, and mechanical ventilator devices has a tendency to release toxic and carcinogenic microparticles that can be inhaled by users like Plaintiff, causing serious injury or death," the lawsuit notes. "Plaintiff Michael Bowman has suffered from unnecessary pain, debilitation, hospitalization, and the development of prostate cancer because Defendants defectively designed the Device and failed to adequately warn of the dangers of the Device."
In the wake of the recall, free replacement CPAP machines were not offered, and Philips did not provide users the funds to buy a new sleep apnea machine, leaving them without much-needed breathing assistance. It was not until last week that a Philips CPAP machine repair program was announced, which may take up to a year to complete.
Several statements made by Philips have suggested that sanitizing devices like SoClean may cause CPAP foam to deteriorate at a quicker rate.  However, the foam problems may also be exacerbated by using the devices in areas with high temperatures or humidity.
Given the serious risks associated with use of the machines for sleep apnea, the FDA issued a safety communication, urging all consumers not relying on the devices for life-sustaining therapy to immediately stop using the devices and contact their doctors to decide on alternative treatments.
Koninklijke Philips, N.V. generated over $23 billion in revenue last year, and is expected to face massive liability from lawsuits and CPAP machine settlements over the next few years. In an earnings report issued prior to announcing the recall, the company advised investors it had taken a provision of about $295 million to cover the costs of the recall, which will likely only cover a small fraction of the compensation and damages the company will ultimately be required to pay.
Philips CPAP Cancer Lawsuit:
Find out if you may have a lawsuit against Philips for cancer or other injuries caused by the recalled CPAP machines
CONTACT A LAWYER
Tim

August 29, 2022 at 1:41 am

I just finished treatment for prostate. I have contacted several Law Firms about law suits. All of them said they will NOT take a prostae claim. So this is all a waste of time!

jeffrey

December 1, 2021 at 1:55 pm

i had prostate cancer removed in august of 2021 i am only 63 i have been using c-pap for 16 yrs
"*" indicates required fields