Roundup Non-Hodgkins Lymphoma Lawsuit Filed in Delaware
October 23, 2015
By: Austin Kirk
Monsanto faces a growing number of product liability lawsuits over their controversial weedkiller, including claims raised by migrant farm workers diagnosed with non-Hodgkin's lymphoma following Roundup exposure. 
One of the latest complaints was filed last week in Delaware Superior Court, involving three plaintiffs who allege they suffered serious and life-threatening illnesses as a result of the chemicals contained in Roundup weedkiller.
Two of the claims, brought on behalf of plaintiffs Joselin Barrera and Elias de la Garza, involved a diagnosis of non-Hodkin's lymphoma among the migrant farm workers from Texas. The third claim included on the complaint was brought on behalf of Judi Fitzgerald, a horticultural worker from Virginia who has been diagnosed with leukemia following Roundup exposure.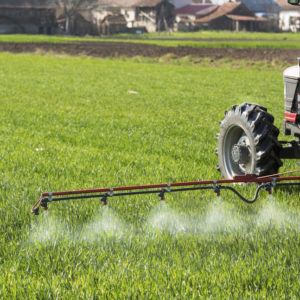 Fitzgerald originally filed her Roundup lawsuit in New York on September 22, but it was subsequently dismissed, according to a report by Reuters news.
The complaint raises allegations similar to those being pursued in a number of other Roundup cancer lawsuits filed in recent months, alleging that the active ingredient in Roundup, glyphosate, is a carcinogen that can cause non-Hodgkins Lymphoma and a variety of other cancers.
Plaintiffs allege that Monsanto failed to adequately warn about the link between Roundup and cancer, preventing farm workers, landscapers and others from taking safety precautions to reduce the risk of exposure.
Roundup is one of the most widely used herbicides, which was introduced by Monsanto in the 1970s. However, concerns have emerged in recent months about the safety of the product have increased over the past year, after the World Health Organization's International Agency for Research on Cancer (IARC) issued a warning in March about the potential human health side effects of Roundup and other gylsphosate herbicides.
One of the forms of cancer associated with glyphosate by the IARC study is non-Hodgkin's lymphoma, which is a cancer that attacks the lymphatic system. causing swollen lymph nodes, chest and abdominal pain, respiratory problems, fever, fatigue and weight loss. There are a variety of types of non-Hodgkin's lymphoma. Some less aggressive and easy to treat, while some forms are extremely aggressive, and can kill in a matter of months without quick diagnosis and treatment.
Monsanto has attempted to dismiss the concerns that Roundup is a human carcinogen, maintaining that the IARC's conclusions were agenda-driven and based on "junk science." The manufacturer has said it is convening its own independent panel to review the cancer risks of Roundup.
Consumer use of Roundup began to skyrocket in the mid 1990s, after Monsanto introduced genetically engineered crops to withstand treatment with Roundup, killing the weeds and not the crops. Genetically modified crops, like corn and soybean, are branded as being "Roundup Ready." Some weeds have developed resistance to glyphosate, thus forcing farmers to use higher quantities of Roundup.
The U.S. Geological Survey estimated agricultural use of glyphosate increased drastically from 110 million pounds in 2002, now to more than 283 million pounds in 2012.
The U.S. Environmental Protection Agency (EPA) announced in April that it plans to address the safety concerns of glyphosate during the regular EPA safety review hearing occurring soon. Researchers warn pesticides are commonly detected in the air, food and water near areas that have been sprayed.
manuel

April 21, 2017 at 1:47 pm

I live in the city of Bakersfield ca I have use roundup for a long time at home and here in Bakersfield herbicides.and pesticides are use all the time that is the reason the air here is the worse in the nation I have been diagnose with Non-Hodgkins Lymphoma I would like to know if that could be the cause
"*" indicates required fields