Glyphosate Cancer Concerns Grow As Report Indicates 2.6B Pounds Sprayed On U.S. Crops
November 02, 2015
By: Irvin Jackson
U.S. regulators recently released data showing that 2.6 billion pounds of glyphosate, the active ingredient in Monsanto's Roundup, was sprayed on U.S. crops between 1992 and 2012, further increasing recent concerns about the risk that side effects of glyphosate exposure may cause cancer, such as non-Hodgkin lymphoma. 
A report released last month by the U.S. Geological Survey (USGS) tracks the use of a wide variety of chemicals in the U.S. The Environmental Working Group, an environmental organization, took that raw data and turned it into a time-lapse map showing the spread of glyphosate over a ten-year period.
The data in this new study shows that an estimated 2.6 billion pounds of glyphosate have been used on America's agricultural land over the two decades since the mid-1990s, when Monsanto introduced "Roundup Ready" crops that are designed to survive being sprayed with glyphosate, killing the weeds but not the crops.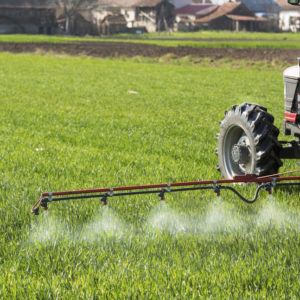 Genetically modified crops, like corn and soybean, are branded as being "Roundup Ready." However, as some weeds have developed resistance to glyphosate, it has forced farmers to use higher and higher quantities of Roundup.
Serious questions have recently emerged about the safety of the chemical, after the World Health Organization's International Agency for Research on Cancer (IARC) issued a warning earlier this year about the potential link between glyphosate and cancer among humans.
The new report suggests that glyphosate is heavily used in the Midwest, some parts of California and in the southeastern United States. Iowa is the leading state for glyphosate use, followed by Illinois and Nebraska, all of which have sprayed more than 20 million pounds of glyphosate on crops in those states. The top ten states where glyphosate has been used also includes Texas, Minnesota, North Dakota, Kansas, South Dakota, Indiana, and Missouri.
While Monsanto has attempted to dismiss the concerns that Roundup is a human carcinogen, maintaining that the IARC's conclusions were agenda-driven and based on "junk science," the findings of this latest report raise further concerns about the glyphosate cancer risks.
The U.S. Environmental Protection Agency (EPA) announced in April that it plans to address the safety concerns of glyphosate during the regular EPA safety review hearing occurring soon. Researchers warn pesticides are commonly detected in the air, food and water near areas that have been sprayed.
In the meantime, Monsanto now faces a growing number of Roundup cancer lawsuits filed on behalf of farm workers, landscapers and other agricultural workers who have been diagnosed with non-Hodgkin lymphoma following heavy exposure to the chemical.
"*" indicates required fields