"Roundup Ready" Crop Marketing Resulted in 15-Fold Increase in Glyphosate Herbicide Use
February 05, 2016
By: Irvin Jackson
Amid continuing concerns about the link between Roundup and cancer, a new report indicates that glyphosate, the primary ingredient in the popular Monsanto weed killer, is now the most heavily used herbicide in human history. 
According to a study published in the journal Environmental Sciences Europe on February 2, there was enough glyphosate sprayed worldwide in 2014 to cover every acre of cropland on the planet with half a pound of the potentially carcinogenic chemical.
The use of glyphosate has skyrocketed in recent years due to Monsanto's marketing strategy of creating "Roundup Ready" genetically modified seeds for crops, which are designed to withstand heavy use of the herbicide.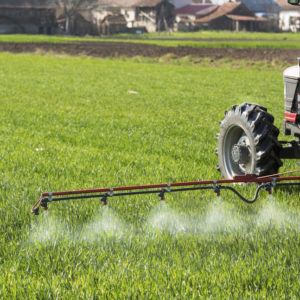 Author of the study, Dr. Charles Benbrook, estimates that glyphosate use has increased almost 15-fold since the introduction of "Roundup Ready" crops in 1996.
To date, about 18.9 billion pounds of glyphosate have been sprayed on the world's crops, according to estimates in the study. While Benbrook indicates that the levels of overall human exposure are still below the levels of concern established by regulatory bodies across the world, he notes that does not guarantee Roundup exposure is at safe levels.
"Studies assessing possible risks to vertebrates and humans include evidence of rising residue levels in soybeans, cancer risk and risk of a variety of other potential adverse impacts on development, the liver or kidney, or metabolic processes," Benbrook concluded. " Given that glyphosate is moderately persistent and mobile, levels in surface and groundwater will likely rise in step with use, and this will increase the diversity of potential routes of animal and human exposure."
The report comes after the World Health Organization's International Agency for Research on Cancer (IARC) listed Roundup and other gylsphosate herbicides as potential human carcinogens in March 2015.
Monsanto has maintained that there is no reliable evidence of a link between Roundup and cancer, suggesting that the IARC's conclusions were agenda-driven and based on "junk science." The manufacturer has said it is convening its own independent panel to review the cancer risks of Roundup.
"The IARC classification and emerging evidence relative to kidney damage and endocrine effects heightens the need for, and will complicate ongoing and future glyphosate worker and dietary-risk assessments," Benbrook predicted.
The U.S. Geological Survey estimated agricultural use of glyphosate increased drastically from 110 million pounds in 2002, now to more than 283 million pounds in 2012.
A growing number of Roundup cancer lawsuits have been filed against Monsanto since the IARC ruling, both as individual claims bought on behalf of farm workers exposed to high levels of glyphosate and consumer class action lawsuits. In addition, a growing number of states, cities, and countries worldwide have enacted full or partial glyphosate bans to protect citizens from exposure.
"*" indicates required fields