Philips and SoClean Named as Defendants in CPAP Brain Cancer Lawsuit
December 20, 2022
By: Irvin Jackson
Lawsuit alleges use of Philips CPAP and SoClean caused brain cancer diagnosis
Plaintiff's sleep apnea machine was part of a massive Philips CPAP recall issued due to a risk that sound abatement foam inside the device may breakdown and release toxic particles
SoClean CPAP cleaning devices have been blamed for accelerating the deterioration of the foam
Case joins a growing number of Philips CPAP lawsuits and SoClean lawsuits being filed by individuals diagnosed with various forms of cancer, respiratory injuries and other damages
A New York couple has filed a lawsuit alleging that the combined use of a recalled Philips CPAP machine and a SoClean cleaning device caused the husband's brain cancer diagnosis, after ingesting toxic sound abatement foam particles and cancer-causing chemicals.
The complaint (PDF) was filed by Salvatore and Maryann DiGrazia on December 12 in the U.S. District Court for the Eastern District of New York, presenting claims against Koninklijke Philips and its U.S. subsidiaries, Wm. T. Burnett Foam, LLC, and a number of its subsidiaries, as well as SoClean, Inc. as defendants.
DiGrazia says he was one of several million sleep apnea sufferers impacted by a massive Philips CPAP recall issued in July 2021, affecting machines that contained a polyester-based polyurethane (PE-PUR) foam which was intended to reduce noise and vibrations while the machine was used. However, it is now known that the CPAP foam is prone to breakdown, releasing harmful chemicals and debris directly into the machine's tubing and air mask, where it is then breathed into the users' lungs.
Ingesting the foam particles has been linked to reports of cancers, lung damage and severe respiratory injuries, according to allegations raised in hundreds of other similar Philips CPAP lawsuits already being pursued by former users.
DiGrazia also indicates that he regularly used a SoClean device to clean and sanitize his CPAP machine, which uses high levels of ozone gas that are suspected of accelerating the breakdown of the CPAP sound abatement foam. Although SoClean was marketed as safe and effective, DiGrazia said the company did not tell consumers that it used toxic levels of ozone gas, which is the main ingredient of concern in smog.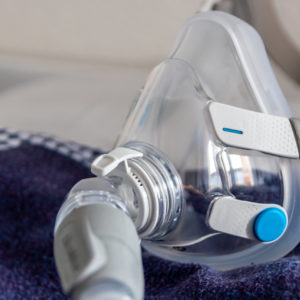 Philips CPAP Recall Lawsuit
According to the CPAP brain cancer lawsuit, DiGrazia began using a REMstar Plus CPAP machine, one of Philips' recalled devices which contained the PE-PUR foam, after being diagnosed with sleep apnea in March 2014. He started using the SoClean 2 CPAP device to clean the REMstar Plus sometime in 2016, according to the complaint.
After using the two devices for several years, DiGrazia was diagnosed with brain cancer in December 2021, which he indicates was a direct result of exposure to the toxic foam particles and gases released by the CPAP machine and SoClean cleaner.
"In December of 2021, the plaintiff underwent surgical removal of a brain mass and the pathology report dated December 18, 2021, revealed a diagnosis of brain cancer," the lawsuit states. "Due to his diagnosis of brain cancer, the plaintiff, Salvatore DiGrazia, has undergone brain surgery on two separate occasions and suffers from the sequelae of his diagnosis."
DiGrazia's lawsuit claims Philips has long known that its sound abatement foam could release toxic and carcinogenic microparticles which would be inhaled by users. He also claims the makers of SoClean devices knew or should have known their devices' emissions would cause the PE-PUR foam to degrade even faster, releasing more potentially cancer-causing particles.
Philips CPAP and SoClean Lawsuits
At the time of the recall, Philips indicated that CPAP cleaning devices like SoClean, which use high levels of ozone gas to sanitize the machines, could increase the rate of foam degradation. As a result of the statements, SoClean sued Philips, and dozens of lawsuits have now been filed against SoClean, alleging that consumers were not adequately warned about the use of toxic ozone gas, which was described as "activated oxygen" in marketing materials.
Most of the SoClean lawsuits seek class action status over false and misleading marketing claims, as opposed to raising allegations that the SoClean CPAP cleaner caused or contributed to cancer injuries linked to the Philips CPAP machine foam particles.
Given common questions of fact and law raised in claims against Philips and SoClean, lawsuits filed throughout the federal court system have been centralized as part of two separate MDLs that are both assigned to U.S. District Judge Joy Flowers Conti, in the Western District of Pennsylvania, who is presiding over coordinated discovery and pretrial proceedings.
Throughout 2023, the parties are expected to establish a "bellwether" process where a small group of representative claims involving different types of breathing machines will be prepared for early trial dates to help gauge how juries are likely to respond to certain evidence and testimony that will be repeated throughout the litigation. However, Judge Conti has already appointed a Philips CPAP recall settlement master to work with the parties and determine whether an early agreement can be reached to resolve claims.

FIND OUT IF YOU QUALIFY FOR A PHILIPS CPAP OR SOCLEAN LAWSUIT
Lawyers provide free consultations and claim evaluations for individuals diagnosed with cancer, lung damage and respiratory problems caused by SoClean or Philips CPAP machines, which released toxic foam particles directly into the sleep apnea machine's air pathways.
CONTACT A LAWYER
Jerry

December 22, 2022 at 12:03 am

I have a bypass machine back is that Philip says is OK but I still Problems with that And I have a so clean machine that I have problems with all the time

Barbara

December 21, 2022 at 11:55 am

I have a recalled CPAP that I've used for at least 5 years. I'm currently using a Philips that I've had since 10/2021. My current CPAP is not under recall. However, should I be concerned of any unknown damage to my body from my old CPAP? What testing should I get and who pays for it?
"*" indicates required fields