Marketing Claims Over Lack of Blood Monitoring with Xarelto to be Issue in All Lawsuits: Lawyers
November 11, 2014
By: Irvin Jackson
Makers of Xarelto are opposing centralization for the mounting litigation brought by individuals who have suffered major bleeding injuries, claiming that the cases will be dominated by the individualized facts surrounding each injury. However, lawyers representing former users of the anticoagulant point out that common allegations will be raised in all of the lawsuits about whether Xarelto should be prescribed without blood monitoring and dose adjustments.
A motion is currently pending before the U.S. Judicial Panel on Multidistrict Litigation (JPML), which seeks to consolidate all Xarelto lawsuits filed in U.S. District Courts throughout the country, calling for the cases to be centralized before one judge, given similar questions of law and fact raised by plaintiffs.
There are currently at least 30 different complaints filed in 14 different districts, which all involve claims that plaintiffs suffered severe, and sometimes fatal, bleeding injuries due to side effects of Xarelto. Each of the claims allege that Bayer Healthcare and Janssen Pharmaceuticals provided inadequate warnings and instructions for consumers and the medical community.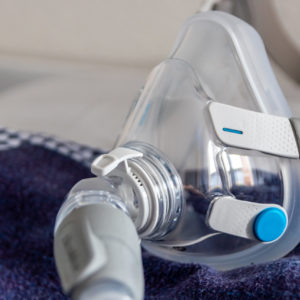 Did You Know?
Millions of Philips CPAP Machines Recalled
Philips DreamStation, CPAP and BiPAP machines sold in recent years may pose a risk of cancer, lung damage and other injuries.
Learn More
The drug makers filed responses in opposition to the formation a Xarelto MDL on October 31, arguing that the cases will be dominated by the "individual facts" about the circumstances leading to each plaintiff's bleeding injury on Xarelto. They also suggested that the mounting litigation was driven by "aggressive advertising" by plaintiffs' attorneys.
In a reply brief (PDF) filed in support of the creation of an MDL on November 7, a group of plaintiffs point out that it is actually the drug makers' own marketing claims that are one of the main common issues present in all of the cases.
Plaintiffs maintain that Xarelto advertisements run by the drug makers have "flooded the airwaves" in recent years, touting the new generation anticoagulant as superior to warfarin because it supposedly does not require routine blood monitoring.
"These commercials share a common theme – regular men and women, and even celebrities, choose Xarelto because it doesn't require regular blood monitoring, so other people should too," according to the reply brief filed on behalf of several plaintiffs.
One of the main common allegations raised in all of the lawsuits filed in courts nationwide is that the drug makers should have actually recommended blood monitoring with Xarelto as well, so that doctors could have adjusted the dose based on test results and avoided high concentrations that may lead to serious bleeding events. However, plaintiffs maintain that the pharmaceutical companies placed their marketing interests before consumer safety, by touting Xarelto as an anticoagulant that does not require monitoring.
Xarelto Lawsuit Allegations
Xarelto (rivaroxoaban) was introduced by Bayer and Johnson & Johnson's Janssen Pharmaceuticals in 2011, as the second member of a new generation of anticoagulants that were promoted as superior to Coumadin (warfarin), which had been the go-to blood thinner for prevention of strokes among patients with atrial fibrillation for decades.
While all blood thinners carry a risk of bleeding problems, Xarelto lacks an approved antidote that doctors can use to stop bleeding that may develop. Although doctors can quickly stop the blood thinning effects of warfarin, no such antidote is available for Xarelto or other members of this new-generation of anticoagulants. This has led to reports of uncontrollable bleeding that physicians were unable to control or stop, often resulting in severe injury or death.
Plaintiffs maintain that the makers of Xarelto provided false and misleading information about the bleeding risks, burying information about the lack of a reversal agent on the drug label.
In addition, while the drug makers have promoted that users do not need regular blood monitoring, recent studies have suggested that Xarelto monitoring may actually help doctors identify patients at risk of bleeding. Some allegations against the manufacturers say this is proof that inadequate instructions were provided to the medical community about the safe use of the drug.
Similar allegations were raised in lawsuits over Pradaxa, which was the first member of this new-generation of anticoagulants approved in the United States about a year before Xarelto. Shortly after Pradaxa was introduced by Boehringer Ingelheim in late 2010, it quickly became one of the most commonly identified drugs in adverse event reports submitted to the FDA, often involving uncontrollable bleeding problems due to the lack of reversal agent.
In recent years, about 4,000 lawsuits were filed against Boehringer Ingelheim on behalf of former users of Pradaxa. Those claims involved allegations very similar to those currently involving Xarelto. Following several years of litigation, the Pradaxa litigation settled for $650 million earlier this year.
Due to the similarities between the claims, plaintiffs have pushed for the Xarelto MDL to be consolidated before U.S. District Judge David Herndon in the Southern District of Illinois, which is the same judge that presided over the centralized management of all Pradaxa lawsuits.
Plaintiffs indicate that having Judge Herndon oversee the Xarelto cases as well will provide advantages in moving the cases along quickly, since he already understands much of the science and legal issues involved in the cases.
Bayer and Janssen Pharmaceuticals have opposed the selection of Judge Herndon, indicating that if the U.S. JPML ultimately decides to establish an MDL for Xarelto, the cases should be centralized in the U.S. District Court for New Jersey, where the drug makers are headquartered.
The companies claim that Xarelto and Pradaxa claims involve different issues, but plaintiffs' attorneys counter in their reply brief that the claim is ludicrous.
"While Defendants make every effort to distinguish Xarelto from Pradaxa, their arguments ignore the scientific literature and recent FDA activity surrounding the entire class of novel oral anticoagulants ("NOACs"), as well as the primary allegations in plaintiffs' complaints," according to the brief filed November 7. "Defendants market Xarelto as an alternative to warfarin that does not require routine blood monitoring and dose adjustment based upon the results of a blood test, and the makers of
Pradaxa – as well of the makers of other NOACs – make the same marketing claim."
The U.S. JPML is scheduled to hear oral arguments on the motion to establish a Xarelto MDL at an upcoming hearing session set for December 4, in Charleston, South Carolina.
"*" indicates required fields