Breast Cancer Lawsuit Filed Over Drinking Water Tainted With Firefighting Foam Chemicals
August 25, 2021
By: Irvin Jackson
According to allegations raised in a product liability lawsuit recently filed against a number of chemical companies, years of drinking water contaminated with firefighting foam chemicals caused breast cancer to develop for a Maryland woman.
The complaint (PDF) was filed by Nigora Akhmedova in the U.S. District Court for the District of South Carolina on August 20, presenting claims against companies involved in the manufacture or sale of aqueous film-forming foam (AFFF) products that have been widely used at military bases, airports and other training facilities, which have been blamed for widespread water contamination.
The firefighting foams are used to fight petroleum-based fires, and contain per- and polyfluoroalkyl substances (PFAS); which are toxic chemicals now known to persist in soil and environment for decades. PFAS have been linked to an increased risk of cancer, do not break down, and stay in the environment, and the human body, for extremely long periods of time, which has earned them the nickname "forever chemicals."
As a result of the poorly regulated and widespread use, PFAS water contamination lawsuits are being filed by plaintiff's in many areas, claiming they developed ulcerative colitis or cancer from high volumes of PFAS chemicals being dumped into the ground water surrounding chemical manufacturing plants and military bases.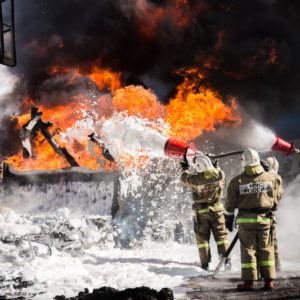 PFAS were first introduced into the manufacturing industry in the 1940's, because of their ability to resist heat, grease, stains, and water. However, since then the chemicals have been linked to a myriad of adverse health effects including liver damage, thyroid disease, decreased fertility, high cholesterol, obesity, hormone suppression, and cancer.
According to Akhmedova's lawsuit, she has resided in Anne Arundel County, Maryland since 2005, and has regularly ingested the local drinking water, which has been found to be contaminated with PFAS chemicals from firefighting foams used at Fort Meade Army Base, including perfluorooctanoic acid (PFOA) and perfluorooctanesulfonic acid (PFOS) . She was diagnosed with breast cancer in August 2018, which she directly blames on exposure to the firefighting foam chemicals.
"The Defendants knew or should have known of the hazards of AFFF containing PFOA and PFOS and/or their precursor chemicals when the products were manufactured," the lawsuit states. "At no point did Plaintiff or users of Defendants' AFFF products located in Anne Arundel County, Maryland, including the United States Army, receive any warning that Defendants' AFFF products containing PFOA and/or PFOS and/or their precursor chemicals were toxic or carcinogenic."
Previous U.S. Centers for Disease Control and Prevention studies have shown PFAS chemicals primarily settle into the blood, kidney and liver, and could likely be detected in the blood of 98% of the U.S. population.
Chemical manufacturers now face a growing number of firefighting foam lawsuits brought by individuals nationwide, including former fire fighters diagnosed with cancer and individuals who lived near military bases or training facilities where chemicals from the toxic foam contaminated drinking water supplies. The companies may also face massive liability for PFAS cleanup costs associated with the contamination caused by the chemicals that they sold for decades.
"*" indicates required fields