Former Camp LeJeune Marine Files Kidney Cancer Lawsuit Over PFAS Exposure From Drinking Water on Base
June 07, 2022
By: Irvin Jackson
A former U.S. Marine indicates he developed kidney cancer after exposure to per- and polyfluoroalkyl substances (PFAS) that contaminated drinking water at Camp Lejeune, following use of fire-fighting foam at the base.
James Hart filed the complaint (PDF) in the U.S. District Court for the District of South Carolina on May 31, pursuing claims against various chemical and safety equipment manufacturers associated with the sale of aqueous film-forming foam (AFFF), which has been widely used for decades to combat petroleum and fuel-based fires.
Firefighter foam contains high levels of PFAS, which are commonly described as "forever chemicals" since they do not naturally breakdown and can bioaccumulate in the body and environment, causing a number of serious health conditions among former firefighters and instructors.
The toxic chemicals were first introduced into the manufacturing industry in the 1940's because of their ability to resist heat, grease, stains, and water. However, since then the chemicals have been linked to a myriad of adverse health effects including liver damage, thyroid disease, decreased fertility, high cholesterol, obesity, hormone suppression, and cancer.
However, as a result of the poorly regulated and widespread use, PFAS water contamination lawsuits are being filed by plaintiff's in many areas, claiming they developed ulcerative colitis or cancer from high volumes of PFAS chemicals being dumped into the ground water surrounding chemical manufacturing plants and around military bases, airports and other training facilities.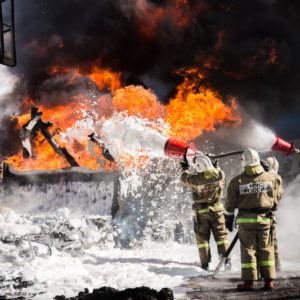 According to the lawsuit, Hart was assigned to Camp Lejeune in 1972, during which time he used and drank the water on base. The Camp Lejeune water has since been found to contain massive levels of PFAS contamination, with levels up to 172,000 parts per trillion (ppt), far exceeding the safe levels of 70 ppt established by the U.S. Environmental Protection Agency (EPA) for drinking water.
The lawsuit indicates Hart was diagnosed with kidney cancer in 2017, and high levels of PFAS were found in his blood. He claims the diagnosis was directly related to water contamination at Camp Lejeune caused by the use of firefighting foam on the base during training and response exercises.
Hart indicates the chemical and safety equipment manufacturers knew or should have known by the 1960s that PFAS were hazardous to human health, but failed to warn the public or recall the firefighting foam. Hart's lawsuit claims he did not know of his risks of PFAS exposure in connection to his kidney cancer until summer of 2020.
"3M and at least Dupont, had actual knowledge of defective design in the chemical compounding of its AFFF products, which gave rise both to a duty to adequately warn those who could be affected and to reformulate," the lawsuit states. "Neither 3M nor Dupont did so, but instead permitted the toxic AFFF to continue to be manufactured, sold and/or distributed in its toxic condition knowing its potential harms."
The case comes amid a growing number of firefighting foam lawsuits being pursued by former fire fighters, as well as individuals living on or around military bases, who developed cancer. However, there are also long-held concerns about health risks specifically linked to Camp Lejeune drinking water.
Camp Lejeune Water Contamination
In prior years, a number of veterans were prevented from pursuing Camp Lejeune water contamination lawsuits against the U.S. government, after the claims were barred by the North Carolina statute of limitations and statute of repose. However, the U.S. Congress is currently considering new legislation that may open the door for decades of veterans and family members living on the base to pursue Camp Lejeune cancer lawsuits.
The Camp Lejeune Justice Act has passed the U.S. House of Representatives and is pending in the U.S. Senate, which would open a two year window for veterans, family members and contractors to pursue claims over injuries caused by exposure to toxic chemicals at the Marine base between 1953 and 1987.
Over the period of more than three decades, over one million marines and their families were exposed to extremely high levels of toxic chemicals while stationed on the base or living near it. In addition to PFAS from firefighting foam, much of this is believed to have come from chemicals linked to laundry services and leaking underground storage tanks which infiltrated the local water supply.
Camp Lejeune Water Contamination Lawsuit
Were you or a family member exposed to contaminated water at Camp Lejeune between 1953 and 1987?
CONTACT A LAWYER
Some estimate more than 50,000 cases of breast cancer, 28,000 cases of bladder cancer, and 24,000 cases of renal cancer were caused by Camp LeJeune water contamination.
At least 850 plaintiffs have filed lawsuits seeking more than $4 billion in damages from the U.S. government over Camp LeJeune water over the years, but most potential claimants have found themselves stonewalled by both North Carolina statute of limitation laws, and the Department of Veterans Affairs, which has frequently denied health care services for the injured veterans and their families.
If passed, the Act would allow individuals to pursue Camp LeJeune lawsuits if they were exposed to water on the base for at least 30 days between August 1, 1953, and December 31, 1987, including individuals who worked or lived on the base, as well as those born to women exposed to the water while pregnant. The legislation would also prevent the U.S. government from asserting a qualified immunity defense to the claims.
"*" indicates required fields