JPML To Hear Oral Arguments Over Fire-Fighting Foam Lawsuit Consolidation
October 23, 2018
By: Irvin Jackson
The U.S. Judicial Panel on Multidistrict Litigation (JPML) has agreed to hear oral arguments over whether to consolidate and centralize all fire-fighting foam lawsuits, which plaintiffs say has contaminated drinking water supplies. 
3M Company, Tyco Fire Products and Chemguard, Inc. face at least 85 product liability claims filed by both individuals and municipalities who allege that the companies, primarily 3M, knew or should have known of the hazards associated with perfluorinated compounds (PFCs) exposure within its aqueous film-forming foam (AFFF), which has been used by the military over the last several decades during routine fire extinguishing exercises at military bases nationwide.
Defendants filed a motion in September, seeking to consolidate cases filed in U.S. District Courts nationwide before one federal judge for coordinated discovery and pretrial proceedings. The manufacturers have proposed transferring cases to the U.S. District Court for the District of Massachusetts, or, alternatively, to the Southern District of New York.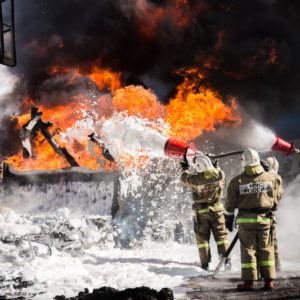 In a response (PDF) filed earlier this month, plaintiffs indicated that they agree with the creation of a aqueous film-forming foam MDL, but argue that the cases should be consolidated in the Northern District of Alabama.
Both parties indicate that they believe consolidation would prevent duplicative discovery, contradictory rulings, and serve the convenience of the parties, witnesses and the Court.
In a Notice of Hearing Session (PDF) issued on October 11, the JPML indicated it will hear oral arguments about the issue on November 29, at the Daniel Patrick Moynihan U.S. Courthouse in New York City.
Attorneys indicate that hundreds, if not thousands, of additional individuals who are similarly situated may join the firefighting foam class actions or file individual lawsuits over health risks allegedly caused by tainted water supplies.
At least two sites have already been found to be contaminated, including Naval Auxiliary Landing Field Fentress in Chesapeake, Virginia, and Naval Weapons Station Earle in Colts Neck, New Jersey.
PFCs were found in the drinking water at Fentress, but only in the groundwater, and not drinking water, at Earle station. However, the firefighter foam was recorded to have been used at least 664 sites where fire training and crash training exercises were conducted nationwide, potentially contaminating the ground water and drinking water supplies in hundreds of military bases and local surrounding communities.
Exposure to PFCs has been linked to a risk of tumors, neonatal death, liver toxicity, immune system problems, disruption of the human endocrine system, as well as a potential risk of prostate, kidney and testicular cancers.
Recent research by the Environmental Protection Agency (EPA) suggests human exposure to PFCs may lead to a number of adverse effects, including reproductive, developmental and systemic adverse effects, low birth weight, accelerated puberty, and immune and thyroid disorders.
According to findings published in the Journal of the American Medical Association in 2012, PFC exposure may also suppress the immune system and limit the ability of the body to create antibodies in response to childhood vaccines.
"*" indicates required fields