Firefighter Foam Chemicals Contaminated 20 Million Acres of U.S. Farmland: Report
April 25, 2022
By: Irvin Jackson
A new report estimates that nearly 20 million acres of U.S. cropland could be contaminated with firefighting foam chemicals, known as per- and poly-fluoroalkyl substances (PFAS), due to the practice of using sewage sludge as fertilizer.
The Environmental Working Group (EWG) announced the findings of a study this month, which found that five percent of all crop fields in the U.S. may be fertilized with sewage sludge or biosolids which contain the toxic "forever" chemicals, which are known to persist in the environment and human body, and may increase the risk of several long-term side effects.
PFAS chemicals are widely used in a number of different products, including some food packaging materials, pizza boxes, popcorn bags, fabrics and nonstick cooking pans. However, the biggest problems been linked to large volumes of the chemicals used in fire fighting foam, known as aqueous film-forming foams (AFFFs), which have caused widespread water contamination near airports, military bases and other fire training facilities.
As a result of the exposure to the firefighting foam chemicals, a number of firefighters have reported developing cancer and other injuries, and problems have also been identified among individuals living around military bases and other locations where there is known water contamination with the chemicals.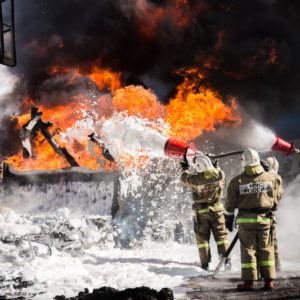 Learn More About
Exposure to firefighting foam chemicals may result in an increased risk of cancer for firefighters, military and airport personnel.
Learn More About this Lawsuit
Sewage sludge is a byproduct of wastewater treatment. During the process, solid wastes are separated from the liquid wastes, then processed and treated with bacteria that helps it to decompose. It can include household waste, pharmaceutical products, industrial waste, chemicals and metals, and PFAS.
The waste is dried and then either put in a landfill or sold as fertilizer for agriculture and landscaping.
EWG researchers used state data to estimate how much of that sludge is being used on crop fields, and estimates that since 2016, 19.1 billion pounds of it has been applied to farm fields nationwide, contaminating those fields with toxic PFAS chemicals.
"Once PFAS-contaminated sludge is applied as a fertilizer, the chemicals can build up in food crops, feed crops such as corn and hay, and the animals that eat these feed crops" the EWG report warns. "Several farmers have been forced to euthanize their farm animals due to high levels of PFAS in farm products. These forever chemicals can also contaminate irrigation water."
The report comes as chemical and safety equipment manufacturers face hundreds of firefighter cancer lawsuits filed over the manufacturers' failure to warn about the long-term risks associated with exposure to the chemicals during training and response exercises, including claims over prostate cancer, testicular cancer, kidney cancer, pancreatic cancer and other cancers. Lawsuits have also been filed on behalf of individuals who lived near military bases, airports and other training facilities, where the chemicals have contaminated local drinking water.
Given common questions of fact and law raised in the cases, the federal litigation is centralized in the U.S. District Court for the District of South Carolina, where it is expected that a small group of "bellwether" cases will be prepared for early trial dates, to help the parties gauge how juries respond to certain evidence and testimony which will be repeated throughout the claims. However, if PFAS cancer settlements or another resolution for the lawsuits is not reached following coordinated pretrial proceedings, hundreds of individual claims may later be remanded to U.S. District Courts nationwide for separate jury trials.
"*" indicates required fields