Mediator Appointed To Facilitate Firefighting Foam Settlement Discussions in MDL
November 01, 2022
By: Irvin Jackson
Firefighting foam lawsuits have been filed by former firefighters diagnosed with cancer, as well as local water suppliers left with extensive clean up costs to remove the toxic chemicals
First trial date is scheduled to begin in June 2023
Judge has appointed a mediator to coordinate firefighting foam settlement discussions
Lawyers continue to investigate new claims for cancer caused by firefighting foam. Find Out If You or a Loved One Qualify for a Settlement
The U.S. District Judge presiding over all firefighting foam lawsuits pending throughout the federal court system has appointed a mediator to work with plaintiffs and manufacturers of the aqueous film-forming foam (AFFF) during settlement negotiations.
3M Company, Tyco Fire Products, Chemguard, Inc. and other manufacturers involved in the production or sale of AFFF used to combat fuel based-fires, currently face more than 3,100 product liability claims brought by former firefighters diagnosed with cancer, as well as local water suppliers who have incurred damages attempting to remove the toxic chemicals from drinking water in communities nationwide.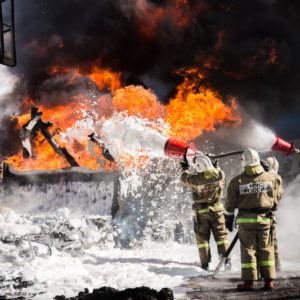 The litigation centers on the long-term effects from per- and polyfluorinated compounds (PFAS) contained in the firefighting foam, which are commonly referred to as "forever chemicals" since they can build up in the body and environment.
Lawsuits brought by former firefighters indicate that the PFAS chemicals in the foam caused the development of various types of cancer, including testicular cancer, prostate cancer, pancreatic cancer and other injuries. However, local water providers are also pursuing claims over the costs associated with removing PFAS from drinking water supplies near military bases, airports and other training locations where the foam was regularly dumped into the environment.
Mediator To Work With Parties on Firefighting Foam Settlement Negotiations
Given common questions of fact and law presented in the claims, the federal litigation is centralized and consolidated before U.S. District Judge Richard M. Gergel in the District of South Carolina, for coordinated discovery and a series early "bellwether" trials, which are expected to begin next year to help parties gauge how juries are likely to respond to certain evidence and testimony that will be repeated throughout the claims.
In a case management order (PDF) issued on October 26, Judge Gergel announced the appointment of retired Judge Layn Phillips to serve as a court-appointed mediator to assist co-lead counsel for plaintiffs and defendants in trying to reach a firefighter foam settlement agreement.
"The Mediator will facilitate and encourage discussions among and between the parties as he deems necessary and appropriate, and as he may be directed by the Court," the order states. "The Mediator will also provide confidential status reports to the Court on a frequent and timely basis."
Both parties' co-lead counsel jointly agreed on selecting Judge Phillips as the mediator, according to the order.
November 2022 Firefighting Foam Lawsuit Update
Over the coming months, the parties will meet for firefighting foam lawsuit settlement talks as part of an effort to resolve the litigation without the need for each individual case to go to trial in the coming years
Early in the litigation, Judge Gergel established a "bellwether" program, which will start with a firefighting foam water contamination lawsuit going to trial in June 2023, involving claims brought by the city of Stuart, Florida. While the outcome of this early trial will not have any binding impact on other plaintiffs in the litigation, it will be closely watched since juries will be asked to review issues about the toxic effects from firefighting foam and the manufacturer's liability for selling these products without warnings about the long-term risks.
Judge Gergel is later expected to have firefighter cancer lawyers prepare a separate group of claims for trial involving individuals diagnosed with specific injuries after direct exposure to the chemicals during training and response exercises.
Throughout the remainder of 2022 and 2023, the same manufacturers also now face a growing number of PFAS water contamination lawsuits brought by individuals diagnosed with pancreatic cancer, liver cancer, bladder cancer, testicular cancer, kidney cancer or ulcerative colitis, following years of drinking tap water that has been found to contain high levels of the chemicals from firefighter foam, particularly near military bases and other locations where PFAS was released into the water system.
B.

April 25, 2023 at 1:07 pm

Lucky Me! As a Air force brat I grew up living on or near military bases and became a firefighter-EMT. I developed prostate cancer in 202O. In 2020 my PSA went from 7 to an astounding 28.5 so I had a prostatectomy in August that year. I've had discomfort when urinating ever since and can't have sex.
"*" indicates required fields