Toxic Foam Exposure Causes Buildup of Cancer-Causing Chemicals In Firefighters: Study
May 07, 2021
By: Irvin Jackson
Toxic chemicals from firefighting foam build up in in the bodies of firefighters over time, and are found at much higher levels than in the general population, according to new findings by researchers from Rutgers University.
The study was published last month in the International Journal of Environmental Research and Public Health, which is the first to examine the risks volunteer firefighters face from per- and polyfluoroalkyl substances (PFAS) contained in firefighting foam and protective gear, which are known to build up in the body and persist for long periods of time, increasing the risk of cancer and other serious health risks.
Aqueous film-forming foam (AFFF) has been widely used for decades during training exercises and in response to certain fuel-based fires. They often contain various PFAS compounds, which are widely referred to as "forever chemicals" since they persist in the environment and human body.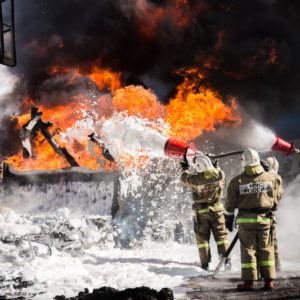 The toxic chemicals were first introduced into the manufacturing industry in the 1940's, because of their ability to resist heat, grease, stains, and water. However, since then the chemicals have been linked to a myriad of adverse health effects including liver damage, thyroid disease, decreased fertility, high cholesterol, obesity, hormone suppression, and cancer.
In this new study, researchers conducted a biomonitoring study of a large suburban volunteer firefighter department, working with the New Jersey Firefighter Cancer Assessment and Prevention Study (CAPS), the US Firefighter Cancer Cohort Study (FFCCS) and the New Jersey Department of Health's Public Health and Environmental Laboratories biomonitoring project.
Researchers studied 135 firefighters in the same New Jersey fire department, looking at lifestyle and cancer risk factors, as well as levels of nine PFAS chemicals in their blood, comparing them to levels in the general population. The vast majority of subjects were non-Hispanic white males, with a mean age of 47, and an average of 20 years of firefighting experience.
One particular PFAS, perfluorododecanoic acid (PFDoA), was found to be present in 80% of firefighters, but almost nonexistent in the general population. They also found the longer a firefighter served, the higher their PFAS levels. For every 10 years of firefighting, the researchers found serum levels of certain PFAS chemicals increased by 8%, and PFDoA, in particular, increased by 19%.
The findings indicate volunteer firefighters, who are on call 24-hours a day and tend to have longer service careers, had higher levels of PFAS in their system than career firefighters.
"The number one risk of a firefighter is being protected from the fire. The chemicals used in fire suppression foam and the protective clothing firefighters use came out 40 years ago when people thought they were safe, and they work well for what they are intended to do," said lead author Judith Graber, an associate professor at Rutgers School of Public Health in a Rutgers University press release. "Further research is needed to better understand the sources of these chemicals and to design effective foam and protective clothing that do not use these chemicals."
Firefighter Foam Lawsuits
It is projected to take thousands of years for PFAS chemicals to degrade, and past studies have shown their ability to enter and stay in the environment and human body through the air, dust, food, soil, and water. Previous U.S. Centers for Disease Control and Prevention studies have shown PFAS chemicals primarily settle into the blood, kidney and liver, and could likely be detected in the blood of 98% of the U.S. population.
In recent years, concerns have emerged about widespread water contamination from PFAS chemicals, particularly among communities near airports, military bases and other locations where firefighter training has been conducted that dumped the chemicals into the soil and groundwater.
Chemical manufacturers now face a growing number of firefighting foam lawsuits brought by nationwide, including individuals diagnosed with with cancer after exposure to the chemicals in their drinking water, as well as firefighters directly exposed during training and response exercises.
"*" indicates required fields