Firefighters Cancer Risk From Chemical Exposure Highlighted in New Study
August 24, 2020
By: Irvin Jackson
The findings of a new study suggest U.S. firefighters have been exposed to even more harmful chemicals than previously believed, and the more firefighting incidents they participate in, the more chemical exposure they face.
Researchers with Oregon State University and the Center for Fire, Rescue and EMS Health Research equipped firefighters with chemical-sensitive silicone dog tags to help determine chemical exposures on and off duty. According to findings published in the September 2020 issue of Environmental International, the dog tags detected 18 different polycyclic aromatic hydrocarbons (PAHs); a family of chemicals linked to increased cancer risks.
According to the researchers, fire fighters are frequently exposed to a variety of chemicals linked to cancer risks during fire suppression activities, including PAHs, asbestos, and diesel fumes. To gain a better sense of the scope of those exposures, researchers provided specially designed silicone military-style dog tags to 56 firefighters, who wore them from November 2018 to March 2019 for a total of 30 days on and off-duty.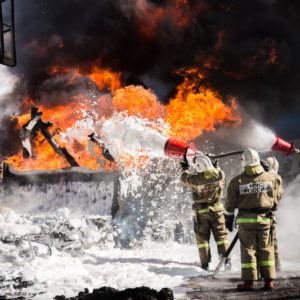 The dog tags were specially designed to allow researchers to retrieve them and detect more than 1,500 chemicals, including 124 flame retardants, 185 industrial-related chemicals, 98 PAHs, 773 pesticides, 76 personal care products, 14, phthalates, and 260 polychlorinated biphenyls (PCBs).
According to the findings, all tags detected a minimum of 13 PAHs, with 110 of the tags detecting a total of 45 PAHs at least once, and 21 PAHs detected in more than 50% of the samples.
"To the authors' knowledge, this study is the first to identify personal firefighter exposures to 18 unique PAHs," the researchers noted. "Notably, six of these previously unidentified PAHs were detected in over 75% of the dog tags: 2-ethylnaphthalene, 1,4-dimethylnaphthalene, 1,5-dimethylnaphthalene, 1,2-dimethylnaphthalene, dibenzothiophene, and 2-methylanthracene."
Overall, the researchers found that PAH concentrations were stronger based on the number of "fire attacks" participated in by the firefighter and were stronger when the firefighter was on duty than when not working. Captains and fire chiefs overall experienced lower concentrations of exposure, which the researchers suggest is likely because they perform a higher amount of administrative duties, as opposed to lower ranked firefighters who are constantly in the field.
"The number of fire attacks were positively associated with increasing PAH dog tag concentrations, demonstrating that quantitative data provides a more accurate picture of firefighter exposures compared to crude surrogate measurements," the researchers concluded. "For future cancer and non-cancer risk assessments, researchers ought to consider the complexity of firefighter chemical exposures, as demonstrated in this study, to fully evaluate occupational health risks."
Firefighter Foam Cancer Concerns
The findings of this latest study come amid increased concerns about risks associated with certain firefighting foams used in recent decades by the military and civilian organizations, which have been linked to cancer risks and widespread water contamination, particularly near military bases.
Aqueous film-forming foam (AFFF) has been widely used to fight petroleum-based fires, which cannot be controlled or subdued by water alone. However, health risks linked to AFFF foam exposure have emerged as a major concern in recent years, and municipal water supplies near several military bases, airports and other training locations have been found to contain Perfluorooctanoic Acid (PFOA) and Perfluorooctanesulfonic acid (PFOS) from the foam, which are cancer-causing chemicals that are collectively known as PFAS.
PFAS were first introduced into the manufacturing industry in the 1940's, because of their ability to resist heat, grease, stains, and water. However, since then the chemicals have been linked to a myriad of adverse health effects including liver damage, thyroid disease, decreased fertility, high cholesterol, obesity, hormone suppression, and cancer.
In addition to firefighting foams, PFASs are chemical substances used to manufacture a number of products, including food packaging materials, pizza boxes, popcorn bags, fabrics, nonstick cooking pans, and other products. The firefighting foam has been regularly used at military bases nationwide over the past decade during routine fire extinguishing exercises, and is increasingly used by civilian firefighters.
The chemicals are projected to take thousands of years to degrade, and past studies have shown their ability to enter and stay in the environment and human body through the air, dust, food, soil, and water. Previous U.S. Centers for Disease Control and Prevention studies have shown PFAS chemicals primarily settle into the blood, kidney and liver, and could likely be detected in the blood of 98% of the U.S. population.
A number of chemical manufacturers face a growing number of firefighter foam cancer lawsuits in federal courts nationwide, which are centralized in the U.S. District Court for the District of South Carolina for pretrial proceedings. Plaintiffs say exposure to the chemicals have led to cases of cancer among military and civilian firefighters, and among those who live in communities whose water supplies have been contaminated.
"*" indicates required fields