Firefighting Foam Water Contamination Lawsuits On Track For First Jury Trial in Jan. 2023
December 09, 2021
By: Irvin Jackson
With nearly 2,000 firefighting foam lawsuits pending throughout the federal court system, including claims brought by individuals diagnosed with cancer and water utility companies nationwide, a group of water contamination lawsuits are being prepared for the first bellwether trial, which is scheduled to begin in January 2023.
The claims have been brought against 3M Company, Tyco Fire Products, Chemguard, Inc. and other companies involved in the manufacture and sale of aqueous film-forming foam (AFFF) products, which have been used for decades during firefighter training activities and in response to fuel based fires. However, the products contained toxic chemicals, known as poly- and perfluorinated compounds (PFAS), which have caused widespread water contamination throughout the United States and been linked to the development of several types of cancer.
The litigation includes both firefighting foam water contamination lawsuits brought by water utility companies, who have incurred costs associated with cleaning up local water supplies, as well as individual lawsuits brought by former firefighters, military service members, airport employees and others diagnosed with cancer after exposure to the PFAS chemicals.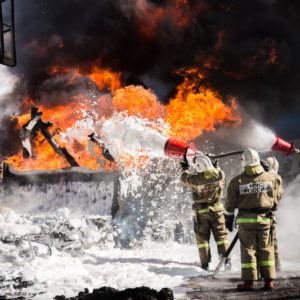 Given common questions of fact and law presented in the the claims, all complaints filed throughout the federal court system are centralized in the U.S. District Court for the District of South Carolina under Judge Richard M. Gergel, as part of a multidistrict litigation (MDL), where the Court has been presiding over coordinated discovery in common issues impacting all claims.
To help the parties gauge how juries are likely to respond to certain evidence and testimony that will be repeated throughout the claims, Judge Gergel has established a "bellwether" program, where groups of representative claims are being prepared for early trial dates, starting with a group of firefighting foam water contamination lawsuits.
In a case management order (PDF) issued on November 30, Judge Gergel amended the schedule for preparing claims for the first bellwether jury trial. The schedule now calls for parties to complete "Tier Two" fact discovery by February 21, 2022, and expert depositions by June 30, 2022. Any motions for summary judgment or challenges to the admissibility of expert witness testimony must be filed by July 18, 2022, with response in opposition due by August 15, and replies in support by August 30.
In September 2022, the parties will file recommendations about the first water contamation lawsuit that should go before a jury, with the court designating the trial case by September 30, and jury selection is slated to begin on or after January 1, 2023.
Firefighter Foam Water Contamination Health Concerns
PFAS were first introduced into the manufacturing industry in the 1940's, because of their ability to resist heat, grease, stains, and water. However, since then the chemicals have been linked to a myriad of adverse health effects including liver damage, thyroid disease, decreased fertility, high cholesterol, obesity, hormone suppression, and cancer.
It is projected to take thousands of years for PFAS chemicals to degrade, and past studies have shown their ability to enter and stay in the environment and human body through the air, dust, food, soil, and water. Previous U.S. Centers for Disease Control and Prevention studies have shown PFAS chemicals primarily settle into the blood, kidney and liver, and could likely be detected in the blood of 98% of the U.S. population.
The chemical substances are used to manufacture a number of products, including some food packaging materials, pizza boxes, popcorn bags, fabrics, nonstick cooking pans, and other products.  However, it is perhaps most known for its use in firefighting foams used by military and civilian firefighters.
Following bellwether trials involving the water contamination claims, it is expected that a separate group of cancer diagnosis lawsuits will be scheduled for early trials, unless firefighting foam settlements are reached to resolve the litigation.
"*" indicates required fields