Food Container Manufacturer Faces PFAS Contamination Lawsuit from Environmental Groups
January 03, 2023
By: Russell Maas
Two prominent environmental groups have filed a lawsuit over PFAS contamination against one of the leading food container manufacturers in the U.S., indicating that the toxic and potentially cancer-causing chemicals were knowingly applied to the surfaces of ketchup, mayonnaise and other food containers.
Per- and polyfluoroalkyl substances (PFAS) include a group of over 9,000 man-made chemicals that have been widely used for decades, to resist grease, oil and water. However, they are commonly referred to as "forever chemicals", since they persist in the environment and human body, building up over time and increasing the risk of a myriad of adverse health effects, including liver damage, thyroid disease, decreased fertility, high cholesterol, obesity, hormone suppression, and cancer.
The Center for Environmental Health and the Public Employees for Environmental Responsibility (PEER) filed a complaint (PDF) in the U.S. District Court for the District of Columbia on December 27, 2022, asking for an injunction that would immediately halt Inhance Technologies USA's production of PFAS contaminated food containers.
PFAS Contamination Health Risks
While the chemicals have been widely found in products ranging from non-stick pans, to pizza boxes and other materials, high levels in firefighting foam used to combat fuel-based fires has caused the greatest concern in recent years, and been blamed for causing PFAS water contamination in a number of communities throughout the U.S., especially near military bases, airports and other training locations.
As a result of the health risks from PFAS exposure, hundreds of firefighter lawsuits have been filed by individuals diagnosed with cancer following direct exposure to aqueous film-forming foam. There are also a number of PFAS water contamination lawsuits being pursued against manufacturers of the chemicals and fire safety equipment, pursuing settlement benefits for individuals diagnosed with ulcerative colitis, pancreatic cancer, liver cancer, bladder cancer, testicular cancer, kidney cancer and other injuries linked to drinking water with high levels of the chemicals.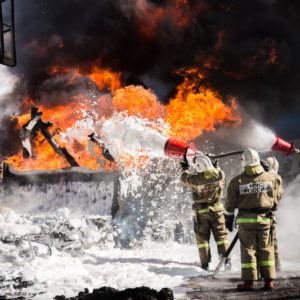 According to this new PFAS contamination lawsuit filed against Inhance Technologies, USA, the continued use of the toxic chemicals in food containers also poses a direct health risk for Americans, and should be immediately halted by the Court.
PFAS Contamination Intentionally Applied to Food Containers, Lawsuit Claims
As more information has been learned about the toxic health impacts of PFAS in recent years, many states and federal regulatory agencies have moved quickly to begin testing groundwater supplies and implementing new maximum allowable limits of PFAS in drinking water and consumer products.
According to allegations raised by the environmental groups, Inhance Technologies USA engages in the business of treating high-density polyethylene ("HDPE") and other plastic containers by "fluorination," a process in which fluorine gas is applied to the container in varying concentrations under high temperatures in order to improve its barrier properties.
While the practice has long been considered common for food containers, the environmental groups point to new evidence that shows how PFAS chemicals are introduced into the food containers during the fluorination process. This process puts consumers at direct risk of PFAS contamination, the lawsuit warns.
The lawsuit cites a March 16, 2022 open letter from the U.S. Environmental Protection Agency (EPA) to the food container industry which warns how containers undergoing fluorination can allow PFAS to leach into the contents of the containers. The letter further warned the industry of its existing requirements under the federal Toxic Substances Control Act (TSCA) to ensure unintentional PFAS contamination does not occur.
Despite the mandatory regulations already in place, the environmental groups claim Inhance Technologies has failed to uphold its responsibilities to ensure PFAS chemicals are not introduced to product containers.
As a result of the company's alleged failure to prevent such contamination from occurring, the environmental groups filed the lawsuit asking the court to order the manufacturer to cease and desist from all manufacture and processing until it has fully complied with the requirements of the TSCA. Plaintiffs are also asking the court to require the manufacturer to inform and warn all purchasers and users of its fluorinated containers of the possible presence of PFOA and other harmful long-chain perfluoroalkyl carboxylate (LCPFACs) and the need to prevent human exposure to these substances.
3M Firefighter Foam and PFAS Water Contamination Lawsuits
Recently, one of the largest producers of man-made PFAS chemicals, 3M Company, announced that it will "exit PFAS manufacturing" by the end of 2025.
The company claims the decision was based on an evaluation of multiple factors, such as increasing regulation focused on eliminating PFAS from the environment, however, the move appears clearly related to the impending PFAS contamination lawsuits it is facing.
As of January 2023, there are about 3,000 product liability lawsuits over toxic PFAS effects pending nationwide against 3M and a host of other companies, each involving similar allegations that the companies failed to warn about the long-term health risks from exposure to PFAS chemicals used in firefighting foam.
The number of claims is likely to continue to grow for decades, given the nature of PFAS, which earned the name "forever chemicals" due to their persistence in the environment, meaning they will likely continue to be a toxic threat to water supplies and human health for a long time to come, and 3M could be held liable for much of that as lawsuits continue to be filed for years.
Given common questions of fact and law raised in lawsuits being filed against 3M Company, Dupont and other manufacturers of PFAS chemicals and fire safety equipment, consolidated pretrial proceedings have been established in the federal court system, where claims brought nationwide are all centralized before one judge in the U.S. District Court for the District of South Carolina, for coordinated discovery and a series of early trial dates to help gauge how juries are likely to respond to certain evidence and testimony that will be repeated throughout the litigation.
"*" indicates required fields