New York To Regulate Some PFAS Air Emissions
February 03, 2021
By: Irvin Jackson
The State of New York has announced plans to regulate air emissions caused by some per- and polyfluoroalkyl substances (PFAS); which are toxic chemicals used in firefighter foam and numerous other products that have caused widespread water contamination nationwide and pose serious health risks.
The New York State Department of Environmental Conservation (NYSDEC) announced guidelines last month, which set limits on the allowable concentrations of some types of PFAS, particularly perfluorooctanoic acid (PFOA). Failure to meet the new standards could expose industrial manufacturing facilities in the state to fines and penalties.
PFAS were first introduced into the manufacturing industry in the 1940's, because of their ability to resist heat, grease, stains, and water. However, since then the chemicals have been linked to a myriad of adverse health effects including liver damage, thyroid disease, decreased fertility, high cholesterol, obesity, hormone suppression, and cancer.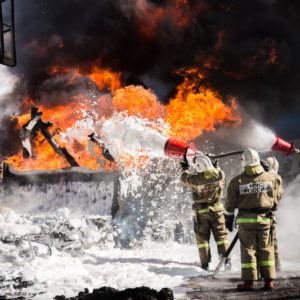 The chemical substances are used to manufacture a number of products, including some firefighting foams, food packaging materials, pizza boxes, popcorn bags, fabrics, nonstick cooking pans, and other products. The firefighting foam has been regularly used at military bases nationwide over the past decade during routine fire extinguishing exercises, and there has been renewed focus on the health risks after the chemicals have been found to contaminate many local water supplies around the training sites.
NYSDEC first proposed PFAS air emission controls in guidelines issued in October, then published the guidelines on January 13, and is accepting public comment on the new guidelines until February 12. The guidelines propose setting an allowable concentration of PFOA ambient air levels of 00.0053 millionths of a gram per cubic meter of air (µg/m3). Only PFOA, which is one of thousands of PFAS compounds, is affected.
Michigan is the only other state which regulates PFAS air emissions.
It is projected to take thousands of years for PFAS to degrade, and past studies have shown their ability to enter and stay in the environment and human body through the air, dust, food, soil, and water. Previous U.S. Centers for Disease Control and Prevention (CDC) studies have shown PFAS chemicals primarily settle into the blood, kidney and liver, and could likely be detected in the blood of 98% of the U.S. population.
In addition to growing PFAS regulations nationwide, chemical manufacturers also face a growing number of  firefighting foam lawsuits brought by individuals nationwide, including former fire fighters diagnosed with cancer and individuals who lived near military bases or training facilities where chemicals from the toxic foam contaminated drinking water supplies.
"*" indicates required fields