Pennsylvania Water Contamination Lawsuit Filed Against Firefighting Foam Manufacturers
February 23, 2021
By: Irvin Jackson
A municipal Pennsylvania drinking water supplier is joining a growing number of entities, local governments and individuals filing lawsuits over firefighting foam water contamination, after cancer-causing chemicals used in recent decades at military bases and other training locations have tainted local water supplies.
Pennsylvania-American Water Company filed a lawsuit last year in the state court system against a host of chemical and safety equipment manufacturers, including 3M Company, Tyco, Chemguard and others, which was removed (PDF) this month to the federal court system, where it will be centralized with more than 1,000 complaints involving problems caused by toxic chemicals in aqueous film-forming foams (AFFF).
The firefighting foam has been manufactured and distributed with "forever" chemicals, known as per and polyfluoroalkyl substances (PFAS), which are now known to build up in the environment and human body, increasing the risk of cancer and other health problems.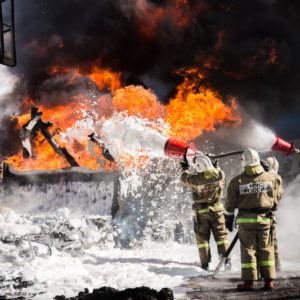 Pennsylvania-American Water Company owns and operates 67 public water supply systems in the state, which were supplied by 100 active groundwater wells the company says have been contaminated with PFAS from firefighting foam chemicals used at nearby military bases and by civilian fire departments.
The toxic chemicals were first introduced into the manufacturing industry in the 1940's, because of their ability to resist heat, grease, stains, and water. However, since then the chemicals have been linked to a myriad of adverse health effects including liver damage, thyroid disease, decreased fertility, high cholesterol, obesity, hormone suppression, and cancer. However, experts indicate that PFAS chemicals may take thousands of years to degrade, posing a long-term health risk for individuals directly exposed to the foam or regularly drinking contaminated water.
Tyco and Chemguard removed the case from the Pennsylvania Court of Common Pleas to the U.S. District Court for the Middle District of Pennsylvania, revealing their plans to invoke a "government contractor" defense they say shields them from liability in the cases.
"According to Plaintiff's Complaint, potential sources of the AFFF that has allegedly caused Plaintiff's injuries include 'airports' and 'military facilities,' many (if not all) of which are required by law to stock and use MilSpec AFFF," the defendants wrote. "Accordingly, Tyco and Chemguard intend to assert the federal 'government contractor' defense in response to Plaintiff's claims. Under the federal officer removal statute …Tyco and Chemguard are entitled to remove this action in order to have their federal defense adjudicated in a federal forum."
The Pennsylvania water contamination claim will soon be transferred to the U.S. District Court for the District of South Carolina, where a multidistrict litigation (MDL) has been established for all firefighting foam lawsuits filed in throughout the federal court system.
Given common questions of fact and law raised in complaints pending in U.S. District Courts nationwide, the claims have all been centralized before one judge for coordinated discovery and pretrial proceedings, as well as a series of early "bellwether" trials designed to gauge how juries are likely to respond to certain evidence and testimony that will be repeated in claims brought by firefighters, municipal governments and area residents exposed to contaminated drinking water.
"*" indicates required fields