Women in Wealthier Countries More Likely To Have Toxic Firefighter Foam Chemicals In Breast Milk: Study
March 23, 2021
By: Irvin Jackson
Amid continuing concerns about the health effects associated with toxic chemicals found in firefighting foam, which have caused widespread water and environmental contamination, a new study suggests that prevalence of the chemicals in breast milk is greater among women from wealthier countries.
Swedish researchers report that human milk samples show that the wealthier a country is, the more likely the women who live there are to have higher levels of per- and polyfluoroalkyl substances (PFAS) in their breast milk. Their findings were published online on March 17 in the science journal Chemosphere.
PFAS were first introduced into the manufacturing industry in the 1940's, because of their ability to resist heat, grease, stains, and water. However, since then the chemicals have been linked to a myriad of adverse health effects including liver damage, thyroid disease, decreased fertility, high cholesterol, obesity, hormone suppression, and cancer.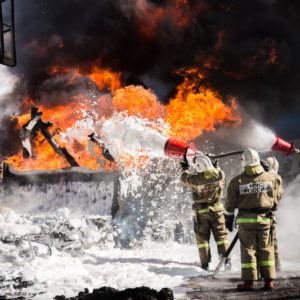 The chemical substances are used to manufacture a number of products, but they are most commonly found in aqueous film-forming foams (AFFFs) used by military and civilian firefighters to combat fuel-based fires. Regular use of the firefighting foam at certain airports and military bases during training exercises has been found to be the cause of chemicals entering many local water supplies.
The study looked at the regional incidence of three different PFAS chemicals appearing in breast milk, including perfluorooctane sulfonic acid (PFOS), perfluorooctane carboxylic acid (PFOA), and perfluorohexane sulfonic acid (PFHxS).
Out of 44 human milk samples collected in 42 different countries, PFOA was found in all of them, PFOS was found in 36 samples, and PFHxS was found in only four. While the range of the amount of PFOA and PFHxS found in breast milk was fairly narrow, PFOS exposure ranged from less than 6.2 picograms per gram (pg/g) to up to 212 pg/g.
"Statistical analysis showed that PFOS and PFOA in European countries were significantly different from those in African and Latin American countries and between high-income and low-income countries," the researchers concluded. "PFOA tends to have higher concentrations in wealthier countries. No correlation was found for population density."
It is projected to take thousands of years for PFAS to degrade, and past studies have shown their ability to enter and stay in the environment and human body through the air, dust, food, soil, and water. Previous U.S. Centers for Disease Control and Prevention (CDC) studies have shown PFAS chemicals primarily settle into the blood, kidney and liver, and could likely be detected in the blood of 98% of the U.S. population.
Chemical manufacturers now face a growing number of firefighting foam lawsuits brought by individuals nationwide, including former fire fighters diagnosed with cancer and individuals who lived near military bases or training facilities where chemicals from the toxic foam contaminated drinking water supplies.
"*" indicates required fields