PFAS Medical Testing Recommended For High Risk Individuals
July 29, 2022
By: Irvin Jackson
As a growing number of individuals and communities nationwide are pursuing PFAS water contamination lawsuits and medical monitoring class action claims, alleging that companies have dumped high levels of the toxic chemicals into drinking water supplies in recent decades, a new federal report calls for more widespread PFAS medical testing among high risk individuals, such as former firefighters, children, pregnant women, the elderly and those living in areas known to contain the chemicals in the soil and water.
Per-and polyfluoroalkyl substances (PFAS) have been frequently used in consumer and industrial products since the 1940s, to resist grease, oil, and water. However, much of the PFAS water contamination problems in the United States have resulted from use of the chemicals in firefighting foam that combats fuel-fuel based fires, which has released large levels of the chemicals into water supplies around military bases, airports and other firefighter training locations.
As a result of the harmful effects of PFAS exposure, manufacturers of the chemicals face hundreds of firefighting foam cancer lawsuits brought by individuals directly exposed to the chemicals while fire fighting, as well as local water providers who now face massive clean up costs. There are also a growing number of water contamination lawsuits being filed by individuals diagnosed with ulcerative colitis, pancreatic cancer, liver cancer, bladder cancer, testicular cancer, kidney cancer and other injuries after regularly drinking tap water found to contain high levels of PFAS.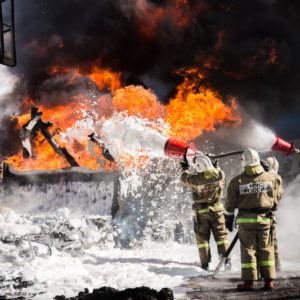 The National Academies of Sciences, Engineering, and Medicine has now released a new report, which calls for broader PFAS medical testing, after linking the toxic chemicals to decreased antibody response, dyslipidemia, kidney cancer, and decreased fetal and infant growth.
In addition, the researchers found evidence which suggests PFAS exposure is linked to an increased risk of breast cancer, liver enzyme problems, preeclampsia, testicular cancer, thyroid disease and an increased risk of ulcerative colitis.
The report calls for government agencies, like the U.S. Centers for Disease Control and Prevention (CDC) and local health agencies, to provide clinicians with educational materials about PFAS testing that can be discussed with patients living in communities with high levels of exposure. The public should be educated on how PFAS exposure can occur, the potential health risks, strategies for reducing exposure and the limitations of PFAS blood testing, as well as its benefits and harms.
The report indicates healthcare professionals should prioritize testing for those likely exposed to high levels of PFAS and who are most vulnerable to its effects, including firefighters, pregnant women, children, and the elderly.
Researchers also called for the National health and Nutrition Examination Survey to begin collecting and sharing more data on children under the age of 12 and pregnant women exposed to PFAS.
PFAS Water Contamination Lawsuits and Medical Monitoring Claims
Amid medical evidence linking the chemicals to a myriad of side effects, even at low levels of exposure, water contamination lawsuits over PFAS exposure are now being filed by individuals diagnosed with cancer or ulcerative colitis after years of drinking tainted tap water. A number of PFAS class action lawsuits have also been filed against chemical manufacturers, calling for medical testing and monitoring of individuals who now face a life-time of future risk.
The complaints allege that chemical manufacturers covered up evidence of PFAS health risks for years, and knew or should have known that individuals could develop serious injuries after exposure to PFAS chemicals in the local tap water, which builds up over time when the chemicals are improperly dumped or naturally run-off from use in firefighting foams.
As of October 2021, the Environmental Working Group (EWG) has identified 2,854 locations in the U.S. that have confirmed PFAS water contamination in public and private systems. Of those, nearly 400 military installations have been confirmed to have ground water contaminated with PFAS, while contamination is suspected, but not yet confirmed, at hundreds of others.
As a result of the findings, many states have begun filing PFAS lawsuits against manufacturers in recent years over contaminating drinking water sources. Each of the claims have raised similar allegations that manufacturers such as 3M, Dupont and others have released the toxic chemicals into the local water supply, damaging the state's natural resources, leading to a public health crisis and costly remediation efforts.
"*" indicates required fields