Lawsuit Over PFAS Water Contamination in Wisconsin Filed By State's Attorney General
July 25, 2022
By: Irvin Jackson
The Wisconsin attorney general filed a lawsuit last week against several chemical and safety equipment manufacturers, indicating they are responsible for contaminating the state's water, property and natural resources with toxic per- and polyfluoroalkyl substances (PFAS), calling for the defendants to pay the state restitution for the cleanup costs.
The complaint (PDF) was brought by Wisconsin Attorney General Josh Kaul in the Wisconsin Circuit Court of Dane County on July 20. Among the companies named as defendants in the lawsuit are 3M Company, DuPont, the Chemours Company, Buckeye Fire Equipment Company, Tyco Fire Products, Kidde-Fenwal, National Foam, Inc. Chemguard, Inc., the Amerex Corporation, Chemdesign Products, Inc., BASF Corporation, Dynax Corporation, Archroma, U.S., Carrier Global Corporation, UTC Fire and Security Americas Corporation and Clariant Corporation.
PFAS water contamination problems have been discovered in many states and communities nationwide in recent years, leading to concerns about the increased risk of various health complications, including ulcerative colitis, pancreatic cancer, bladder cancer, liver cancer, testicular cancer, kidney cancer and other injuries.
For decades, the chemicals have been used in a number of consumer and industrial products to resist grease, oil, and water. However, much of the widespread problems with PFAS contaminating drinking water have come from the use in firefighting foam, where large amounts of the chemicals entered water supply after use during fire fighting training exercises at military bases, airports and other locations to combat fuel-based fires.
As a result of the harmful effects of the PFAS chemicals, their manufacturers already face hundreds of firefighting foam cancer lawsuits brought by individuals who came into direct contact with the chemicals, and a growing number of PFAS water contamination lawsuits are now being filed by individuals diagnosed with injuries after years of drinking tap water known to contain high levels.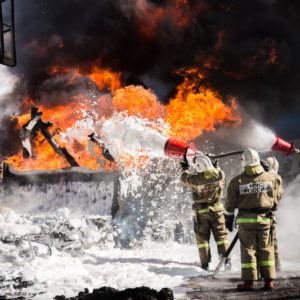 According to Kaul, the defendants knew or should have known that PFAS chemicals would negatively impact public health and the environment. Dealing with the problem has placed a huge burden on Wisconsin taxpayers, which should be costs borne by the manufacturers, the lawsuit states.
"Every Wisconsinite deserves access to clean, safe water – free of lead, PFAS, and other contaminants that have long been known to harm our kids, families, farmers, communities, and industries across the state," Wisconsin Governor Tony Evers said in a July 20 press release. "Every corner of Wisconsin has been affected by PFAS contamination, and communities from Marinette to Wausau to French Island are facing the harsh reality of PFASD in their wells, causing some folks and families to even have to rely on water coolers and plastic water bottles for clean drinking water."
Governor Evers said the PFAS water contamination lawsuit is part of the state's efforts to take immediate action to ensure Wisconsin residents do not also end up footing the bill to clean up the contamination.
The lawsuit is part of a PFAS Action Plan created by the state in 2019. The lawsuit presents claims of public and private nuisance, negligence, strict product liability, failure to warn, design defect and trespass against the defendants.
The lawsuit seeks both to cover all expenses, costs and damages related to OFAS contamination, including the cost of restoration and cleanup, and also seeks punitive damages for what the state calls the defendants' "reprehensible conduct."
"*" indicates required fields