3M Challenges Michigan Rules Seeking To Make Drinking Water Safe From "Forever Chemicals"
May 10, 2021
By: Irvin Jackson
Late last month, 3M Company filed a lawsuit against the state of Michigan over new standards put in place to limit exposure to certain toxic chemicals in drinking water, which have been linked to widespread contamination from firefighting foam used during training and response exercises in recent decades.
The complaint was filed in the Michigan Court of Claims on April 21, alleging that the regulatory process used to put the rules in place was invalid. The state's attorney general and some environmental groups are pushing back, however, saying the company is trying to continue to profit from activities which harm the public and the environment.
3M Company manufactured certain aqueous film-forming foams (AFFF) widely used for decades at military bases and by some civilian fire fighting organizations throughout the United States to fight petroleum-based fires. Some of these anti-fire foams contained per- and poly-fluoroalkyl substances (PFAS), which are now commonly referred to as "forever chemicals", building up in the environment and human body as they persist for extremely longer periods.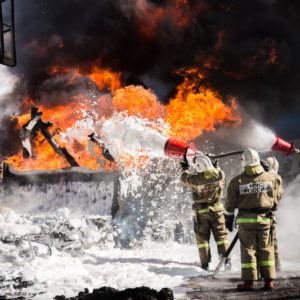 The new rules, known as Maximum Contamination Limits (MCLs) were put in place last summer, setting various limits on several different chemicals classified as PFAS. They also require regular testing of public water supplies for the chemicals.
According to 3M's lawsuit, the state used flawed science to set the rules in place and claims the Michigan Department of Environment's Great Lakes and Energy failed to follow proper procedures in establishing the new standards, and did not adequately evaluate the costs of complying with the rules.
Michigan Attorney General Dana Nessel called the lawsuit unconscionable in a May 7 press release.
"3M profited for years from its sale of PFAS products and concealed its evidence of adverse health impacts from state and federal regulators. It is no coincidence that this out-of-state company is resorting to attempts to rewrite our state's standards put in place to protect Michiganders from PFAS in their drinking water," Nessel said in the press release.  "3M knows it is responsible to address contamination in Michigan and it has been unwilling to do so. Now, it wants to change the rules so that it can continue to shirk its responsibility to Michigan residents and to the health of the water resources that define our state."
In August, Nessel filed a lawsuit against 3M and numerous other chemical companies, calling for them to pay for damages caused by AFFF water contamination.
The Michigan League of Conservation Voters also issued a press release condemning 3M's lawsuit, saying there are sites across the state which are heavily contaminated due to the dumping of PFAS chemicals for decades.
"3M's challenge to these standards is an affront to public health and an attack on communities impacted by PFAS who just want safe water to drink for them and their families," Lisa Wozniak, executive director of the Michigan League of Conservation Voters, said in the press release.
The group pointed out that the state followed proper procedures in a rulemaking process that began in late 2019 and included a public comment period and public hearings.
PFAS Health Concerns
PFAS were first introduced into the manufacturing industry in the 1940's, because of their ability to resist heat, grease, stains, and water. However, since then the chemicals have been linked to a myriad of adverse health effects including liver damage, thyroid disease, decreased fertility, high cholesterol, obesity, hormone suppression, and cancer.
The chemicals are projected to take thousands of years to degrade, and past studies have shown their ability to enter the human body through the air, dust, food, soil, and water. Previous U.S. Centers for Disease Control and Prevention (CDC) studies have shown PFAS chemicals primarily settle into the blood, kidney and liver, and could likely be detected in the blood of 98% of the U.S. population.
In June 2019, a federal investigation found that PFAS chemicals are commonly found in numerous food products, including meats, seafood, chocolate, cake and other products. However, the FDA released a statement indicating that the levels found do not raise health concerns, based on the best available science.
According to findings published in the Journal of the American Medical Association in 2012, exposure may also suppress the immune system and limit the ability of the body to create antibodies in response to childhood vaccines.
The manufacturers also face a growing number of product liability lawsuits from former fighter fighters who say they developed various forms of cancer, particularly testicular cancer, following years of exposure to the chemicals without adequate safety equipment or health warnings.
In December 2018, all military and civilian firefighting foam lawsuits filed in federal courts nationwide were centralized in the U.S. District Court for the District of South Carolina for pretrial proceedings.
"*" indicates required fields