FDA Warns of Acetaminophen Toxicity Risk From Doubling Dosing
January 25, 2013
By: Irvin Jackson
Federal health officials are warning consumers battling the flu to be aware that many medications contain acetaminophen and they may face a risk of severe liver damage from acetaminophen toxicity if they take multiple drugs containing the painkiller or take more than the recommended daily dose.
In a consumer update posted to the FDA's website this week, the agency warns individuals not to "double up" on flu medications, many of which contain acetaminophen. Doing so can potentially lead to an acetaminophen overdose, placing the liver at risk of severe injury that may result in the need for a transplant or cause death.
More than 600 medications, both prescription and over-the-counter, contain acetaminophen, the FDA warns. Quite often, particularly during the cold and flu season, consumers take multiple medications to alleviate symptoms without realizing how much acetaminophen they are actually taking.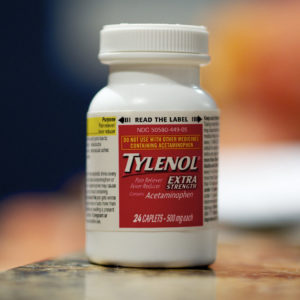 Learn More About
Side effects of Tylenol may cause autism and ADHD among children exposed during pregnancy. Find out if your family may be eligible for a Tylenol autism or ADHD settlement.
Learn More About this Lawsuit
The current maximum daily dose of acetaminophen for an adult should not exceed 4,000 milligrams per day, according to FDA recommendations.
The agency gave the following tips to avoid a acetaminophen toxicity:
Don't take more than one over-the-counter drug that contains acetaminophen
Don't take an over-the-counter drug with a prescription drug that both contain acetaminophen
Don't exceed the recommended dose on any drug that contains acetaminophen
The FDA also recommends that consumers tell their doctor and pharmacist what other drugs they are taking when being prescribed medication or when buying it over-the counter, and to check the label and ask about acetaminophen in new drugs they begin taking. The FDA has published a list of brand name drugs that contain acetaminophen.
According to the FDA, acetaminophen toxicity is a leading cause of liver failure in the U.S., resulting in more than 50,000 emergency room visits, 25,000 hospitalizations and over 450 deaths annually.  In a 2002 FDA advisory committee meeting, experts found that there were between 1,000 and 2,000 acetaminophen-induced liver failures each year.
In recent years, a growing number of individuals throughout the United States have filed an acetaminophen liver failure lawsuit against Johnson & Johnson, alleging that the drug maker failed to provide adequate warnings about the potential side effects of Tylenol, which is one of the leading pain medications in the world.
In July 2011, Johnson & Johnson announced that it was lowering the maximum recommended dosage on Tylenol and other acetaminophen-based products from 4,000 mg per day to 3,000 mg per day. The decision came after the FDA announced new limits on acetaminophen levels in prescription painkillers like Vicodin and Percocet. But over-the-counter painkillers and drugs with acetaminophen went unaffected.
"*" indicates required fields