Acetaminophen Side Effects May Block Positive and Negative Emotions: Study
April 24, 2015
By: Irvin Jackson
New research suggests that side effects of acetaminophen, the active ingredient in Tylenol and other popular pain medications, may decrease the ability to process emotional stimuli. 
The study was conducted by researchers from Ohio State University and published in the medical journal Psychological Science on April 10, finding that both negative and positive emotions were blunted by use of acetaminophen.
Researchers conducted two experiments involving acetaminophen, looking at how individuals evaluated both negative and positive images from the International Affective Picture System.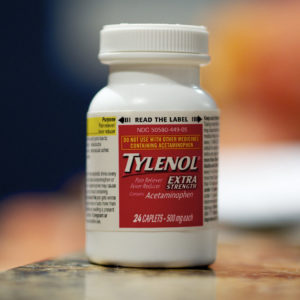 "Participants who took acetaminophen evaluated unpleasant stimuli less negatively and pleasant stimuli less positively, compared with participants who took a placebo," the researchers reported. "Participants in the acetaminophen condition also rated both negative and positive stimuli as less emotionally arousing than did participants in the placebo condition."
The study found that nonevaluative ratings of things like color saturation were unaffected.
"These findings suggest that acetaminophen has a general blunting effect on individuals' evaluative and emotional processing, irrespective of negative or positive valence," they concluded.
Acetaminophen Health Risks
Acetaminophen is the most commonly used analgesic painkiller in the world, and is generally believed to be a safe medication. However, in recent years concerns have grown over the risk of liver damage from acetaminophen overdoses, which can result in liver failure and the need for a liver transplant. It has also been liked to dangerous skin reactions, like Stephens-Johnson Syndrome.
Tylenol and other acetaminophen products have been identified in recent years as a leading cause for liver injury in the United States. The FDA has indicated that more than 50,000 emergency room visits each year, including 25,000 hospitalizations and over 450 deaths annually, may be linked to acetaminophen.
In recent years, efforts have been ramped up to bring the risk of acetaminophen overdoses to the public's attention and to reduce the amount of liver injury cases linked to the popular analgesic, which is also found in other pain killers and a number of cold medications.
In 2011, Johnson & Johnson lowered the maximum recommended dosage on Tylenol and other acetaminophen-based products from 4,000 mg per day to 3,000 mg per day. However, studies suggest that there is a narrow margin between the recommended dose and the risk of potentially life-threatening liver failure, with 500mg of acetaminophen contained in each tablet of Extra Strength Tylenol.
A number of Tylenol lawsuits are now being pursued throughout the United States, alleging that the drug maker has withheld important safety information from the public for decades. In the federal court system, the first Tylenol trial is expected to begin in June 2015, which may provide a gauge for how juries may respond to certain evidence and testimony that is likely to be repeated in dozens of other cases.
Heather

October 16, 2015 at 3:05 pm

Acetaminophen caused side effects that lead to my life being in shambles. Had I known those risks ahead of time, I would have suffered with the pain or ceased the medication long ago.
"*" indicates required fields