New Acetaminophen Label Warnings Needed For Stevens-Johnson Syndrome Risk: FDA
December 05, 2014
By: Irvin Jackson
Federal drug regulators indicate that all over-the-counter drugs containing acetaminophen, which is the active ingredient in Tylenol and many other pain medications, should carry warnings about severe skin reactions, such as Stevens-Johnson syndrome (SJS) and toxic epidermal necrolysis (TEN).
In a draft guidance (PDF) issued this week, the FDA outlined what it believes the skin reaction warnings for acetaminophen drugs should look like.
The FDA has previously recommended specific label changes on a number of different acetaminophen drugs that have been directly linked to cases of Stevens-Johnson syndrome or other severe skin reactions. However, the agency is now recommending that manufacturers of any medication that contains acetaminophen carry some warning.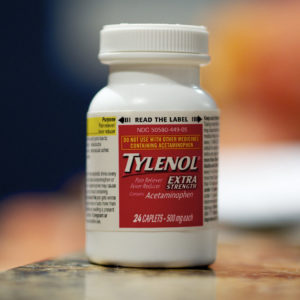 Neither the guidance nor the language is legally binding on the manufacturers, but all label changes must be approved by the FDA and the guidance gives specific language that will easily win approval.
If acetaminophen manufacturers fail to update the warning label, they could be exposed to liability through product liability lawsuits if users suffer a skin reaction, as juries would likely be told that the company failed to follow the FDA's recommendations and continued to provide inadequate warnings for consumers and the medical community.
The draft guidance comes more than a year after the FDA first linked Tylenol and Stevens-Johnson syndrome, toxic epidermal necrolysis and other severe skin reactions.
In August 2013, the FDA issued a drug safety communication notifying health care professionals and the public about the risk of skin problems from Tylenol and other acetaminophen products. In addition to cases of SJS and TEN, the agency also indicated that there may be a potential risk of acute generalized exanthematous pustulosis (AGEP).
Severe skin reactions have been been reported after the first time a consumer uses acetaminophen, as well as at other times the medication is taken, meaning that someone could experience skin problems suddenly, even if they have previously taken Tylenol or another drug containing acetaminophen.
Stevens-Johnson syndrome is a serious and life-threatening reaction that has been linked to a number of different medications. The condition results in burns to the skin that develop from the inside out, producing blisters, severe rashes, and potentially causing the skin to separate from the body. When the skin lesions affect more than 30% of the body, the condition is typically referred to as toxic epidermal necrolysis, which is a much more severe condition and may result in death.
Treatment for SJS and TEN usually require inpatient care at a hospital Burn Unit, and it can result in permanent blindness, organ failure and other serious problems.
AGEP is an outbreak of pustules on the skin, commonly referred to as a rash. It typically last about five days and usually end shortly after the victim stops taking the drug that caused the outbreak. AGEP is fatal in about 5% of all cases.
The language the FDA is encouraging drug makers to use does not include the names of any of these conditions. It simply states:

Allergy alert: acetaminophen may cause severe skin reactions. Symptoms may include:

skin reddening
blisters
rash

If a skin reaction occurs, stop use and seek medical help right away.

The FDA is accepting public comment on the draft guidance for the next 60 days.
Acetaminophen Liver Damage
Although Tylenol and other acetaminophen drugs are widely used and often believed to be safe, questions have been raised in recent years about potential side effects of Tylenol and whether the painkiller would have even been approved if it was introduced today.
Johnson & Johnson currently faces a growing number of Tylenol liver damage lawsuits, alleging that the manufacturer has minimized the known risk of liver failure for decades, building a false reputation for the medication and encouraging use at potentially toxic levels.
In recent years, acetaminophen has been identified as the leading cause of liver injury in the United States. It has been suggested that more than 50,000 emergency room visits each year are caused by acetaminophen, including 25,000 hospitalizations and 450 deaths.
In response to the risk, the FDA has increased efforts to raise awareness about the dangers associated with overdosing on acetaminophen, which can occur by taking multiple drugs that contain the ingredient or by accidentally taking more than the recommended maximum daily dose.
In 2011, Johnson & Johnson lowered the maximum recommended dosage on Tylenol and other acetaminophen-based products from 4,000 mg per day to 3,000 mg per day, after the FDA announced similar limits on prescription acetaminophen-based drugs, such as Vicodin and Percocet.
However, with 500 mg of acetaminophen in each tablet of Extra Strength Tylenol, there is still a narrow margin between the recommended dosage and the risk of severe and potentially life-threatening liver damage.
With more than 160 product liability lawsuits filed throughout the federal court system over the link between Tylenol and liver failure, the U.S. Judicial Panel on Multidistrict Litigation has established centralized pretrial proceedings for the cases in the Eastern District of Pennsylvania.
The first Tylenol trial dates over the liver failure risk are expected are not expected to begin until at least 2016.
"*" indicates required fields