AFFF Injury Lawsuits To Be Selected For Second Bellwether Pool, As First Water Provider Lawsuit Set For Trial To Begin
May 15, 2023
By: Irvin Jackson
With nearly 4,500 aqueous film-forming foam (AFFF) lawsuits pending in the federal court system, and the first bellwether trial involving claims brought by a local water provider set to begin early next month, the U.S. District Judge presiding over the litigation has directed the parties to select a second bellwether pool, this time involving injury claims that allege the toxic firefighting foam contaminated drinking water in certain communities.
Aqueous film-forming foam (AFFF) has been used for decades by the U.S. military and local fire departments to combat fuel based fires. However, 3M Company, Tyco Fire Products, Chemguard, Inc. and other manufacturers involved in the sale of firefighting foam now face lawsuits alleging that they failed to disclose serious health risks associated with PFAS chemicals contained in AFFF, as well as the risk of widespread water contamination.
Many of the claims pending nationwide involve firefighter cancer lawsuits, brought by individuals who claim they developed testicular cancer, kidney cancer, pancreatic cancer, prostate cancer and other forms of cancer from exposure during their firefighting careers. However, the litigation also includes a number of lawsuits brought by local water providers now bearing the costs associated with removing the toxic chemicals from drinking water, as well as AFFF water contamination lawsuits brought by individuals diagnosed with certain injuries after living near military bases, airports or other firefighter training locations where the toxic chemicals were routinely dumped into the environment.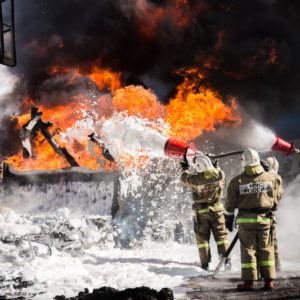 Given common questions of fact and law presented in the claims, all AFFF lawsuits are currently centralized before U.S. District Judge Richard M. Gergel in the District of South Carolina, for coordinated discovery, pretrial proceedings and a series of early bellwether trials.
To help gauge how juries may respond to certain evidence and testimony that will be repeated throughout the claims, Judge Gergel established an initial bellwether process that prepared a local water provider claim for trial, and the first case is set to go before a jury beginning on June 5, involving an AFFF water provider lawsuit brought by the City of Stuart, Florida.
As part of a continuing effort to prepare different categories of claims for trial in the sprawling litigation, Judge Gergel has now directed the parties to select a second bellwether pool involving AFFF injury lawsuits brought by individuals exposed to the chemicals from water contamination after living near certain military bases or airports in Colorado or Pennsylvania.
Second AFFF Injury Lawsuit Bellwether Trial Pool
In a court order (PDF) issued on May 5, the parties were directed to select 28 personal injury claims for the second bellwether pool involving plaintiffs who say they were exposed to AFFF through drinking water contamination, as opposed to direct exposure.
These cases will include eight kidney cancer claims, eight testicular cancer claims, eight thyroid disease claims and four ulcerative colitis claims. In addition, they will be limited to individuals alleging they were exposed to contaminated water near Peterson Air Force Base, Colorado Springs Municipal Airport, the Willow Grove Naval Air Station Joint Reserve Base and the Naval Air Warfare Center in Warminister.
The order calls for the parties to select the cases by July 28, and propose a joint list of selected or proposed cases to the court by August 11. The court calls for the parties to submit a draft case management order on the bellwether selections in advance of a case management conference scheduled for next month.
City of Stuart AFFF Water Contamination Trial Cleared To Move Forward
The order for the second bellwether trial pool selections came on the same day Judge Gergel handed down partial summary judgments in the first bellwether case selected for trial involving claims brought by the City of Stuart, Florida, clearing the case to move forward with jury selections on June 5.
The city's lawsuit claims its public drinking water system, which supplies thousands of residents, was contaminated by PFAS chemicals. Much of that contamination is likely from AFFFs used by Stuart Fire Rescue for routine training procedures, which has left the city dealing with the costs associated with attempting to remove the toxic chemicals from the drinking water system.
In an order and opinion (PDF) issued on May 5, Judge Gergel granted summary judgment to defendants over claims plaintiffs could not bring a nuisance lawsuit against them under Florida law. However, the court denied other numerous calls by defendants on other summary judgment motions in the case, allowing the case to proceed to trial.
In addition, the Court granted partial summary judgment (PDF) to Kidde-Fenwall, Inc., which argued that did not manufacture certain PFAS chemicals which contaminated the city's water supply.
While the outcome of these early bellwether trials will not have any binding impact on other claims, it is expected that the amount of any AFFF lawsuit payout awarded by juries may influence future firefighter cancer settlement negotiations to resolve the litigation.
"*" indicates required fields