AFFF Lawsuit Update
Exposure to aqueous film-forming foams (AFFF) used to fight fuel-based fires may be responsible for causing testicular cancer, kidney cancer and other cancers among firefighters, military service members and airport personnel. 
AFFF LAWSUITS STATUS: Product liability lawyers are reviewing individual AFFF firefighting foam lawsuits and potential class action claims for individuals who exposed to AFFF in recent years, seeking financial compensation and settlement benefits for injuries that may have been avoided if warnings and safety recommendations had been provided.
July 2023 AFFF Lawsuit Update: On June 22, 3M entered into a firefighting foam water contamination settlement agreement with thousands of municipalities and water providers nationwide. The company has agreed to pay as much as $12.5 billion to water systems currently known to be contaminated with PFAS chemicals, and those which may test positive for contamination in the future. The settlement came after the first trial, involving the city of Stuart, Florida, was delayed due to a possible resolution to AFFF drinking water contamination claims.
However, nearly two dozen states have opposed the settlement agreement, saying it does not do enough to hold 3M accountable for damage to their drinking water supplies.
June 2023 AFFF Lawsuit Update: On May 5, the court directed the parties to select 28 firefighter foam personal injury lawsuits for the second bellwether pool involving plaintiffs who say they were exposed to AFFF through drinking water contamination, as opposed to direct exposure.
2022 AFFF Lawsuit Update: In September, a federal judge rejected an effort to have firefighter foam water contamination lawsuits dismissed by 3M, denying the use of a "government contractor defense" argument to avoid liability. Following the rejection of the government contractor defense, the Court will continue with planned bellwether trials, which will be scheduled to help the parties gauge how juries are likely to respond to certain evidence and testimony that is being repeated throughout the litigation.
In October, a federal judge selected the first case to serve as a bellwether trial, which is scheduled to go before a jury in June 2023.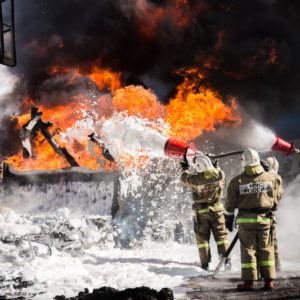 Learn More About
Firefighting Foam Lawsuits
AFFF LAWSUIT OVERVIEW: Aqueous film-forming foams (AFFF) have been used to fight petroleum-based fires since the 1960s, by both military and civilian firefighting organizations. However, even since they first went into use, a growing body of scientific evidence has indicates that chemicals in the fire suppression foam may increase the risk of cancer, contaminate drinking water supplies, and persist in the environment and human body for years.
A number of studies warn about the link between cancer and firefighting foam, which contains per- and polyfluoroalkyl substances (PFAS), including perfluorooctanoic acid (PFOA) and perfluorooctane sulfonic acid (PFOS). These "forever chemicals" can bind to proteins in the blood, and accumulate in the body with each exposure to the fire foam, regardless of how small the level.
Studies have linked exposure to PFAS chemicals in AFFF to an increased risk of:
Kidney cancer
Testicular cancer
Prostate cancer
Breast cancer
Liver cancer
Ovarian cancer
Non-Hodgkin's Lymphoma
Despite the science indicating a risk to human health and the environment, numerous AFFF manufacturers continued to make and sell the foam to fire fighting agencies and the military, knowing they would see widespread use and accumulation in the environment.
While these man-made toxic chemicals were not widely seen in the human body before the commercial development of firefighting foams in the 1960s, some studies have suggested that 99% of all Americans now have PFAS present in their bodies.
For firefighters, military and airport personnel regularly exposed to these toxic chemicals in AFFF foam, the cancer risk may have been avoided if warnings and information had been provided by the firefighting manufacturers.
In recent years, growing frustrated with the lack of federal regulations, a number of states have put their own regulations limiting the use of PFAS into place. Additionally, in April 2021, legislation was introduced at the federal level which would require the Environmental Protection Agency (EPA) to put in place standards for PFAS chemicals if passed into law.
FAILURE TO WARN FIRE FIGHTING FOAM LAWSUITS: As a result of the failure to thoroughly research aqueous film forming foam or adequately warn users, the public, and regulatory agencies, financial compensation may be available through an AFFF foam class action lawsuit.
If information about the risks of cancer from AFFF firefighting foam had been provided, many firefighting organizations would have likely chosen another fire suppression means, or taken steps to avoid the type of exposure that may lead to the diagnosis of cancer among firefighters and others who come into contact with the forever chemicals.
Which Cancers Have Been Linked to AFFF Firefighting Foam?
Exposure to AFFF firefighting foam containing PFAS has been linked to cause various types of cancers, including but not limited to:
Bladder cancer
Leukemia
Liver cancer
Lymphoma
Pancreatic cancer
Prostate cancer
Hodgkin's lymphoma
Kidney cancer
Who Qualifies for AFFF Settlements?
Individuals who have been affected by exposure to AFFF and have suffered harm as a result may potentially qualify for a firefighting foam settlement. This includes firefighters, military personnel, and others who have been exposed to AFFF and have experienced health issues such as cancer, respiratory problems, or other related conditions.
It is important to consult with legal professionals specializing in AFFF litigation to determine if you or your loved one meet the specific criteria for eligibility in AFFF lawsuit settlements.
What is the average payout for AFFF lawsuits?
The average payout for an AFFF lawsuit can vary significantly depending on various factors. It is important to note that there is no fixed or predetermined average payout for AFFF lawsuits.
AFFF settlement amounts can range from thousands to millions of dollars, and each case is evaluated on its own merits. Consulting with experienced firefighting foam lawyer can provide a better understanding of the potential compensation that may be pursued based on the specific details of your case.
What Determines AFFF Lawsuit Settlement Amounts?
Several factors can influence the settlement amount in an AFFF firefighting foam lawsuit. These factors typically include:
Severity of injuries: The extent and severity of the physical, emotional, and financial damages suffered by the individual can play a significant role in determining the firefighter cancer lawsuit settlement amount.
Medical expenses: The costs associated with medical treatments, surgeries, hospital stays, rehabilitation, and ongoing care related to the injuries caused by AFFF exposure can contribute to the settlement amount.
Lost wages and future earning capacity: If the injuries have resulted in the inability to work or have affected the individual's future earning potential, the AFFF lawsuit settlement may account for the lost wages and potential income that could have been earned.
Pain and suffering: Compensation may be awarded for the physical and emotional pain, suffering, and diminished quality of life experienced as a result of the injuries caused by AFFF exposure.
It is important to consult with experienced firefighting foam lawyers to assess the specific details of your case and determine the potential settlement amount based on these factors.
Free AFFF Lawsuit Case Evaluation
Firefighting foam cancer lawyers offer free consultations and claim evaluations to assess whether individuals may be eligible for financial compensation and settlement benefits related to health issues, injuries, or adverse effects resulting from exposure to AFFF firefighting foam. If you or a loved one have been affected by AFFF exposure and wish to explore the possibility of pursuing a firefighter cancer lawsuit, you can request a free consultation and claim evaluation by providing details about your potential AFFF lawsuit for review by a lawyer.
AFFF LAWSUIT LAWYERS
All claims are handled on a contingency fee basis. There are no fees or expenses unless a settlement is obtained.
CONTACT A LAWYER
Gerard

September 7, 2023 at 7:42 pm

I was a Fire Fighter in the military from 1970-74 on a ship.. Used Fire Fighting Foam in many Naval schools .....Came down with Prostate Cancer after my Discharge,,,hade 6 months to live, but V.A. Hospital saved my life with Radiation treatment..

RICK

August 26, 2022 at 7:15 am

i was in navy in 94-96 got sick in 2001 testicular cancer /remove test an 4/ -16 lymn wer cancer ajj this at 28 years old ,life never been the same an chemo an g=blander remove bc of chemo an 3 hernia surguies an 3 failed meshes an lot more that.s not all i have had a rough time an health is not good .that afff is bad new i dont wish this on no one no one.

Jason

February 6, 2021 at 10:23 pm

I had testicular cancer in 2016. I am prior USN

Robin

December 12, 2020 at 8:34 am

So, I guess, this may cause SKIN CANCER TOO ??? RLC...
"*" indicates required fields