$10 Billion PFAS Water Contamination Settlement Reached To Resolve Claims Brought by U.S. Cities
June 05, 2023
By: Irvin Jackson
Following reports of a possible $10 billion PFAS water contamination settlement agreement with a number of U.S. cities, 3M Company asked a federal judge to delay the start of the first trial, which was slated to begin today involving claims for damages incurred by on Florida city removing the toxic chemicals from the local water supply.
3M Company and other manufacturers of per- and polyfluoroalkyl substances (PFAS), as well as fire safety equipment that contains the toxic chemicals, face thousands of lawsuits involving allegations that the companies knew about health risks associated with with the "forever chemicals", but continued to manufacture and distribute the chemicals.
The chemicals have been widely used in aqueous film-forming foam (AFFF) products used by the U.S. military and local fire departments to combat fuel based fires, and have been linked to the development of various types of cancer and other injuries. However, runoff fro the fire fighting foam has also caused widespread water contamination in many communities, leaving local cities and water suppliers to deal with the clean up costs.
While most of the U.S. claims against 3M Company, DuPont, Chemguard, Inc., Tyco Fire Products and other manufacturers involve firefighter cancer lawsuits, brought by individuals who claim they developed testicular cancer, kidney cancer, pancreatic cancer, prostate cancer and other forms of cancer from exposure during their firefighting careers, the first case to go before a jury was set to begin this week, involving damages sustained by the City of Stuart, Florida, which indicates that it has spent $100 million removing the chemicals from the local water supply.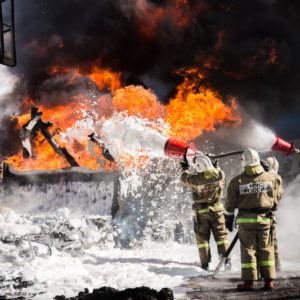 Given common questions of fact and law presented in the litigation, all AFFF lawsuits are currently centralized before U.S. District Judge Richard M. Gergel in the District of South Carolina, for coordinated discovery, pretrial proceedings and a series of early bellwether trials. However, just as the first case was set to begin, 3M Company asked the court to delay the trial, indicating it believes it is on the verge of a final PFAS water contamination settlement.
$10 Billion PFAS Water Contamination Settlement
Late last week, reports began to spread that 3M was close to finalizing a $10 billion settlement with numerous cities with pending PFAS water contamination lawsuits. The reports began after several other defendants, including Chemours Co., DuPont de Nemours Inc., and Corteva Inc., announced they had reached a $1.19 billion settlement with U.S. public water systems to resolve their role in the claims.
While 3M has not released any statements confirming the settlement, based on representations made by the company, Judge Gergel did agree to delay the start of the first trial this morning.
The reported settlement agreement came just a couple weeks after the fire safety company Kidde-Fenwal, Inc. filed for bankruptcy protection due to the expected cost of resolving thousands of firefighter foam lawsuits.
PFAS Water Contamination Risks
PFAS include a group of over 9,000 man-made chemicals, which have been widely used in fire safety equipment and AFFF products in recent decades. While the chemicals are also widely found in products like non-stick pans, pizza boxes and other material, most of the problems linked to the chemicals stems from direct exposure to firefighting foam while combating fuel based fires, or releases into the environment around military bases, airports and other firefighter training locations.
The number of claims is likely to continue to grow for decades, given the nature of PFAS, which earned the name "forever chemicals" due to their persistence in the environment, meaning they will likely continue to be a toxic threat to water supplies and human health for a long time to come, and the defendants could be held liable for much of that as lawsuits continue to be filed for years.
If the 3M settlement is not finalized, the bellwether lawsuit filed by the City of Stuart, Florida will be closely watched to help gauge how juries are likely to respond to certain evidence and testimony that will be brought throughout the litigation.
AFFF Firefighter Cancer Lawsuits
In addition to claims brought by local cities and water providers over the damages caused by PFAS chemicals, 3M Company and the other manufacturers continue to face individual lawsuits brought by former firefighters diagnosed with various types of cancer.
In late May, the parties were directed to select 28 personal injury claims for the second bellwether pool involving plaintiffs who say they were exposed to AFFF through drinking water contamination, as opposed to direct exposure.
These cases will include eight kidney cancer claims, eight testicular cancer claims, eight thyroid disease claims and four ulcerative colitis claims. In addition, they will be limited to individuals alleging they were exposed to contaminated water near Peterson Air Force Base, Colorado Springs Municipal Airport, the Willow Grove Naval Air Station Joint Reserve Base and the Naval Air Warfare Center in Warminister.
The order calls for the parties to select the cases by July 28, and propose a joint list of selected or proposed cases to the court by August 11.
If the current efforts do not end in a PFAS water contamination lawsuit settlement, the outcome of the early bellwether trials will not have any binding impact on other claims. However, if they proceed, it is expected that the amount of any AFFF lawsuit payout awarded by juries may influence future firefighter cancer settlement negotiations to resolve the litigation.
"*" indicates required fields