Kidde-Fenwal Files for Bankruptcy Over Cost of Firefighter Foam Lawsuits
May 17, 2023
By: Irvin Jackson
The fire safety company Kidde-Fenwal, Inc. has filed for bankruptcy protection, as its parent company attempts to sell the subsidiary off in an effort to pay for the expected cost of resolving thousands of firefighter foam lawsuits, which the company faces over widespread water contamination, cancers and other injuries linked to the use of toxic per- and polyfluoroalkyl substances (PFAS) in fire fighting foam and other products sold by the company.
PFAS include a group of over 9,000 man-made chemicals, which have been widely used in fire safety equipment and aqueous film-forming foam (AFFF) products in recent decades. While the chemicals are also widely found in products like non-stick pans, pizza boxes and other material, most of the problems linked to the chemicals stems from direct exposure to firefighting foam while combating fuel based fires, or releases into the environment around military bases, airports and other firefighter training locations.
As a result of the harmful effects of the chemicals, Kidde-Fenwal, 3M Company and many other manufacturers face hundreds of firefighting foam cancer lawsuits brought by former users, alleging that they were not adequately warned about the health risks of the chemicals in AFFF. In addition, a number of communities and local water suppliers have also filed lawsuits, particularly targeting 3M, over the costs associated with cleaning up the chemicals from drinking water, as well as injuries associated with drinking contaminated water near military bases and other areas.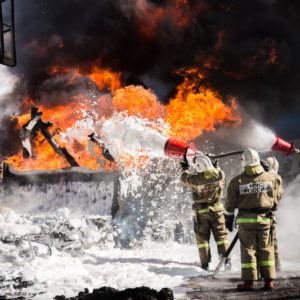 Kidde-Fenwal, Inc. filed for Chapter 11 bankruptcy protection (PDF) in the U.S. District Court for the District of South Carolina on May 14, indicating that it likely cannot afford to pay the cost of resolving or settling firefighter foam PFAS lawsuits. Its parent company, Carrier Global, indicated the bankruptcy was part of its plan to sell Kidde-Fenwal to another buyer, and that the proceeds would be used to pay for PFAS litigation.
Kidde-Fenwal was acquired by Carrier in 2020, when it was spun off from United Technologies Corp. It is valued at about $318 million in total assets. To date, the firefighter foam litigation has cost the company an estimated $6 million this year alone, and that cost likely to increase dramatically as additional claims are scheduled for trial and settlement negotiations begin.
While Kidde-Fenwal no longer makes firefighting foam products, it did so from 2007 to 2013, under its then-subsidiary National Foam, which it sold in 2013 for $77 million.
Firefighter Foam and Water Contamination Lawsuits
There are currently about 3,000 lawsuits over toxic PFAS effects pending nationwide against Kidde-Fenwal and a host of other companies, each involving similar allegations that the companies failed to warn about the long-term health risks from exposure to the chemicals.
The number of claims is likely to continue to grow for decades, given the nature of PFAS, which earned the name "forever chemicals" due to their persistence in the environment, meaning they will likely continue to be a toxic threat to water supplies and human health for a long time to come, and Kidde-Fenwal could be held liable for much of that as lawsuits continue to be filed for years.
Given common questions of fact and law raised in lawsuits being filed against Kidde-Fenwal, as well as 3M Company, Dupont and other manufacturers of PFAS chemicals and fire safety equipment, consolidated pretrial proceedings have been established in the federal court system, where claims brought nationwide are all centralized before one judge in the U.S. District Court for the District of South Carolina, for coordinated discovery and a series of early trial dates to help gauge how juries are likely to respond to certain evidence and testimony that will be repeated throughout the litigation.
Last year, the Court selected a local water contamination lawsuit for the first bellwether trial, which will go before a jury in 2023. While the outcome of the first trials will not be binding on firefighters or other plaintiffs, they will be closely watched and may influence future settlement negotiations over the firefighting foam cancer risks.
"*" indicates required fields