Firefighting Foam Water Contamination Lawsuit To Be Selected For Trial
August 04, 2022
By: Irvin Jackson
Given common questions of fact and law raised in firefighting foam lawsuits brought throughout the federal court system, including cancer claims brought by former firefighters and water contamination claims brought by local water suppliers, a small group of cases are being prepared for early trial dates to help the parties gauge how juries will respond to certain evidence and testimony that will be repeated throughout the litigation.
In a case management order (PDF) issued on August 1, the U.S. District Judge presiding over the coordinated pretrial proceedings in the claims indicates that a firefighting foam water contamination lawsuit will be selected for the first trial by December 9, 2022, and the parties should be prepared for jury selection to begin in the case on or after April 1, 2023.
While the outcome of the trial will not be binding on other plaintiffs, it is being closely watched by parties involved to evaluate the strengths and weaknesses of arguments and claims that will be raised in hundreds of future trials, and may influence eventual firefighting foam settlements that may be reached to resolve the litigation.
Firefighting Foam Cancer and Water Contamination Claims
3M Company, Tyco Fire Products, Chemguard, Inc. and other manufacturers of aqueous film-forming foams (AFFF) face more than 2,400 product liability lawsuits filed by both individual firefighters, as well as local water suppliers, each involving common allegations that the companies knew or should have known that toxic chemicals in the firefighting foam posed an unreasonable risk of injuries, both to those directly exposed to the foam and those living in communities left to deal with water contamination problems.
AFFF Lawsuits brought by former firefighters indicate that the PFAS chemicals in the foam caused the development of various types of cancer, including testicular cancer, prostate cancer, pancreatic cancer and other injuries. However, local water providers nationwide are also seeking damages for the cleanup costs associated with removing toxic chemicals from the firefighting foam from water supplies, especially near military bases, airports and other firefighting training locations where large volumes of the foam were used.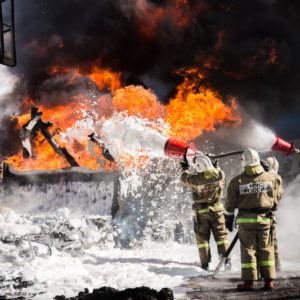 U.S. District Judge Richard M. Gergel is currently presiding over the litigation, which is centralized in the U.S. District Court for the District of South Carolina, as part of an MDL or multidistrict litigation.
Early in the litigation, Judge Gergel decided to establish a bellwether program where a group of firefighting foam water contamination claims would be prepared for trial first, going through case-specific discovery and pretrial motions to test certain arguments and claims before large numbers of individual firefighters' lawsuits are set for trial.
While the first AFFF water contamination lawsuit was previously expected to begin in January 2023, the latest scheduling order has pushed back the start at least three months.
According to the order, the delay allows additional time for Tier Two fact discovery, indicating that the parties now must complete expert depositions by August 16, file any Daubert motions by September 9, and the Court will then designate the first bellwether trial case by December 9, 2022.
Firefighter Foam Health Concerns
Problems with the firefighting foam involve the use of toxic per- and polyfluoroalkyl substances (PFAS), often referred to as "forever chemicals" since they are known to persist in the environment and build up in the human body, leading to a number of different types of cancers and disease.
PFAS were first introduced into the manufacturing industry in the 1940's, because of their ability to resist heat, grease, stains, and water. However, the chemicals are known to cause a variety of adverse health effects, including liver damage, thyroid disease, decreased fertility, high cholesterol, obesity, hormone suppression, and cancer.
It is projected to take thousands of years for PFAS chemicals to degrade, and past studies have shown their ability to enter and stay in the environment and human body through the air, dust, food, soil, and water. Previous U.S. Centers for Disease Control and Prevention studies have shown PFAS chemicals primarily settle into the blood, kidney and liver, and could likely be detected in the blood of 98% of the U.S. population.
In addition to the claims pending before Judge Gergel brought by firefighters and water suppliers, there are also a growing number of PFAS water contamination lawsuits being brought nationwide against these same chemical and safety equipment manufacturers, involving ulcerative colitis, bladder cancer, pancreatic cancer, liver cancer, testicular cancer and kidney cancer diagnosed among individuals who live in areas with high levels of the chemicals found in their water.
"*" indicates required fields