Mounjaro Lawsuits May Impact Growth of Eli Lilly Diet Drug Amid Stomach Paralysis Problems
August 11, 2023
By: Russell Maas
Mounjaro was introduced in May 2022, as a weight loss drug for type 2 diabetes patients
FDA now is reviewing the results of Mounjaro clinical trial data and could approve wider use of the drug specifically for weight loss by the end of 2023
Eli Lilly was recently hit with a Mounjaro lawsuit over stomach paralysis or gastroparesis
Similar lawsuits may soon be filed by additional users, alleging drug maker failed to adequately disclose the potential Mounjaro side effects
As pharmaceutical giant Eli Lilly continues to seek official approval for the wider use of it's potential blockbuster drug Mounjaro as a treatment for obesity in non-diabetic patients, a recently filed Mounjaro lawsuit may signal the start of a problem for the drug maker, as additional users contemplate filing claims after developing severe stomach paralysis or gastroparesis.
Mounjaro (tirzepatide) has garnered a significant amount of attention over the last year for its ability to improve blood sugar control in adults with type 2 diabetes, which is a chronic and progressive condition that causes insulin resistance and insufficiency. Mounjaro works by activating both the GLP-1 and GIP receptors to stimulate the release of insulin, a hormone responsible for reducing blood sugar levels.
Much of the attention and drive in sales of Mounjaro has largely stemmed from the drugs off-label use to help individuals lose weight by promoting the release of insulin and glucagon to help reduce hunger, decrease food intake, and promote feelings of fullness.
In recent years, several forms of GLP-1 receptor agonist drugs exclusively approved to treat type 2 diabetes have been widely used for their off-label weight loss benefits, with some of the most popular forms of these drugs including Tirzepatide (Mounjaro) and Semaglutide (Ozempic, Wegovy and Rybelsus).
However, concerns are now being raised about the stomach problems from Mounjaro, Ozempic and other similar diabetes drugs, after a growing number of individuals have reported suffering severe digestive side effects that have led to permanent gastrointestinal injuries, including a condition known as gastroparesis.
Absent of any block box warning labels cautioning of permanent gastrointestinal issues, the first of what could be a wave of Mounjaro lawsuits was filed this month by a Louisiana woman, raising allegations that the drug manufacturers failed to warn healthcare professionals and patients about the risk of developing;
Gastroparesis (delayed gastric emptying)
Gallbladder problems
Severe vomiting
Severe diarrhea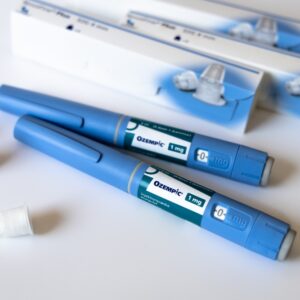 Find Out If You Have a Lawsuit
Given the rising number of case reports and evolving medical literature suggesting a link between stomach paralysis and weight loss drugs, individuals across the U.S. are now asking themselves why they were not warned of the possible Mounjaro side effects by the manufacturer.
In this featured post, AboutLawsuits.com will delve deeper into the approval of Mounjaro and its approved uses, the allegations raised in the recently filed Mounjaro lawsuit, and the commonly reported side effects of Mounjaro.
---
History of Mounjaro Approval
Mounjaro (tirzepatide) is a prescription medication developed by Eli Lilly and Company, which was approved by the U.S. Food and Drug Administration (FDA) for the treatment of type 2 diabetes in May 2022. The drug is an injectable glucagon-like peptide-1 (GLP-1) receptor agonist, which belongs to a class of medications that help lower blood sugar levels in the body by increasing insulin secretion.
While Mounjaro was specifically designed to treat people with type 2 diabetes, the medication quickly became used for off-label purposes as a weight loss drug in a similar fashion as Novo Nordisk's blockbuster drug semaglutide, which is sold under the brand names Ozempic, Wegovy and Rybelsus.
In just a short period of Mounjaro being on the market, Eli Lilly released a financial statement earlier this year in April 2023, indicating Mounjaro was the primary contributor to the company's $573.6 million in revenue generated for the first quarter.
Given the success of Mounjaro sales, Eli Lilly quickly turned to developing a second version of tirzepatide to be marketed specifically as a weight loss drug, hoping that the drug could fulfill an unmet need to curb obesity around the globe. By October 2022, the FDA granted Fast Track designation for Eli Lilly to begin investigating tirzepatide (Mounjaro) for the treatment of adults with obesity, or those with weight-related comorbidities.
The manufacturer has also begun running clinical trials on an oral version of GLP-1 receptor agonist, which has been given the name Orforglipron, which would be taken once daily in a tablet form, if ultimately approved.
Given the FDA's greenlight, Eli Lilly has since pumped over $1 billion into clinical trials, advertising and expanding its manufacturing capabilities in anticipation of the the market demand and FDA approval.
However, as Mounjaro nears the end of its clinical trials, with an FDA decision expected by the end of 2023 or by early 2024, new reports of permanent gastrointestinal injuries after taking Mounjaro are being reported by users, and a growing number of potential Mounjaro lawsuits could derail the drug makers hopes for widespread use as a diet drug.
---
Mounjaro Stomach Paralysis Lawsuit
In a Mounjaro lawsuit (PDF) filed in the U.S. District Court for the Western District of Louisiana on August 2, 2023, Jacklyn Bjorklund indicates that she developed a painful form of stomach paralysis known as gastroparesis, after using Mounjaro and Ozempic collectively for more than year.
Bjorklund's lawsuit alleges that her use of Mounjaro and Ozempic caused her to suffer from severe gastrointestinal events, including vomiting, stomach pain, gastrointestinal burning and repeated hospital emergency room visits for stomach issues.
As a result of excessive vomiting, she indicates that some of her teeth fell out and she has been prescribed additional medication to prevent throwing up food hours after eating.
Eli Lilly Failed To Warn About Mounjaro Gastroparesis Risks
Bjorklund and her lawyers claim that no Ozempic gastroparesis side effect warnings were provided, and that the Mounjaro warning only mentions that it is not recommended for use by patients already diagnosed with gastroparesis, because its effects have not been studied on them.
The lawsuit notes that despite a number of case studies and clinical reports warning that the drugs could cause, or exacerbate, gastroparesis in particular, neither manufacturer has updated the label warnings.
Bjorklund claims that both manufacturers had a duty to adequately research the side effects of their drugs, yet failed to do so in an attempt to rush the drugs onto the market to gain profits for the off-label use.
---
Mounjaro Gastrointestinal Side Effects
In the case of Bjorklund, and others outlined in emerging case studies, individuals have developed gastroparesis after using Mounjaro and other similar GLP-1 medications.
Gastroparesis, also known as delayed gastric emptying or stomach paralysis, weakens the normal muscle movement in the stomach. These stomach contractions are necessary to push food through the digestive tract.
When gastroparesis occurs, the stomach is slow to empty, resulting in symptoms including nausea, vomiting undigested food, abdominal pain, abdominal bloating, severe dehydration, feeling full after only a few bites, undigested food hardening in the stomach, acid reflux, fluctuating blood sugar levels, lack of appetite, weight loss, malnutrition and decreased quality of life.
In July, the American Society of Anesthesiologists (ASA) issued a warning about using Ozempic and Wegovy before surgery, indicating that the lack of gastric emptying linked to the drugs could put patients at risk of vomiting and aspiration while under the effects of anesthesia. Similar side effects are linked to Mounjaro, which could also pose a problem during surgical anesthesia.
Mounjaro Gallbladder Disease Risks
Years before Mounjaro was introduced to the market, a meta-analysis focusing on the impact of similar GLP-1 receptor agonist medications on pancreatitis and gallbladder disease was published in the journal Diabetes, Obesity & Metabolism. This particular study looked at Mounjaro's top competitor, Ozempic, and its heightened risk of gallbladder disease.
Researchers reported that individuals with Type 2 diabetes being treated with Ozempic and other GLP-1 receptor agonists were at a significant risk of developing gallbladder deficiencies and failure.
---
Thousands of Ozempic, Wegovy and Mounjara Lawsuits Could Be Looming
With upward of 15% of Americans having taken some form of either tablet or injectable weight loss drug such as Mounjaro, Ozempic, Wegovy or Rybelsus, it is expected that the number of individuals who may develop long-term stomach paralysis or other gastrointestinal injuries could tragically climb in the upcoming years since adequate warnings were not provided about the risks.
As a result of the apparent widespread failure to provide warnings, lawyers across the nation are preparing for what could be one of the largest mass tort claims in the coming months and years.
Who qualifies for a Mounjaro lawsuit?
Individuals who received any number of Mounjaro injections and suffered any of the following injuries could be eligible for financial compensation through a future Mounjaro lawsuit settlement.
Gastroparesis (delayed gastric emptying)
Gallbladder disease
Gallbladder removal
Gallstones
Severe vomiting
Severe diarrhea
Attorneys are providing free Mounjaro lawsuit evaluations and consultations for individuals who believe their gastrointestinal problems may have been caused by Mounjaro, or another weight loss drug. To start a free claim evaluation, submit information on the form below to have reviewed by a lawyer to see if you qualify.
Free Case Evaluation
For more information on whether you qualify for an Mounjaro lawsuit, submit information for review by a lawyer to determine if you may be eligible for an Mounjaro settlement.
FIND OUT IF YOU QUALIFY
---
Find Out If You Qualify for Ozempic or Mounjaro Compensation
Donna

August 12, 2023 at 5:59 am

This is nonsense. I've been on one of these injections for almost a year. I was told by my doctor that sometimes I may have to take a mild laxative because you don't eat enough food to push it out. This has happened a few times. If you try to overeat it will make you feel sick or nauseous. After this happens once you will not do it again.Perhaps your a Foodie? Well then you don't need to b on it[Show More]This is nonsense. I've been on one of these injections for almost a year. I was told by my doctor that sometimes I may have to take a mild laxative because you don't eat enough food to push it out. This has happened a few times. If you try to overeat it will make you feel sick or nauseous. After this happens once you will not do it again.Perhaps your a Foodie? Well then you don't need to b on it. Also you need to b under a doctor's care and you would already know if you should be injecting these shots.Doing well for a year! Thanks Mr. Lilly
"*" indicates required fields