Air Force Firefighter Files Lawsuit Over Kidney Cancer Diagnosis from AFFF Chemicals
January 21, 2022
By: Irvin Jackson
A former U.S. Air Force firefighter alleges in a lawsuit that he developed kidney cancer from aqueous film-forming foam (AFFF) used for years to fight petroleum fires, which exposed him to dangerous and toxic chemicals.
Thomas Watkins and his wife, Dorothy, filed the complaint (PDF) in the U.S. District Court for the District of South Carolina on January 10, pursuing claims against 3M Company, DuPont, BASF Corporation and a host of other safety equipment and chemical companies, indicating that the use of per- and polyfluoroalkyl substances (PFAS), like perfluorooctanoic acid (PFOA) and perfluorooctanesulfonic acid (PFOS) in firefighting foam exposed him to an increased risk of cancer.
Commonly described as "forever chemicals", PFAS compounds used in firefighter foam are now known to bioaccumulate in the body and environment, since they do not naturally breakdown, increasing the risk of a number of serious health conditions for former firefighters. However, they were used for decades in firefighting foam, and have been linked to serious health risks for firefighters and individuals regularly exposed to the chemicals.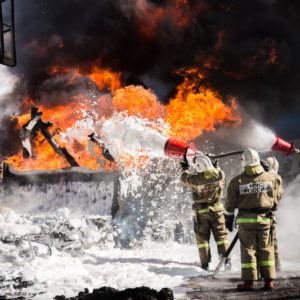 Learn More About
Exposure to firefighting foam chemicals may result in an increased risk of cancer for firefighters, military and airport personnel.
Learn More About this Lawsuit
According to the lawsuit, Watkins, of Tennessee, indicates he served as a firefighter in the U.S. Air Force from 1971 through 1974. During that time, he was regularly exposed to AFFF products which contained PFOA and PFOS, the lawsuit indicates.
In July 2006, Watkins was diagnosed with kidney cancer and underwent a nephrectomy on his right kidney. However, the lawsuit indicates he did not learn of the link between his cancer and firefighter foam until January 2021.
"Throughout his service as a firefighter, Plaintiff regularly used and was exposed to Defendants' AFFF products containing PFOA and/or PFOS and/or their precursor chemicals," Watkins' lawsuit states. "At no point during his trainings or career did Plaintiff receive any warning that Defendants' AFFF products containing PFOA and/or PFOS and/or their precursor chemicals were toxic or carcinogenic."
The toxic chemicals were first introduced into the manufacturing industry in the 1940's because of their ability to resist heat, grease, stains, and water. However, since then the chemicals have been linked to a myriad of adverse health effects including liver damage, thyroid disease, decreased fertility, high cholesterol, obesity, hormone suppression, and cancer.
Watkins' case joins hundreds of similar firefighter cancer lawsuits filed on behalf of individuals directly exposed to the chemicals while spraying the products during training or response exercises, indicating that the toxic chemicals caused various injuries, such as prostate cancer, testicular cancer, kidney cancer, pancreatic cancer and other cancers. Claims are also being pursued by individuals who lived near military bases, airports and other training facilities, where the chemicals have contaminated local drinking water.
Given common questions of fact and law raised in the cases, the federal litigation is centralized in the U.S. District Court for the District of South Carolina, where it is expected that a small group of "bellwether" cases will be prepared for early trial dates, to help the parties gauge how juries respond to certain evidence and testimony which will be repeated throughout the claims. However, if settlements or another resolution for the lawsuits is not reached following coordinated pretrial proceedings, hundreds of individual claims brought by firefighters and others may later be remanded to U.S. District Courts nationwide for separate jury trials.
"*" indicates required fields