Firefighters Class Action Lawsuit Filed Over AFFF Foam Risks
June 04, 2020
By: Irvin Jackson
A number of fire safety equipment and chemical companies face a class action lawsuit for firefighters, who allege they were exposed to toxic chemicals in aqueous film-forming foam (AFFF) used to fight fires, which may increase the risk of cancer.
The complaint (PDF) was filed by Thomas J. Gentile, Tommy McGarry and Charles O'Keefe in the U.S. District Court for the Eastern District of New York on May 27, calling for manufacturers and distributors of the AFFF foam to pay for medical monitoring of firefighters who were exposed to toxic chemicals in the flame retardant substance.
The lawsuit names 3M Company, AGG, Inc., Amerex Corporation, Angus Fire Armour Corporation, Arkema, Inc., Archroma US., Inc., BASF Corporation, Buckeye Fire Equipment Company, Chemguard, Inc., Chemicals, Inc., Chubb Fire, Ltd., Clarian Corporation, Daiken America, Inc., Daikin Industries Ltd., Deepwater Chemicals, Inc., DuPont De Nemours, Inc., Dynax Corporation, Dyneon, LLC, E.I. DuPont De Nemours and Company, Fire Services Plus, Inc., Kidde-Fenwal, Inc., Narchem Corporation, National Ford Chemical Company, National Foam, Inc., Raytheon Technologies Corporation, Solvay Specialty Polymers, USA, LLC, the Ele Corporation, and UTC Fire and Security Americas Corporation, Inc., as defendants. It seeks class action status for the plaintiffs and other New York firefighters who are similarly situated.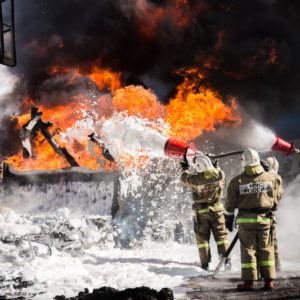 According to allegations raised in the firefighters' class action lawsuit, the defendants manufactured, distributed and sold AFFF used for decades by the military and civilian firefighters. The foams contain per- and poly-fluoroalkyl substances (PFAS), which have been associated with an increased risk of several forms of cancer, including kidney cancer and testicular cancer, as well as ulcerative colitis, thyroid disease, liver problems and other health concerns.
"Unaware of the dangerous properties of Defendants' AFFF/Component Products, Plaintiffs relied on inadequate warnings and instructions provided by Defendants regarding the proper methods for handling and storing the products," the lawsuit states. "Plaintiffs, individually and on behalf of other similarly situated current and former firefighters in the State of New York, seek to hold Defendants accountable for this callous and tortious conduct; conduct that unfolded over the course of several decades and has endangered the health and safety of some of New York's bravest citizens."
While the plaintiffs have not been diagnosed with cancer themselves, they will require medical monitoring for the rest of their lives due to the heightened risk of cancer caused by AFFF exposure, according to the lawsuit.
Firefighting Foam Health Concerns
Aqueous film-forming foam (AFFF) has been used at military bases and by some civilian fire fighting organizations throughout the United States to fight petroleum-based fires which cannot be controlled or subdued by water alone.
In addition to firefighting foams, PFASs are chemical substances used to manufacture a number of products, including food packaging materials, pizza boxes, popcorn bags, fabrics, nonstick cooking pans, and other products. The firefighting foam has been regularly used at military bases nationwide over the past decade during routine fire extinguishing exercises, and is increasingly used by civilian firefighters.
The chemicals are projected to take thousands of years to degrade, and past studies have shown their ability to enter and stay in the environment and human body through the air, dust, food, soil, and water. Previous U.S. Centers for Disease Control and Prevention (CDC) studies have shown PFAS chemicals primarily settle into the blood, kidney and liver, and could likely be detected in the blood of 98% of the U.S. population.
PFAS were first introduced into the manufacturing industry in the 1940's, because of their ability to resist heat, grease, stains, and water. However, since then the chemicals have been linked to a myriad of adverse health effects including liver damage, thyroid disease, decreased fertility, high cholesterol, obesity, hormone suppression, and cancer.
In June 2019, a federal investigation found that PFAS chemicals are commonly found in numerous food products, including meats, seafood, chocolate, cake and other products. However, the FDA released a statement indicating that the levels found do not raise health concerns, based on the best available science.
According to findings published in the Journal of the American Medical Association in 2012, exposure may also suppress the immune system and limit the ability of the body to create antibodies in response to childhood vaccines.
In December 2018, all fire fighter foam lawsuits filed in federal courts nationwide were centralized in the U.S. District Court for the District of South Carolina for pretrial proceedings.
Matthew

December 18, 2020 at 2:39 am

I served as a firefighter in the air force 1966-1970, developed coronary artery disease at an early age (41) VA recently awarded me 100% benefits and compensation due to my service connected disability. My VA file has all the medical documentation and information that supports my medical condition was caused by exposure to the chemicals in the firefighting foam,

Robert

November 11, 2020 at 10:03 pm

I was a volunteer fireman for 35+ years. Am I allowed to participate in the class action suit? I've had thyroid cancer, kidney failure and an enlarged prostate. I'm also dealing with a super-pubic catheter and will likely have it for the remainder of my lifetime.

John

October 13, 2020 at 4:03 am

I worked as a firefighter both as an airman and civilian fireman 1966 thru 1974. Am I allowed to participate in the class action?
"*" indicates required fields