Talcum Powder Lawsuits
Thousands of women throughout the United States may have developed ovarian cancer from side effects of talcum powder. Lawsuits are being investigated over allegedly inadequate warnings provided by manufacturers who sell talcum-based products under various different names, including Baby Powder, Body Powder and Talc Powder.
STATUS OF TALC POWDER LAWSUITS Product liability lawyers are reviewing potential talcum powder ovarian cancer lawsuits for women throughout the United States. Several cases have already been successful at trial against Johnson & Johnson over failure to warn about the risk of ovarian cancer, with one resulting in a $2.1 billion verdict which was later upheld by the Supreme Court. While the litigation had been on pause as Johnson & Johnson attempted to try a controversial bankruptcy filing, an early 2023 federal appeals court decision is likely to result in the cases moving through pretrial proceedings once again.
2023 Talcum Powder Cancer Lawsuit Update: On January 30, 2023, the Third Circuit Court of Appeals rejected Johnson & Johnson's bid for bankruptcy, indicating the petition had been filed for the express purpose of Johnson & Johnson attempting to reduce its liability when the company was in no financial distress despite likely facing billions of dollars in legal costs and settlement agreements to resolve the claims.
In late May, U.S. District Bankruptcy Judge Michael Kaplan ordered parties to resume talcum powder lawsuit settlement negotiations after Johnson & Johnson's LTL Management subsidiary again declared bankruptcy as part of a controversial $8.9 million settlement offer. However, in late July, Judge Kaplan again dismissed Johnson & Johnson's bankruptcy filing, determining the company had again failed to file in good faith.
2022 Talcum Powder Cancer Lawsuit Update: With Johnson & Johnson facing more than 38,000 claims, plaintiffs have challenged its controversial "Texas Two-Step" bankruptcy scheme in the U.S. Third Circuit Court of Appeals. The court will soon decide whether it can use the bankruptcy plan to shield the main company from litigation, and keep tens of thousands of claims on hold until the bankruptcy proceedings are completed.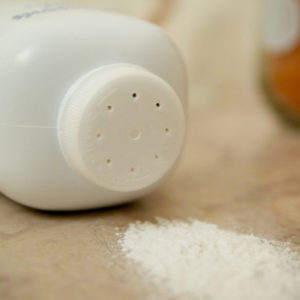 Learn More About
Talcum Powder Lawsuits
OVERVIEW: Talcum powder is derived from talc, which is a hydrated magnesium silicate. It is used for a multitude of purposes and is in many, if not most, U.S. households in some form or another.
While it is most commonly known as Baby Powder, used to prevent or treat rashes, many women also talc powder for personal hygiene and cosmetics. As a result, many different products are also marketed as body powder, such as "Shower to Shower" and other brand names.
Talc contained in many of these powders is a mineral composed of hydrated magnesium silicate. While talcum powder is generally recognized as safe, some types of talc have been found to contain asbestos fibers, which may pose serious and potentially life-threatening health concerns when used for feminine hygiene.
TALC POWDER OVARIAN CANCER RISKS: Concerns over the potential link between talcum powder and ovarian cancer has been suspected for decades. However, the manufacturers have sold talc body powder as a safe product, withholding important safety information from consumers.
As early as 1971, researchers found talc embedded in 75% of all ovarian tumors researchers studied. In addition, several studies and reports have confirmed that talc applied to a woman's genital area may travel through the vagina and into the uterus, fallopian tubes and ovaries.
In June 2013, a study published in the medical journal Cancer Prevention Research found that women who used talcum body powder as a feminine hygiene produce may face a 20% to 30% greater risk of ovarian cancer compared to those who do not apply talc.
In addition to ovarian cancer, several recent studies have suggested that talcum powder may have similar effects to asbestos and could cause mesothelioma. A November 2018 report indicated that internal memos within Johnson & Johnson revealed the company knew about the potential asbestos problem since at least the 1950s.
In October 2019, the FDA announced it had discovered asbestos in Johnson's Baby Powder, resulting in a recall of 33,000 bottles sold at major pharmacies nationwide. It is the first recall in the product's history, according to Johnson & Johnson.
As a result of Johnson & Johnson's and other manufacturers' failure to disclose the potential ovarian cancer risks women may face, financial compensation may be available through a talcum powder lawsuit or settlement.
TALCUM POWDER CANCER LITIGATION: Johnson & Johnson has faced tens of thousands of talcum powder cancer and asbestos exposure lawsuits as the litigation grew rapidly over the last few years. The cases were centralized in the U.S. District Court for the District of New Jersey since 2016 under U.S. District Judge Freda Wolfson. However, Judge Wolfson retired at the beginning of February 2022, and the cases were transferred to U.S. District Judge Michael A. Shipp, still in New Jersey.
Early in the pretrial proceedings Johnson & Johnson attempted to exclude plaintiffs' expert witness testimony under the federal Daubert standard. However, in 2020 Judge Wolfson rejected that argument, clearing the way for tens of thousands of individual cases to move forward toward trial.
Since the multidistrict litigation was formed and moved through pretrial proceedings, Johnson & Johnson has faced numerous trials in state courts. While it won some cases, the company was slammed repeatedly by juries nationwide for tens of millions, and in some cases, billions of dollars.
In February 2016, a jury awarded $72 million in damages to the family of a woman who died from ovarian cancer, and a separate jury awarded $55 million in another talc ovarian cancer in May 2016, involving a woman who developed ovarian cancer following decades of using the popular products. Another verdict of $70 million in damages was awarded in October 2016 in a similar case. A verdict in May in yet another case resulted in $110 million in damages. In August 2017 a California jury hit Johnson & Johnson with a $417 million verdict. That verdict was later overturned and a new trial ordered.
In February 2017, Johnson & Johnson won its first defense verdict, and in June 2017 another case was declared a mistrial following a Supreme Court decision limiting plaintiffs' options for filing in state courts.
However, the largest decision came in August 2018, when a group of 22 women were awarded $4.7 billion, in a verdict that was later upheld based on the amount of evidence indicating the company knew about the risks of ovarian cancer but failed to warn women or doctors for decades.
While the verdict was subsequently reduced to $2.1 billion, Johnson & Johnson appealed the decision all the way to the U.S. Supreme Court in March 2021. However, in June 2021, the Supreme Court denied the company's petition.
In October 2021, just a few months later, Johnson & Johnson attempted spin off its liability for baby powder cancer lawsuits as a separate subsidiary, LTL Management, which immediately filed for bankruptcy, claiming it had only $10 billion in assets. At that time, Johnson & Johnson was only one of two companies in the world who had a "perfect" credit score, with a market value of $400 billion, with $25 billion in cash on hand.
This tactic, known as the "Texas Two-Step" has been widely maligned by legal experts and lawmakers alike, as a way for a company flush with cash to pay plaintiffs in mass tort lawsuits only pennies on the dollar to resolve their settlements after realizing plaintiffs would win massively in court.
The bankruptcy filing held up talcum powder litigation and derailed federal bellwether lawsuits which were originally scheduled to begin going before juries in April 2022, until talcum powder plaintiffs' lawyers appealed the filing to the U.S. Court of Appeals for the Third Circuit in September 2022, arguing that the bankruptcy filing was done in bad faith to derail the litigation and avoid liability costs, which would not have put a massive company like Johnson & Johnson in financial distress.
In January 2023, the Third Circuit appeals court removed Johnson & Johnson's LTL Management subsidiary from bankruptcy, agreeing with plaintiffs that LTL was created for the sole purpose of filing bankruptcy to help shield its parent company from large talcum powder lawsuit settlement costs.
The court ruling throws the cases back to proceed in the U.S. District of New Jersey, which is likely to resume preparing for federal bellwether trials, and could begin remanding thousands of cases back to their federal courts of origin for trial, unless a fair and equitable talcum powder cancer litigation settlement can be reached.
In April 2023, Johnson & Johnson put forward a $9 billion talcum powder lawsuit settlement offer, but the deal has been derided as insufficient and criticized for involving yet another attempt for LTL Management to declare bankruptcy, likely limiting payouts for future plaintiffs.
FIND OUT IF YOU MAY QUALIFY FOR A TALC POWDER OVARIAN CANCER SETTLEMENT: Free consultations and claim evaluations are provided by talcum powder lawyers for women throughout the United States who have been diagnosed with ovarian cancer.
Lawanda

November 19, 2022 at 11:46 pm

I'm 56 yrs old and I grew up using Johnson & Johnson baby powder and shower to shower baby powder mostly J&J . I can remember all the way back to 3yrs old Mom putting it on us everyday and grandma also when we visited her. I found out at 35 yrs old I had indomaniosis and I had to have a total hysterectomy. I had Fibroid tumors what could have led to cancer if I didn't have the surgery. I was plan[Show More]I'm 56 yrs old and I grew up using Johnson & Johnson baby powder and shower to shower baby powder mostly J&J . I can remember all the way back to 3yrs old Mom putting it on us everyday and grandma also when we visited her. I found out at 35 yrs old I had indomaniosis and I had to have a total hysterectomy. I had Fibroid tumors what could have led to cancer if I didn't have the surgery. I was planning on having a baby but couldn't because of my situation. I totally blame the baby powder. But when I reached out to them they said I didn't qualify because it wasn't cancer yes it was I just had all my inside removed so it wouldn't turn into cancer.

Martin

August 20, 2021 at 12:09 am

There is no evidence that would stand up to real science that talc causes ovarian cancer. The fact that you used talc an got ovarian cancer does not tell you the talc caused it.

James

August 7, 2021 at 3:11 am

My precious mother you shower to shower Johnson baby powder product she too died of ovarian cancer last year on the 21st I know that this product caused it because it was determined in her medical documentation that this was done by powder it is atrocity that they are allowed to keep telling this product it is an atrocity that they claim to be a care product company when what they're doing is caus[Show More]My precious mother you shower to shower Johnson baby powder product she too died of ovarian cancer last year on the 21st I know that this product caused it because it was determined in her medical documentation that this was done by powder it is atrocity that they are allowed to keep telling this product it is an atrocity that they claim to be a care product company when what they're doing is causing cancer and killing us when will this stop when Johnson & Johnson needs to be brought to the ground and not allowed to be considered a care company anymore there are cancer-causing killing companies

Mike

January 21, 2021 at 11:20 pm

Why would I want to sew(sp)? I have been taking it for more that 20 years, 10 of them at a high dosage W/Liver Cancer here in Florida? By the time any money came to me you would have to deliver it 6 feet down. Waiting list is years long for a liver . . . not to mention the time it would take to get the money. I am not putting my phone number on here to receive the computer phone call every other [Show More]Why would I want to sew(sp)? I have been taking it for more that 20 years, 10 of them at a high dosage W/Liver Cancer here in Florida? By the time any money came to me you would have to deliver it 6 feet down. Waiting list is years long for a liver . . . not to mention the time it would take to get the money. I am not putting my phone number on here to receive the computer phone call every other day. If you passed the Bar here, you can leave your number.

Neva

August 24, 2020 at 5:18 pm

I also used talcum powder nearly daily from age 20 until mid 40's. I started hemorrhaging several times and was diagnosed with a very large fibroid tumor (grapefruit sized) It was decided that I needed to have a complete hysterectomy. I have read since then, that talcum powder can cause fibroids as well.

Therese

August 9, 2020 at 4:45 pm

I was brought up using baby powder and continues to use it as an adult. A little sprinkle here and there. I had been raised to sprinkle a little in my underwear especially that time of month. In 2004 at the age of 38 I had to have an emergent hysterectomy. 6 months after my normal pap. I have always ad abnormal pap and had to have repeats but this time it was normal which I know something was wron[Show More]I was brought up using baby powder and continues to use it as an adult. A little sprinkle here and there. I had been raised to sprinkle a little in my underwear especially that time of month. In 2004 at the age of 38 I had to have an emergent hysterectomy. 6 months after my normal pap. I have always ad abnormal pap and had to have repeats but this time it was normal which I know something was wrong. 6 months later after having continued pain in my lower abdomen and pain shooting down my legs I went back. My new gyn found multi cysts, fibroids, palaps, pre cancerous cells cin 4, and Endimeteois I also had extremely heavy periods. I had an urgent hyst. Dr want emergency bit I was trying to get my 18 yr old son off to the military. My son did not have a clue or he would not have gone. The dr removed everything except my fallopian tubes so that I can through the normal change of life. I still get pain from time to time but he thinks it is fine. Is this worth looking into. Am 53 now. Dr said that I had a little virus called hpv.. WTF.. I asked what is hvp and he described it to me as a little cild in my cervical. This is right before the big awareness on hpv... Is this worth looking into?

Melissa

July 24, 2020 at 7:21 pm

I had problems with my ovaries, Fallopian tubes, and uterus ever since I was a teenager. I was diagnosed three times with ovarian and uterine cancer ultimately leading to have a complete hysterectomy at the age of 28. My earliest remembrance of using the J&J products was when I was three years old by my mother up until the time that I showered myself and she showed me the routine to do myself. As[Show More]I had problems with my ovaries, Fallopian tubes, and uterus ever since I was a teenager. I was diagnosed three times with ovarian and uterine cancer ultimately leading to have a complete hysterectomy at the age of 28. My earliest remembrance of using the J&J products was when I was three years old by my mother up until the time that I showered myself and she showed me the routine to do myself. As I got older I had been a daily user of the powder as well as shower to shower both the blue and the purple kind. After being forced into menopause at the age of 28 I have had nothing but health problems ever since. This is something that has completely changed the trajectory of my life in pretty much every way on the daily. I unfortunately lost my husband to cancer in 2011 however I've met a man that I've been with for over a year now who is 39 years old and I am unable to give him any children of his own and we are set to be married. Although he says that this is not a dealbreaker that I can not give him a child of his own, I feel that this was a decision that I or we really have had unjustly taken away from us to actually have the opportunity to make. I am very thankful of the Lord as he always does have a way of providing.

Veronica

June 11, 2020 at 7:22 am

I grew using Johnson's Baby powder, later shower to shower powder; in my late 30's my period became extremely heavy lasting up to 10 days. I was diagnosed with fibroids which resulted in a total hysterectomy. As mother I used it on my daughter, at about 6mo she developed a black rash , I was advised by her pediatrician discontinue the johnson and johnson powder. Do I have a case?

Cecilia

May 21, 2020 at 9:43 pm

I used j&j all my life but had bad periods dev horrible fibroids eventually had a full hysterectomy every month felt like I was in labor. Do I have a case?

Linda

March 29, 2020 at 4:58 am

I am 53 now and my entire adult life was hampered with heavy menstrual cramping and blood loss. I have six children and requested help from doctors many times. friends told me that was normal after so many children. I had a 2.3 hemoglobin level, emergency 4 pt. blood transfusion and 2 years of attempting to regain health. I had two uterine fibroids, one being finally 16 cm when surgical removal [Show More]I am 53 now and my entire adult life was hampered with heavy menstrual cramping and blood loss. I have six children and requested help from doctors many times. friends told me that was normal after so many children. I had a 2.3 hemoglobin level, emergency 4 pt. blood transfusion and 2 years of attempting to regain health. I had two uterine fibroids, one being finally 16 cm when surgical removal of just the whole, in-tact fibroids was approved, as I did not want any organs removed. I have used Johnson's baby powder since I was a kid and loved the smell and ability to keep myself dry and fresh. I also used baby powder liberally with all of my children during their infancy to prevent diaper rash. If baby powder with asbestos is at the root of this, I would like compensation for my losses of freedom, health, and ability to thrive and prosper as an adult. I suffered immensely and almost died in 2015 before medical intervention. I have never been able to fully function without extreme stress and embarrassment or had to decline work due to heavy, uncontrollable blood loss for 5-7 days monthly.

Tracy

December 29, 2019 at 7:48 pm

There are different types of Ovarian Cancer and Uterine Cancers, however, Epithelial High Grade Serous Ovarian Cancer can be related to Mesothelioma/Asbestos in Fallopian Tube and Ovaries. If you used Talc daily contact an Attorney.

Richard

July 5, 2019 at 7:53 pm

Why don't men who use Talcum powder get Testicular or scrotal or penile cancer- stupid!

William

June 23, 2019 at 2:17 pm

Real scientific evidence shows that there is really no link between J&J Baby powder and Shower To Shower powder and Ovarian cancer or Mesothelioma. Lawyers have been depending on "Junk Science" to prove otherwise.

Nell

June 7, 2019 at 9:41 pm

J/J baby powder was always touted as the standard for maintaining freshness and a just cleansed feel-ing "down there" by my aunt, full of life/ educated! However, this zeal faded when she was diagnosed with ovarian cancer which she hid for a while from the family. Her abdomen was as hard as a brick and indeed scary. She finally re- vealed that she had undergone treatment with everything seemi[Show More]J/J baby powder was always touted as the standard for maintaining freshness and a just cleansed feel-ing "down there" by my aunt, full of life/ educated! However, this zeal faded when she was diagnosed with ovarian cancer which she hid for a while from the family. Her abdomen was as hard as a brick and indeed scary. She finally re- vealed that she had undergone treatment with everything seeming to be fine, cured or "healed" so she thought. This cancer would return if it had in fact ever left. My aunt would be in great agony that was eased by her access to dispensa- tion of morphine until she faded away although merely in her fifties!

Laurie

November 21, 2018 at 4:26 pm

I have used J & J Baby Powder in the past and used to get heavy periods and then found out I had multiple fibroids which caused massive hemmorrhaging. Had to have a proceedure to cauterize my uterus. Could this be caused by using J & J baby Powder?

Sugar

September 8, 2017 at 12:23 am

I developed an unusually large fibroids mass at a very early age in my life. I struggled with it for years and finally had a hysterectomy in 2014. That was the last resort to safe my life. I had always used J&J powder throughout my childhood and school days. I would like to know if there is a relationship between the kind of aggressive and monster fibroids I had and frequent use of J&J talcum powd[Show More]I developed an unusually large fibroids mass at a very early age in my life. I struggled with it for years and finally had a hysterectomy in 2014. That was the last resort to safe my life. I had always used J&J powder throughout my childhood and school days. I would like to know if there is a relationship between the kind of aggressive and monster fibroids I had and frequent use of J&J talcum powder. I had always wondered why the fibroids started so early and remained so so aggressive. When I learnt about this issue with talc, it got me thinking and now I so wish I had stayed away from that stuff. I will appreciate any thoughts or comments.

Sandra

June 20, 2017 at 7:23 pm

My husband has played Little League, Babe Ruth, Summer Ball, High School. UF College baseball, travel softball. Coached little league, Babe Ruth, Summer Little League, Adult travel Ball all his life. He also took a "Baby Talc Powder bath before he went out in the heat, all those years. Any chance we has a good law suite ? He had cancer and passed away October, 11, 2011.

Carol

June 4, 2017 at 4:04 am

I used Johnson&Johnson baby powder for years. I was diagnosed with ovarian and fallopian tube cancer in 2004. Chemo followed as well as doctors visits for 0 years. An oncologist and gynecologist. I was in a low category for risk and do not carry the BRCA 1 or 2 gene.

Margie

May 5, 2017 at 4:31 am

I, also used Shower to Shower through my young years . I loved the smell, so fresh . My periods became very heavy for 5 days each month and I always thought I was going to bleed to death . At the age of 49 I had a total hysterectomy because of 5 inbeded firbroid tumors and one of them was the size of a hen egg . On my sons I used baby power on them . They both have breathing problems. We are al[Show More]I, also used Shower to Shower through my young years . I loved the smell, so fresh . My periods became very heavy for 5 days each month and I always thought I was going to bleed to death . At the age of 49 I had a total hysterectomy because of 5 inbeded firbroid tumors and one of them was the size of a hen egg . On my sons I used baby power on them . They both have breathing problems. We are all up in age now and I do wish I had known, I wouldn't have used it on my children or myself. I trusted Johnson and Johnson products. Had no ideal I was harming us..

MARY

May 4, 2017 at 12:07 am

my daughter Sara and I used Johnson and Johnson powder for years, I had to have hysterecomy and Sara had Cancer of the uterus. She had chemo after a complete hysterecomy.

melonie

May 2, 2017 at 9:50 pm

HAD USED BABYBPOWERS AND IN 1992 DEVELOPED CANCER CELLS HAD TO HAVE HYSTERRECTOMY.

Stacey

April 23, 2017 at 5:16 am

For years I have been bleeding so heavy and I found I had firbroid tumors and I use did Johnson and Johnson baby Shower to Showe powder for years am doing I had blood transfusion and I didn't have any medical Insurance at the time and applied for Social Security and had a SSI Lawyer because I kept getting denied and was the only way I could had to get the surgery so I had a full Hysterectomy in 20[Show More]For years I have been bleeding so heavy and I found I had firbroid tumors and I use did Johnson and Johnson baby Shower to Showe powder for years am doing I had blood transfusion and I didn't have any medical Insurance at the time and applied for Social Security and had a SSI Lawyer because I kept getting denied and was the only way I could had to get the surgery so I had a full Hysterectomy in 2011 when I got approved for Social Security Income and Medicaid I suffered from 2006 until 2011 because I kept getting denied because of no medical Insurance at the time

Shannon

April 9, 2017 at 12:25 pm

I have been using Johnson & Johnson all my life. In 2010 I found out that my vagina was in enlarged. Then I found out that I had fibro tumors. In 2014 because I would lose so much blood had so much pain. I had to have a full hysterectomy.

geoff

March 24, 2017 at 1:47 pm

One of the comments above asked the question why only ovarian cancer... why not say all cancers of the reproductive system can be as a result of using talcum powder? The answer to the question is simple. Because you can not make a real case against talcum powder in relation to the general suite of reproductive system cancers. Just as you can not make a case against talcum powders based on the "pre[Show More]One of the comments above asked the question why only ovarian cancer... why not say all cancers of the reproductive system can be as a result of using talcum powder? The answer to the question is simple. Because you can not make a real case against talcum powder in relation to the general suite of reproductive system cancers. Just as you can not make a case against talcum powders based on the "presence of talc at the site of the cancer". A witness at the scene of the crime does not HAVE to be the perpetrator.

Jody

March 16, 2017 at 8:28 pm

Total historme maybe baby powder

LAJUANA

February 7, 2017 at 11:55 pm

I HAVE FIBRIODS ABT 5 I THINK BUT IVE EXPERIENCED THE BLEEDING THOUGHT I WAS GOING THRU THE CHANGES ALL THE WOMEN SAID WHICH IT WASNT IT WAS FIBRIODS AND MOM USED SHE HAD OVARIAN CANCER SHE HAD THEM REMOVED SHE IS PASSED AWAY NOW AT 56 IVE BEEN USING POWDER SINCE A LITTLE GIRL AND ON MY BABIES TO KEEP THEM DRY DIAPERS AND I HAVE 3 DAUGHTERS I EVEN USED ON MY SON AND I STILL WAS USING UNDER MY SHEE[Show More]I HAVE FIBRIODS ABT 5 I THINK BUT IVE EXPERIENCED THE BLEEDING THOUGHT I WAS GOING THRU THE CHANGES ALL THE WOMEN SAID WHICH IT WASNT IT WAS FIBRIODS AND MOM USED SHE HAD OVARIAN CANCER SHE HAD THEM REMOVED SHE IS PASSED AWAY NOW AT 56 IVE BEEN USING POWDER SINCE A LITTLE GIRL AND ON MY BABIES TO KEEP THEM DRY DIAPERS AND I HAVE 3 DAUGHTERS I EVEN USED ON MY SON AND I STILL WAS USING UNDER MY SHEETS BEFORE I PUT ON BED I HEARD ABOUT POWDER SUITS BUT I NEVER LINKED FIBRIODS. I WAS IN DENIAL ABOUT IT BEING A FORM OF CANCER BUT I DONT USE IT ON THE SHEETS ANYMORE SINCE LAST YEAR.

Belinda

November 22, 2016 at 7:45 pm

I have used shower to shower for many years on my breast, private areas and I ended up with breast cancer in June 2014. Surgery in July 2014, cancer treatment.....could the powder have caused my breast cancer also......

Stephanie

November 2, 2016 at 5:18 pm

I experienced heavy bleeding during my periods I never contributed it to the baby powder. I had surgery to slow down the bleeding. I had the procedure performed 9/11/2006 or 2007. In champaign,Illinois

MARY

November 1, 2016 at 1:40 pm

My mom use johnson and johnson baby powder for years and she passed away.2005. from ovarian cancer.They throught she had just stomach problems.

Jerzy

October 20, 2016 at 7:45 pm

I have used the talcum powder, I understand that it can be absorbed through the skin, just like anything else, that is why people are using the latex gloves, how many men, got the cancer in the prostate, I strongly recommend that you look into this.

Cynthia

October 11, 2016 at 12:38 am

I had minimal menstrual problems as a teenager. I conceived, carried and vaginally delivered three babies (1991,1996 1998). I used J&J powder on my babies and my personal body parts daily. In 2008, I had severe abdomen pain and cramping off and on all year. Finally after doubling over one morning I couldn't even go to work, I went into ER. They addressed my pain in my uterus area told me see a OBG[Show More]I had minimal menstrual problems as a teenager. I conceived, carried and vaginally delivered three babies (1991,1996 1998). I used J&J powder on my babies and my personal body parts daily. In 2008, I had severe abdomen pain and cramping off and on all year. Finally after doubling over one morning I couldn't even go to work, I went into ER. They addressed my pain in my uterus area told me see a OBGYN. I did and a vaginal ultrasound reveled my uterus was completely full of fibroid tumors. They said my uterus was the size of a football and it was as if I was 5 months pregnant but not pregnant. My question is...why just ovarian cancer linked with talc powder? The powder has to pass through the uterus to reach the ovaries. What about us fibroid tumor girls who suffered and lost our uterus' due to talc usage? Thank you for your help.

Alex

October 8, 2016 at 5:00 pm

My mother also used Johnson and Johnson baby powder much of her life and in 1991 she also developed ovarian cancer too ! She had had a lot of complications since she had treatment for the cancer and continues to have them till this day , as a kid I remembered my mother always using the power for years and part a routine ritual afte she showered I always seen the power rubbed on her upper chest an[Show More]My mother also used Johnson and Johnson baby powder much of her life and in 1991 she also developed ovarian cancer too ! She had had a lot of complications since she had treatment for the cancer and continues to have them till this day , as a kid I remembered my mother always using the power for years and part a routine ritual afte she showered I always seen the power rubbed on her upper chest and back, I can t believe that this could have been a result of her having this form of cancer but now and days it doesn't surprise me that threw science and technology today that they could link this go her cancer sad indeed but suf it is then if anyone deserved a fair settlement it should be her! for all those years till this day living with what could have developed as result of this product and even those that formed the same cancer because of this powered too having to live like that having to go threw radiation surgeries and what not they deserve it very much so not exclude the family members too having to go threw with it with them as well so we're do we start ? With whom we contact about this ?lmk

Susan

September 25, 2016 at 8:50 pm

I was diagnosed with ovarian cancer in 2012 at age 64 after using talcum since teens. Am still here by the grace of God and very aggressive treatment. It's been an emotional roller coaster not to be wished on anyone.

Laurie

September 11, 2016 at 3:42 pm

my 20 year old daughter was diagnosed with ovarian cancer 5 months ago - I used j&j baby powder on her for years then shower to shower when she was older.

Martha

September 8, 2016 at 8:33 pm

My Mother, an RN used Johnson and Johnson Baby Powder on me and I have always coniinuef to use it. I never used the other products offered. The only powder I enjoy and use is Johnson and Johnson Baby Powder no thought to change to a ourser product. When I apply the powder I use a powder puff to. lightoy apply. I do not rub the powder on my body only lightly dust onto my body . I have had yeast i[Show More]My Mother, an RN used Johnson and Johnson Baby Powder on me and I have always coniinuef to use it. I never used the other products offered. The only powder I enjoy and use is Johnson and Johnson Baby Powder no thought to change to a ourser product. When I apply the powder I use a powder puff to. lightoy apply. I do not rub the powder on my body only lightly dust onto my body . I have had yeast infections but never Inked them to Baby Powder. I am 71 years old and will always use the fine Jphndon and Johnson Baby Powder prior to dressing. It makes me feel dry and not sticky! I feel no negative towardthis product and would be very sad if it were no longer available! I am so sorry to those who have Had problems and their families. But how were they applying the powder? Lightly dusting is the only proper way to apply! Rubbing it onto any part of the body is not proper!! Please don't take this produce away from we who use it properly!! ... And enjoy its use!! Please pass on to the attorneys on the other side too!!

Kathy

September 5, 2016 at 1:30 pm

My mom used baby powder after showering my entire life. Then developed masses on her ovaries I believe in 2010. It started out with constipation symptoms. She was in ICU for months. The biopsies showed low grade in the masses. But because of these masses she ended up dying from complications in 2015. If it weren't for the masses she won't have been constipated; which caused her to become septic.

frances

August 20, 2016 at 9:40 am

I began using Shower to Shower talcum powder when I was a teen .. then J&J Baby Powder ... I had a very rare Lymphoma ...I had a partial hysterectomy yrs ago ... I wonder if it all came from use the talcum powder ....

Velta

August 15, 2016 at 5:49 pm

My grandmother passed away from ovarian cancer and she used the powder every day .

Steve

August 15, 2016 at 2:11 pm

My wife used talcum powder all of her life after showers. She developed ovarian cancer stage 4 and passed in 2005 at the age of 53. Do not use this product if you are a female.

Susan

August 13, 2016 at 9:00 pm

I used baby powder for years and had awful periods lost lots of blood went to emergency room and was even told id never have kids. could not find reason as to why I couldn't ovulate. I have up on life and my hygiene routine with baby powder. I became pregnant. I started my routine again and I'm struggling yet again to get pregnant is this due to the baby powder?

Dorothy

July 26, 2016 at 10:04 am

I used talcum powder for the majority of years. I was diagnosed with stage 2 cancer in 1988. I had several surgeries until 1996. My initial issue started with constipation and discomforts. Do I have a case?

Vivian

July 10, 2016 at 5:53 am

I have been using Johnson and Johnson baby powder ever since i was 18. Then in 2002 i had lost so much blood and came to find out i had 5 fibroids and had to have surgery, do i would have died if i didn't go to the emergency room. I had a hysterectomy and a blood confusion. But after i learned about this powder thing i stopped using it. Would this be part of suing?

Mom

June 29, 2016 at 1:00 am

If talcum powder is "potentially" causing ovarian cancer in women....wouldn't more women present with this type of cancer? I mean....MOST parents (before 2013) were regularly sprinkling powder on their baby's bums with each diaper change. This was supposed to decrease moisture and diaper rash. I am sorry so many have been diagnosed with ovarian cancer and breast cancer. Prayers to those that[Show More]If talcum powder is "potentially" causing ovarian cancer in women....wouldn't more women present with this type of cancer? I mean....MOST parents (before 2013) were regularly sprinkling powder on their baby's bums with each diaper change. This was supposed to decrease moisture and diaper rash. I am sorry so many have been diagnosed with ovarian cancer and breast cancer. Prayers to those that are currently dealing with the results of ovarian cancer. I just wonder why no one in my family has "fortunately" been diagnosed with this cancer, yet many used a talcum products over the years. I can't help but wonder if there isn't another underlying cause to all of these cases? I am no expert, but powder was used A LOT over the years by millions of parents and women. I recently had a breast cancer scare....fortunately, it was benign. The doctor informed me that cancer cells are present in every person's body, but your immune system naturally destroys them if they act up. However, if your immune system is compromised in any way, and your body is unable to destroy them efficiently, then they can spread and take over. :( In addition, I recently read that SUGAR and GMOs are the causes for our country's increase in all cancers! WE are hooked on convenience, love sugar (real/artificial), and quite honestly, lazy! MOST all foods in a grocery store have sugar and/or have been modified. As unfortunate as it is for all cancer diagnosis, I think WE ALL should be searching deeper into why the huge increase in cancers. I am not convinced that talcum powder is the true cause of ovarian cancer...maybe a trigger?? We need to consider all of the increases in diabetes (cut out SUGARS), Autism, Aspergers, colon, stomach, breast, brain cancers, etc. We need to be more informed and demand change!

Karen

May 27, 2016 at 7:35 pm

My mom was an avid user of Shower to Shower & J&J baby powder for all her life. She used these products on myself and my 2 sisters as well. She had to have a total hysterectomy in her 40's. She was then diagnosed with breast cancer & had to have a total mastectomy while in her early 70's. Cancer then returned a few years as an aggressive for of sarcoma which had spread to her lungs & to her live[Show More]My mom was an avid user of Shower to Shower & J&J baby powder for all her life. She used these products on myself and my 2 sisters as well. She had to have a total hysterectomy in her 40's. She was then diagnosed with breast cancer & had to have a total mastectomy while in her early 70's. Cancer then returned a few years as an aggressive for of sarcoma which had spread to her lungs & to her liver & our family was informed that it had spread to far & with her age she wouldn't be able to survive the chemotherapy as she was much to frail. My sister & I kept her with us along with hospice. She suffered a terribly painful death. My moms birthday was Aug. 5th & and she passed away on the 13th of Aug. that same year. Our family is still in mourning even to this day, she was the binding force for our family. With all the info now out for everyone to know I wonder if my mothers daily use of these 2 talcum products are the reason she suffered with all of these cancerous events in her life & caused her to suffer so much & has left our family to suffer now with our loss of her.

Felisa

May 27, 2016 at 2:00 pm

As a teenager, I used Shower to Shower on my body and in my private area to stay fresh and clean. I used it every night religious after taking a bath. In 2011, I was diagnosed with Endometriosis stage 4. In 2013, I incurred a blood clot in my right leg, multiple pulmonary embolisms in my chest and my right lung collapsed all at the same time. I was hospitalized twice back to back due to the co[Show More]As a teenager, I used Shower to Shower on my body and in my private area to stay fresh and clean. I used it every night religious after taking a bath. In 2011, I was diagnosed with Endometriosis stage 4. In 2013, I incurred a blood clot in my right leg, multiple pulmonary embolisms in my chest and my right lung collapsed all at the same time. I was hospitalized twice back to back due to the complications. The team of doctors who took care of me stated the Endometriosis was the culprit for the medical complications that I was experiencing. December 2014, I had a full hysterectomy. I wish I would have known sooner about the destructive use of talcum powder.

Jo Ann

May 27, 2016 at 1:43 pm

This is all such a sad thing for all women to go thru(cancer)from using a reliable product. I too went thru horrible ordeals of tumor surgeries to remove large masses and then had to have a hysterectomy and other surgeries due to developing tumors on my ovaries then inside on uterus. Now i have a tumor on the brain and spine. But still after years of going thru pain and surgeries I still had to go[Show More]This is all such a sad thing for all women to go thru(cancer)from using a reliable product. I too went thru horrible ordeals of tumor surgeries to remove large masses and then had to have a hysterectomy and other surgeries due to developing tumors on my ovaries then inside on uterus. Now i have a tumor on the brain and spine. But still after years of going thru pain and surgeries I still had to go thru a cervical cancer surgery 2 years ago because my body seems to be emitting cancer cells. I still struggle with many stomach problems and pain. Hope all women who used the baby powder stop using and are cancer free! No one needs to go thru pain and suffering specially in the love box!

Karen

May 27, 2016 at 1:03 pm

I have and is still using Johnson & Johnson all my life. I have yet to go to doctor because of no insurance but I have an expansion in my stomach from time to time that makes me look like In 8 months pregnant. I need to go get myself checked out I'm scared now...

Paris

May 20, 2016 at 9:46 pm

My mom used that Johnson & Johnson along with that Shower To Shower religiously. I was a little girl back. It was always in our bathroom cabinet as #1 product throughout our house. She even sang the song to the Shower to Shower Commercial. "A Shower A Day Helps Keep The Odor Away". She always wanted to smell fresh and clean. When she came home from work and smelling like a restaurant as a cook[Show More]My mom used that Johnson & Johnson along with that Shower To Shower religiously. I was a little girl back. It was always in our bathroom cabinet as #1 product throughout our house. She even sang the song to the Shower to Shower Commercial. "A Shower A Day Helps Keep The Odor Away". She always wanted to smell fresh and clean. When she came home from work and smelling like a restaurant as a cook; she made sure she would use J & J. The main place was putting it down in her private area. When she finished her bath that Johnson and Johnson or Shower was the first thing. She made all of us girls use it also. Thank God I had graduated from Nursing school and being able to help her be a little more comfortable before she died. She didn't want anybody bathing her. I remember it so clear, putting that powder on her after I bathe her. My mother was like my private patient after getting out of the nursing classes. I myself stopped using that powder a little after my mom passed. At least not in the private area was the Dr's order. However, I also use to wonder why would the Doctors cut on my mother's neck, and her foot when the problem was in her ovaries, her uterus. I always felt My mother was used as an experiment. She was only 38 years old when she died. She was about 5'8 weighed around 190 pounds. When she died it as on Father's Day June 15th 1980. She weighed somewhere around 80 pounds. Up until her death she wanted that powder down in her private area. Everything that has a clean smell doesn't mean a thing. She never got the chance to see her children or grandchildren grow. Knowing that this Johnson and Johnson could have played a part in my mothers death makes me sick to my stomach and especially if they KNEW about the risk of this product. Woman use this powder everywhere around the country that's crazy. My sister is Linda is on point just above. My mother's youngest was 7 years of age, and I was 19 at the time. Memories I will never forget. I sure do miss her.

Linda

May 18, 2016 at 10:20 pm

My mom used Johnson & Johnson baby powder and Shower to Shower powder for as long as I can remember.She was diagnosed with ovarian cancer in 1974.She was a very healthy woman that worked every day. She had a hysterectomy after she gave birth to my baby sister in June of 1973. My mom's health started declining in 1975. I watched her dying slowly.She had lost so much weight that she didn't look like[Show More]My mom used Johnson & Johnson baby powder and Shower to Shower powder for as long as I can remember.She was diagnosed with ovarian cancer in 1974.She was a very healthy woman that worked every day. She had a hysterectomy after she gave birth to my baby sister in June of 1973. My mom's health started declining in 1975. I watched her dying slowly.She had lost so much weight that she didn't look like herself.My Mom truly suffered. In June of 1980 my mom passed away at the young age of 38.She is truly missed

Cathy

May 13, 2016 at 8:16 pm

Diagnosed at 36 but I also have BRAC 1 would I qualify? I used powder daily.

Dolly

May 12, 2016 at 9:07 am

2575 alliance rd 14 a

Rachelle

May 4, 2016 at 12:35 pm

My mom has stage 3 ovarian cancer. She has undergone 3 major surgeries; the initial tumor debunking, a few years later another surgery to remove tumors that grown and spread, and the her last surgery, to remove 1/2 her stomach, spleen, colon, pancreas, etc. She's had to suffer through years and years of all different kinds of chemotherapy/side effects. A month ago, we were told that the cancer has[Show More]My mom has stage 3 ovarian cancer. She has undergone 3 major surgeries; the initial tumor debunking, a few years later another surgery to remove tumors that grown and spread, and the her last surgery, to remove 1/2 her stomach, spleen, colon, pancreas, etc. She's had to suffer through years and years of all different kinds of chemotherapy/side effects. A month ago, we were told that the cancer has again spread, now to her liver and her lymph nodes. She will be 80 in November and she has had enough. She will do no more chemotherapy. She weighs 88#'s with her clothes on and even if she did choose chemo, she is just not strong enough to survive it. And yes, she always used talc powder; either J & J baby powder or shower to shower. She also used J & J baby powder on all of us when we were babies. As did I on our 3 children. ☹️

Dee

May 3, 2016 at 11:02 pm

My mother used talcum powder, Johnson and Johnson to be exact, she died of ovarian cancer after having it 2 times.

Deb

May 3, 2016 at 3:56 pm

All of this breaks my heart. I lost my best friend - my mom - to ovarian cancer in 2008. All she ever wanted to do was take care of herself, so she used talcum powder on a daily basis to keep herself clean and fresh. My father and I used to joke about the powder on the bathroom floor. She has been gone since 2008 and I do wish there was a way I could prove that her diagnosis was linked to her [Show More]All of this breaks my heart. I lost my best friend - my mom - to ovarian cancer in 2008. All she ever wanted to do was take care of herself, so she used talcum powder on a daily basis to keep herself clean and fresh. My father and I used to joke about the powder on the bathroom floor. She has been gone since 2008 and I do wish there was a way I could prove that her diagnosis was linked to her daily use of this product. She deserved so much better - as does every woman who relied on a product that caused this horrible disease. How would one prove this anyway? So very sad. I'm glad I was "lazy" and didn't like the mess or I'd be in the same boat as my mom.

Dana

May 3, 2016 at 7:33 am

My sister died at age 49 of Ovarian cancer. Diagnosed stage 4. She was BRCA 1&2 negative. very healthy. Three children. My sister used j&j baby powder whole life for feminine hygegiene. My mom used on us as babies. She suffered tremendously. Such a loss. We still miss her and mourn this tragedy. The fact that j&j had medical link on this is 1971 infuriates me! I will fight this in her memory and [Show More]My sister died at age 49 of Ovarian cancer. Diagnosed stage 4. She was BRCA 1&2 negative. very healthy. Three children. My sister used j&j baby powder whole life for feminine hygegiene. My mom used on us as babies. She suffered tremendously. Such a loss. We still miss her and mourn this tragedy. The fact that j&j had medical link on this is 1971 infuriates me! I will fight this in her memory and for every other unsuspecting person! Disgraceful!

Theresa

April 24, 2016 at 4:29 am

What about VIN (vulvar intraepithelial neoplasm). Is talc also capable of causing this disease? i've had it twice, both times assessed as Stage III, and surgeries to remove the tissue were performed.

Michele

April 11, 2016 at 1:36 am

In 2008 at the age 40 I became very bloated and suffered extreme stomach pain and back pain (similar to back labor)..bleeding heavy 20 days of the month..severe clotting..after many months of dealing with this I went to my primary doctor..test were done and they found a mass...they thought it was a tumor on my right ovary...then I was sent to an obgyn...more scans done and they too thought it was[Show More]In 2008 at the age 40 I became very bloated and suffered extreme stomach pain and back pain (similar to back labor)..bleeding heavy 20 days of the month..severe clotting..after many months of dealing with this I went to my primary doctor..test were done and they found a mass...they thought it was a tumor on my right ovary...then I was sent to an obgyn...more scans done and they too thought it was a fibroid tumor on right ovary and extremely large...surgery was performed..incision from belly button to pubic due to size of thought tumor...after surgery I was informed it was not a tumor on my ovary...it was my right ovary and extremely large.. they did perform a complete hysterectomy ... (I wont even get into all the problems i had after surgery and needing a wound vac after the 25 staples had been removed and 15 minutes later my stomach ripped wide open) anyway the huge ovary was sent to pathology and I was diagnosed with BODERLINE SEROUS TUMOR OF THE OVARY...they felt 95% sure that cancer was contained inside the ovary so didn't need any cancer treatments except for just getting the CA125 blood work every 6 months for 5 years...after 5 years of having this bloodwork done twice a year they informed me my numbers were good therefore I was free of cancer and didn't need to have the blood work test done any further...I have been a user of shower to shower talc and johnsons baby powder for more then 20 years using as a Femine hygiene product..I too am like others and curious if it was the talc I used all these years caused all the pain and suffering and the reason for the cancer and reason for the hysterectomy being necessary. .I have pictures of my actual enlarged ovary filled with cancer.

Pat

March 14, 2016 at 5:10 pm

My mother passed away from ovarian cancer in 1992. Before her diagnosis, she was having severe pain in her lower abdominal area. Her pants kept getting tighter and she was always bloated. Her stomach started looking like she was 8 months pregnant. At first she thought it was constipation even the doctors gave her laxatives. Nothing helped so surgery was scheduled. The doctor told me that they [Show More]My mother passed away from ovarian cancer in 1992. Before her diagnosis, she was having severe pain in her lower abdominal area. Her pants kept getting tighter and she was always bloated. Her stomach started looking like she was 8 months pregnant. At first she thought it was constipation even the doctors gave her laxatives. Nothing helped so surgery was scheduled. The doctor told me that they opened her up and closed her up and gave her a month to live. That cancer had encased everything. - See more at: http://www.aboutlawsuits.com/talcum-powder/#sthash.qIQxI8dL.dpuf

Morgan

March 11, 2016 at 7:03 pm

My sister the youngest of six girls, passed away At the age of 50 from cervical cancer. She was a faithful user of shower to shower. I had a conversation with her about using so must of it And she commented to me " when being at work all it keeps me dry"

Carmel

March 3, 2016 at 3:29 am

My 80 year mother died of ovarian cancer. She always had baby powder and used it as part of her freshening up routine. I wonder if one had anything to do with other?

Amber

February 27, 2016 at 7:56 am

I was diagnosed on 9/11/14, with stage 3c, ovarian cancer. Im still in treatment after having a full total hysterectomy and cancer debulking surgery last March. I will have my 21 st chemo session next week. Its been tough. I too used J&J shower to shower powder daily for many years back in the 90s. Shame on you J&J...

Bonita

February 26, 2016 at 8:47 pm

On Christmas day 2009 my mother passed away from ovarian cancer. Before her diagnosis, she was having severe pain in her lower abdominal area. Her pants kept getting tighter and she was always bloated. Her stomach started looking like she was 8 months pregnant. My mother ALWAYS used Shower to Shower powder every day to stay fresh between her legs. She would even sprinkle the power on her pant[Show More]On Christmas day 2009 my mother passed away from ovarian cancer. Before her diagnosis, she was having severe pain in her lower abdominal area. Her pants kept getting tighter and she was always bloated. Her stomach started looking like she was 8 months pregnant. My mother ALWAYS used Shower to Shower powder every day to stay fresh between her legs. She would even sprinkle the power on her panty liners. Even when she was diagnosed, she continued to use it. There is no family history of ovarian or breast cancer in our family. For 4 ½ years my mother suffered. She went through 3 cycles of chemo and lost her hair twice. I watched my mother get smaller and smaller until she passed away in my arms. My mother was 69 years old. Before she got sick, she danced, shopped and walked everywhere. Outside of a hangnail or the common cold, my mother was never sick. If this powder is the reason my healthy mom died, something needs to be done to this company. They should have disclosed the information they had.

richard

February 26, 2016 at 2:07 am

my wife just died from ovarian cancer she used johnson and johnson for years she was 56 they found the tumor in june of 2015

Cat c

February 25, 2016 at 2:07 am

I had a tumor so big in my stomach people thought I was pregant about 1 year and a half ago I had to have it removed plus ended up getting a total hysterectomy my stomach was hard as a rock at times I wanted to stay in bed and never have to move again I couldn't handle the pain I have used shower to shower and Johnson baby powder all my life. I have asked myself since my surgery did I use somethin[Show More]I had a tumor so big in my stomach people thought I was pregant about 1 year and a half ago I had to have it removed plus ended up getting a total hysterectomy my stomach was hard as a rock at times I wanted to stay in bed and never have to move again I couldn't handle the pain I have used shower to shower and Johnson baby powder all my life. I have asked myself since my surgery did I use something on my body maybe was making me sick.? God it was a lot to go through I haven't been the same since, now I'm afraid to use anything on my woman parts for comfort I feel so bad for anyone who has gone through this .. Something needs to be done. God bless!

Lynn

February 24, 2016 at 1:53 pm

I lost my mother 30 years ago to ovarian cancer, she was only 51 and always the strongest person I have ever met. The common thread, she swore by her shower to shower powder, never went a day without it. She would go around singing..a sprinkle a day helps keep odors away. Something so minor as adding a warning could have possibly prevented this, she could have met her grandchildren and still been [Show More]I lost my mother 30 years ago to ovarian cancer, she was only 51 and always the strongest person I have ever met. The common thread, she swore by her shower to shower powder, never went a day without it. She would go around singing..a sprinkle a day helps keep odors away. Something so minor as adding a warning could have possibly prevented this, she could have met her grandchildren and still been here with the people who love her.

tammy

January 28, 2016 at 12:29 am

i am now a 53 year old female at the age of 26 i had a early signs of cervacial cancer i had to have a hysterectomy . this is much to young to have your insides yanked out i think ive been going through the change of life ever since and it hasent stoped i used powder after every shower and some times still do i wonder humm do i quaifly for this law suite

James

October 25, 2015 at 12:30 pm

My wife has been diagnose having ovarian cancer stag 4 life expected 4 to5 years. She gone through kemo treatments loss her, it just took every once of energy out of her. Now diagnose mass deap in her brain,just had surgery,biopsy,more cancer now going through radiation treatment. Just not fare. Live sucks then we all die but when is the question

Laurie

September 30, 2015 at 9:52 pm

My mom passed away Nov of 1999...she was an avid user of Shower to Shower as long as I can remember...we always teased her that she left a white powdery film in our bathroom because she used so much...mom was an owner of a trucking company and always had her powder on hand to freshen up during long trips. When she passed at age 58, I must of thrown out a dozen containers of that dreadful powder f[Show More]My mom passed away Nov of 1999...she was an avid user of Shower to Shower as long as I can remember...we always teased her that she left a white powdery film in our bathroom because she used so much...mom was an owner of a trucking company and always had her powder on hand to freshen up during long trips. When she passed at age 58, I must of thrown out a dozen containers of that dreadful powder from her bathroom closet....never knowing it was the culprit. I even have the BRAC analysis performed on myself to make sure it was not hereditary. I'm hoping that J&J makes good on all the pain they have caused to our familys.

chasity

September 11, 2015 at 11:48 am

I was in the hospital for chest pains they came back n said I have a,spontaneous pheumothorax the doctors rushed in n said they needed to perform surgery on me they went in with a chest tube. Then they went in a day later with talc n sprayed my lungs. I have been in pain for over a week now all my skin is peeling around my fingers n between my legs n feet I am sure it's the powder coming out of my[Show More]I was in the hospital for chest pains they came back n said I have a,spontaneous pheumothorax the doctors rushed in n said they needed to perform surgery on me they went in with a chest tube. Then they went in a day later with talc n sprayed my lungs. I have been in pain for over a week now all my skin is peeling around my fingers n between my legs n feet I am sure it's the powder coming out of my pores. N also causing me where I can't heal properly. The doctor knows this isn't listen as one of his to dos.... but did it anyway... acts like I should just go on with my life I can't I feel as if I'm dying from the inside out. Please any answers would be greatly appreciated. I feel like he is trying to kill me n I think he won. Iv lost weight since this n have no appitite. Hard to swollow. So many side affects.. please help

Tina

August 16, 2015 at 2:52 am

I Had it in my conail and cervix

Shari

August 14, 2015 at 9:05 pm

I have used Shower to Shower Powder for many years. In June 2010 I hemorrhaged and ended up with a Total Hysterectomy. The day I was being released from the hospital my doctor came into my room to advise me that the Pathologist found cancer. I was diagnosed with Stage 1 Type 1A Endometrial Cancer. Stage 1 since the cancer had not yet penetrated the outer muscle and believe that all of the canc[Show More]I have used Shower to Shower Powder for many years. In June 2010 I hemorrhaged and ended up with a Total Hysterectomy. The day I was being released from the hospital my doctor came into my room to advise me that the Pathologist found cancer. I was diagnosed with Stage 1 Type 1A Endometrial Cancer. Stage 1 since the cancer had not yet penetrated the outer muscle and believe that all of the cancer was removed. I am now wondering if the use of the Shower to Shower powder is the culprit to cause this. I still use Shower to Shower to this day but now thinking I should throw it away and find something that is completely safe to use.

Dolores

August 9, 2015 at 10:51 pm

My mother was 62 yrs old when she was diagnosed with cancer of the uterus, on her birthday in 1982. She died less than 6 mos after her diagnosis. My mother used talcum based powders for as long as I can remember during my childhood of age 8 to my adult life of age 32 yrs old when she passed. Her favorites of talcum powders were Shower to Shower, Avon fragranced talcum powders and baby powder. She [Show More]My mother was 62 yrs old when she was diagnosed with cancer of the uterus, on her birthday in 1982. She died less than 6 mos after her diagnosis. My mother used talcum based powders for as long as I can remember during my childhood of age 8 to my adult life of age 32 yrs old when she passed. Her favorites of talcum powders were Shower to Shower, Avon fragranced talcum powders and baby powder. She used these powders to stay dry, and fresh smelling because she was a heavy woman and did sweat in her genital area a lot especially during warm weather.

Lea

July 28, 2015 at 7:18 pm

My mother was diagnosed with ovarian cancer in 2009, and she died in 2011 after going through horrendous pain and agony. She used Shower to Shower talcum powder or some other brand of talcum powder for over 60 years. We currently have a lawsuit in process. These companies need to be punished, and the best way is through monetary compensation. That's all they care about, so that's what will hurt[Show More]My mother was diagnosed with ovarian cancer in 2009, and she died in 2011 after going through horrendous pain and agony. She used Shower to Shower talcum powder or some other brand of talcum powder for over 60 years. We currently have a lawsuit in process. These companies need to be punished, and the best way is through monetary compensation. That's all they care about, so that's what will hurt them the most. They helped take my mother from me and my siblings, and they will pay.

Yolanda

July 22, 2015 at 6:33 pm

My mother used shower to shower all my life and had ovarian cancer and sadly passed away a couple of years ago. My family is devastated that she was taken from us so early when her illness could have been prevented. Does my family have any options since she is already gone?

Wilma

June 29, 2015 at 5:07 am

I had to have a total hysterectomy at the age of 20. I had used j&j powder all through my teen years. Future plans that my husband and I had to have more children were stolen from us at that time and dealing with the feelings of this at such a young age was horrific to say the least. That was 30 years ago and of course there is no way to pursue compensation after so many years. It's a shame that c[Show More]I had to have a total hysterectomy at the age of 20. I had used j&j powder all through my teen years. Future plans that my husband and I had to have more children were stolen from us at that time and dealing with the feelings of this at such a young age was horrific to say the least. That was 30 years ago and of course there is no way to pursue compensation after so many years. It's a shame that companies such as these can ruin our lives for the sake of the all mighty dollar and get away with it. I hope others will be saved the nightmare I've lived since this connection is finally being brought to everyone's attention. Words can't describe what something like this can do to your life.

Teri

June 20, 2015 at 2:26 am

I am really upset that I'm just now finding out that this could have happened to me and all other women who used all brands of baby powder -especially J&J . We've all pretty much used it from the time our mom's sprinkled it on us as infants to when we went through puberty and then through womanhood and tried to hygienically feel and stay fresh and dry all the time. If it's "baby powder" it s[Show More]I am really upset that I'm just now finding out that this could have happened to me and all other women who used all brands of baby powder -especially J&J . We've all pretty much used it from the time our mom's sprinkled it on us as infants to when we went through puberty and then through womanhood and tried to hygienically feel and stay fresh and dry all the time. If it's "baby powder" it should be trusted enough to use as adults. Boy was I wrong !! No history of Ovarian Cancer in the family and I got it anyway. I was diagnosed in 2006 of Stage 3C ovarian cancer and have been in treatment ever since, No remission, or ever deemed cancer free . I have gone through the ENTIRE arsenal of Chemotheraphy in every combination and then some. I had a full hysterectomy ( all reproductive organs removed- My Ovaries, Uterus,. Fallopian Tubes, Cervix. ) and Oh, don't forget instant menopause.

Heidi

June 2, 2015 at 11:50 pm

I had a talc pleuradesis on my lung where they spray talc onto the pleura. I have had pulmonary embolisms and fibrosis in my lungs. I have many other complications from the talc. Is this at all interesting for a possible lawsuit? I know the physicians at the Mayo Clinic will not perform this surgery any more due to the seriousness of the complications. Please let me know your thoughts on this. T[Show More]I had a talc pleuradesis on my lung where they spray talc onto the pleura. I have had pulmonary embolisms and fibrosis in my lungs. I have many other complications from the talc. Is this at all interesting for a possible lawsuit? I know the physicians at the Mayo Clinic will not perform this surgery any more due to the seriousness of the complications. Please let me know your thoughts on this. Thank you.

Lacie

April 6, 2015 at 8:40 pm

I used shower to shower powder for years and in January my stomach began to swell. I went to my obgyn and after tests and ultra sounds I was told that I had a mass the size of a small basketball on my left ovary. I was then sent to an obgyn oncologist who confirmed it was bad, I had to have a full hysterectomy they then found another mass on my abdominal wall. I was diagnosed with stage 3c ovarian[Show More]I used shower to shower powder for years and in January my stomach began to swell. I went to my obgyn and after tests and ultra sounds I was told that I had a mass the size of a small basketball on my left ovary. I was then sent to an obgyn oncologist who confirmed it was bad, I had to have a full hysterectomy they then found another mass on my abdominal wall. I was diagnosed with stage 3c ovarian cancer. I am 36 with the possibility if chemo doesn't work to die before I am 40. I am disgusted that they knew all this and didn't do anything to protect us woman. It is beyond terrible what they have done and still are doing.

lisa

March 11, 2015 at 8:27 pm

I have used this product years ago. Couple of years ago I had cancerous tumors on my ovaries and uterus I had a total hysterectomy. Could this refer to me as well?

Marvin

February 25, 2015 at 2:17 am

I have used Johnson & Johnson's Shower to Shower Powder all my Life! Could it caused my Prostate Cancer?

bob

February 14, 2015 at 12:41 pm

My wife died in 2005 from ovarian cancer she was only 47 she used Johnson baby powder for a number of years maybe if this company would have said something my wife would still be alive

juan

February 8, 2015 at 10:36 am

my mother have used talc powered for years.Then she began having an abnormal odor down there. We couldn't figure it out, took her to hospital cause she began getting sick,finally the doctors tell her the odor is coming from her ovaries, she has ovarian cancer.How when they could have sought that long before, as we took her back and forth for test and check-ups? Now they recommended an hysterectomy[Show More]my mother have used talc powered for years.Then she began having an abnormal odor down there. We couldn't figure it out, took her to hospital cause she began getting sick,finally the doctors tell her the odor is coming from her ovaries, she has ovarian cancer.How when they could have sought that long before, as we took her back and forth for test and check-ups? Now they recommended an hysterectomy for her to get better the,Doctors stated and placing her on all this medication She did seemed better for a couple years or better, going routinely back and forth to her appts; she started getting sick again.Our lovely mother passed away last January 7,2014. with a lot of Questions unanswered.Please tell me if you can help me determined if TALC was the initial cause and or malpractice.

cal

December 19, 2014 at 8:52 pm

how about talcum powder on the anus or rectum?

Tara

November 14, 2014 at 9:51 am

Ok..what about all the OTHER powders on the market, such as the make up powders we all use. The majority of those are TALC powder.

theressa

October 22, 2014 at 5:31 pm

I at the age of 38 had a 23cm tumor on my right ovary. It was so large that it was pushing my organs over. I used shower toshowerever since I was 13 years old. I was still useing Iit after my surgery in 2007. I got cancer again in 2013 and had everything removed down there. I was still useing shower to shower up until 2 weeks ago when I found out about this law suit. This is sad that women were to[Show More]I at the age of 38 had a 23cm tumor on my right ovary. It was so large that it was pushing my organs over. I used shower toshowerever since I was 13 years old. I was still useing Iit after my surgery in 2007. I got cancer again in 2013 and had everything removed down there. I was still useing shower to shower up until 2 weeks ago when I found out about this law suit. This is sad that women were told nothing about this threat at all and yet we are getting sick and some have even died.

Gena

October 7, 2014 at 3:12 pm

I had to have a hysterectomy at the age of 29 due to gynecological issues. The results came back as having stage 1 ovarian cancer. I used shower to shower and baby powder for most of teenage and young adult life. I would like to know if the use of talcum powder is associated with ovarian cancer

victoria

October 7, 2014 at 2:35 pm

Shame shame to all you talc an powders for not saying anything to us moms who used this product on our babys and daugthers.and I myself used this for the same reason to keep things dry.And my mother before me,I'm looking at a long line here people whats up ?Well guess what is checkup time.

SHERRA

September 23, 2014 at 2:41 pm

My daughter who is 26 is suffering now with ovarian cancer and I did use powder on her. What are the qualifying guidelines for her to file a case?

Randi

June 18, 2014 at 8:25 am

I've used baby powder and powder to powder my entire life. Keeps you dry down there. I suffered cervical cancer quite a few years ago. Could that have been from that powder?

Treva

June 9, 2014 at 5:47 pm

I also want to know for sure if the many containers of powder I used through my life caused my cancer. I never saw a warning on a container of talc powder, whether it was J&J or any other I used.

J. R. Nakken

May 19, 2014 at 7:05 pm

I would want to know for sure - with certifiable proof - that a household name such as Johnson and Johnson KNEW that talc might be responsible for ovarian cancer, and did nothing or worse. Is such proof available?

Patricia

March 16, 2014 at 6:05 pm

i always used baby powder I am 68 years old and have used it for years last late January my stomach started getting big at first I thought it was constipation I was driving a big truck and places you stop for food sometimes is not good anyway tried laxatives tummy kept getting bigger we were in Arizona at the time well my tummy looked like I was 9 months pregnant so I went to emergency room and af[Show More]i always used baby powder I am 68 years old and have used it for years last late January my stomach started getting big at first I thought it was constipation I was driving a big truck and places you stop for food sometimes is not good anyway tried laxatives tummy kept getting bigger we were in Arizona at the time well my tummy looked like I was 9 months pregnant so I went to emergency room and after tests found out I had a mass in my stomach my daughter flew me home on 29th of January I was in hospital in Jacksonville fla for major surgery they took out 7 and one half of fluid from my stomach also removed mass appendix then I have done 9 months of chemo I got to 97 lbs was scared I was not going to make it but I seem to be okay have not worked in 14 months as I was very ill I am hoping I will be ok this took a lot out of me I was never one sick except for colds once in awhile I just want to live and see my grankids grow up
"*" indicates required fields