Jury Awards $417M in Damages for Ovarian Cancer from J&J Talcum Powder
August 22, 2017
By: Austin Kirk
Johnson & Johnson was hit with yet another massive verdict on Monday, when a jury ordered the company to pay $417 million in damages to a woman diagnosed with ovarian cancer following years of talcum powder use, including punitive damages designed to punish the company for withholding information about the risk from consumers.
The verdict comes in a California state court trial, which is at least the fifth multi-million dollar damage award returned by a jury after it was presented with evidence about how Johnson & Johnson knew about the link between talcum powder and ovarian cancer for years, yet continued to market products like Johnson's Baby Powder and Shower-to-Shower without any warnings.
In separate awards, state court juries in St. Louis, Missouri have previously awarded individual women $110 million in May 2017, $70 million in November 2016, $55 million in May 2016 and $72 million in February 2016.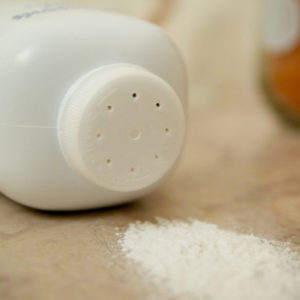 Evidence presented in the state court trials included company documents that suggested Johnson & Johnson was aware of the potential link between talcum powder and ovarian cancer since the 1970s. However, even as recently as 1992, some documents indicate that the company specifically targeted sales towards women who were high users of talcum powder, without ever warning them of the possible cancer risks.
While Johnson & Johnson previously suggested that those verdicts were an anomaly, and would not be repeated outside of the St. Louis court, the even larger verdict returned by the California jury may spell huge problems for the company, which faces more than 5,500 Johnson's Baby Powder lawsuits and Shower-to-Shower lawsuits brought by women nationwide who have been diagnosed with ovarian cancer following use of the product around their genitals.
The California verdict returned on Monday involves a lawsuit filed by 62 year old Eva Echeverria, who started using talcum powder regularly when she was 11 years old. In 2007, she was diagnosed with ovarian cancer, which she claimed was directly caused by the peritoneal use of the talc-based powder.
The jury awarded Echeverria about $70 million in compensatory damages, and also ordered Johnson & Johnson to pay an additional $347 million in punitive damages. Prior verdicts have also included massive punitive damage awards, which are usually several times larger than than the compensatory damages and are designed to punish Johnson & Johnson for recklessly disregarding the safety of consumers, as well as act as a deterrent for other companies against similar behavior.
Attorneys for Johnson & Johnson have indicated the company will appeal this latest verdict, like they are appealing prior verdicts in St. Louis. However, with additional cases set for trial involving similar claims brought by women nationwide, if talcum powder settlements or another resolution for the litigation is no reached, the manufacturer may face staggering liability from juries nationwide in the coming years.
lana

August 28, 2017 at 6:43 pm

i have used baby powerder and shower to shower all my life . i have never been checked

Leveda

August 27, 2017 at 4:25 pm

I got ovarian cancer when I was 16 I used powder alot and my mom used it on me as a baby.

Peggy

August 26, 2017 at 4:02 pm

my sister has stage four ovarian cancer ,has lost so many body parts, then after that had to lose both breast she was 44 when she was first diagnosed
"*" indicates required fields