Johnson & Johnson Talcum Powder Lawsuit Results in $110M Verdict
May 05, 2017
By: Irvin Jackson
Yet another jury has determined that Johnson & Johnson should be punished substantially for failing to warn women about the risk of ovarian cancer from talcum powder, awarding more than $110 million in damages to a woman injured after using Johnson's Baby Powder and Shower-to-Shower for decades.
Thousands of Baby Powder lawsuits and Shower-to-Shower lawsuits have been filed against Johnson & Johnson by women nationwide, alleging that the company withheld information from consumers about the risk that talc contained in the products may increase the risk of ovarian cancer when applied on or around the genitals for feminine hygiene purposes.
This week, the fifth case to go before a jury ended in a massive verdict, including $105 million in punitive damages designed to punish Johnson & Johnson for recklessly endangering the health of the plaintiff and other women. The St. Louis jury also awarded $5.4 million in compensatory damages against Johnson & Johnson, and another $100,000 against Imerys Talc, a supplier.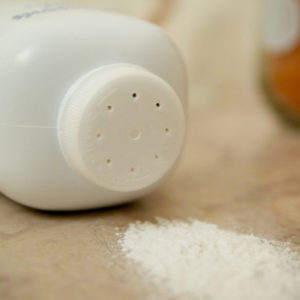 At least three other state court juries in Missouri returned similar punitive damage verdicts in separate trials last year, including an award of $70 million returned in November 2016, $55 million in May 2016 and $72 million in February 2016.
This latest trial involved a claim brought by 62 year old Lois Slemp, who used Johnson & Johnson talcum powder products for about 40 years before she was diagnosed with ovarian cancer in 2012, which has now spread to her liver. Slemp's attorneys argued at trial that both the talc itself, and asbestos particles in the powder, resulted in her ovarian cancer diagnosis.
Additional trials are scheduled in the coming months, which will involve similar evidence and testimony that suggests Johnson & Johnson knew about the link between talcum powder and ovarian cancer for decades, yet continued to market the product for use among adult women without informing them of the potential risk.
Despite clear messages from multiple juries that Johnson & Johnson failed to provide adequate warnings, the manufacturer has refused to negotiate talcum powder cancer settlements so far, indicating that it will continue to defend claims in courts nationwide. The manufacturer has appealed all prior verdicts and indicates it will appeal this latest award as well.
BRENDA

May 18, 2017 at 10:43 pm

I USED IT 27 years SHOWER TO SHOWER POWDER and I was diagnosed with fibroids in my ovaries, so I had a partial discectomy. I want to say about 11 years ago is when I had my surgery!

Shirley

May 12, 2017 at 3:42 am

I do not believe this is true at all. There is no way to authenticate this. I think every baby/kid/mom used Johnsons' baby powder from the 1940's through today. This just a way for lawyers to find gullible people to represent them in lawsuits.

TK

May 9, 2017 at 4:58 pm

My mom used J&J baby powder for as long as I can remember and 2 years ago she passed from uterine cancer. There was no other members of either side of her family that ever had cancer. I am trying to get a law firm to take on her case/wrongful death etc.

Nina

May 7, 2017 at 3:54 am

I am 50 been using the powder for years I started going to the doctors & come to find out I got cancer
"*" indicates required fields