J&J Talcum Powder Asbestos Risks Known For Decades, Internal Memos Show
December 17, 2018
By: Irvin Jackson
Johnson & Johnson faces mounting pressure from thousands of talcum powder lawsuits filed by women nationwide, after a recent investigative report publicly disclosed that the company has known for decades that talc contained in it's products may contain asbestos, yet failed to warn the public about the potential health risks. 
Reuters published a special report on December 14, indicating that internal documents show that Johnson & Johnson found asbestos in its talc during at least three different laboratory tests from 1972 to 1975, but never reported its findings to the FDA.
The investigation found mention of the tests in a 1997 lawsuit filed against Johnson & Johnson. Now, those same documents have resurfaced 20 years later amid nearly 10,000 complaints filed by women who say they developed ovarian cancer after using Johnson's Baby Powder, Shower-to-Shower or other talc-based products.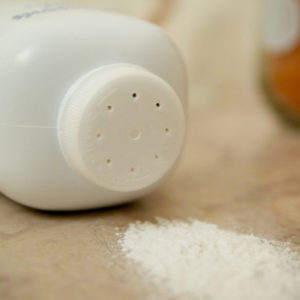 According to data highlighted in the Reuter's investigation, it appears that Johnson & Johnson was aware of the problems even earlier, revealing that lab reports dating back to 1957 and 1958 found evidence of asbestos in talc.
Since the Reuters report was published, Johnson & Johnson's stocks have plummeted about nine percent, wiping out $30 billion of the company's market value, amid investor concerns about liability the company may face from the current litigation, as well as damage to the reputation of the company.
In response, Johnson & Johnson has attacked the Reuters article, saying it is "one-sided, false and inflammatory." The company says thousands of other tests have shown talc does not contain asbestos, claiming that it has always used the most advanced testing methods available.
In September 2017, Bloomberg News released a similar report, detailing internal memos from 1974, in which an official at the Windsor Mine in Vermont called for the use of citric acid to combat the presence of asbestos in talc from the mine, which was then used in Johnson & Johnson products.
Talc Powder Cancer Litigation
According to allegations raised in the recently filed Baby Powder lawsuits and Shower-to-Shower lawsuits filed in courts throughout the United States, Johnson & Johnson has continued to promote use of the talc powder by adult women for feminine hygiene, despite known risks.
Most of the cases involve women who developed ovarian cancer following years of applying the talcum powder around their genitals on nearly a daily basis. However, a number of cases also allege that asbestos particles contained in the powder were inhaled and resulted in the development of the rare and often fatal form of lung cancer known as mesothelioma.
In July, a Missouri state jury awarded $4.7 billion to a group of 22 women with ovarian cancer, including punitive damages designed to punish Johnson & Johnson for withholding compelling evidence about the risk associated with their popular products.
In May, a California jury ordered Johnson & Johnson to pay $25.7 million in a talc mesothelioma case. In April, a New Jersey jury awarded $117 million to a man diagnosed with mesothelioma due to exposure from talcum powder. That verdict included $80 million in punitive damages.
In December, a talc powder case went to trial in California, resulted in a jury award of $17.57 million in compensatory damages and $4.6 million in punitive damages, for the family of man who died of mesothelioma in 2016, after years of exposure to talc.
A number of studies published in recent years have highlighted the link between talc powder and mesothelioma, but questions about the risk were first raised by health officials in Baltimore as early as 1972.
In October 2014, a study published in the International Journal of Occupational and Environmental Health identified a potential link between an unnamed, but popular, brand of talc powder and asbestos exposure, suggesting that use of the product may have caused the death of at least one unidentified woman due to mesothelioma.
While Johnson & Johnson is pursuing appeals in each of the cases that resulted in a verdict, and is refusing to negotiate talcum powder settlements, some analysts have suggested that the recent verdicts are a sign that juries find Johnson & Johnson's trial defense lacking in credibility.
"*" indicates required fields