Award in Talcum Powder Lawsuit Over Mesothelioma Rises To $117M, Due To Punitive Damages
April 12, 2018
By: Irvin Jackson
A New Jersey jury has added another $80 million in punitive damages to a verdict handed down last week, over failure to warn about the risk of cancer from talcum powder, resulting in a total award of $117 million for a man diagnosed with mesothelioma due to asbestos allegedly contained in Johnson's Baby Powder.
Last week, a Middlesex County Superior Court jury in New Jersey indicated that Johnson & Johnson should pay $37 million in compensatory damage to Stephen Lanzo III and his wife, Kendra, after finding that the company was 70% responsible for his mesothelioma diagnosis. Imerys Talc was deemed responsible for the remaining 30%.
On April 11, the punitive damage phase of the trial concluded, with an additional award in the talcum powder lawsuit of $55 million against Johnson & Johnson and $25 million against Imerys Talc. Punitive damages like these are designed to punish defendants for reckless behavior or intentional endangerment of consumers, and are designed to deter other companies from engaging in similar behavior.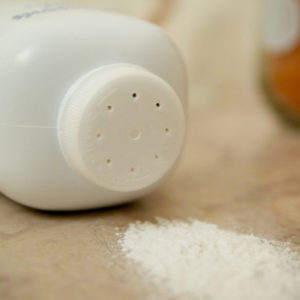 The couple's mesothelioma lawsuit alleged that Lanzo developed the cancer due to asbestos fibers contained in Johnson's Baby Powder, which Lanzo used throughout his life.
While thousands of women nationwide are pursuing Johnson's Baby Powder lawsuits and Shower-to-Shower lawsuits over the development of ovarian cancer associated with applying the talc powder around the genitals, the case brought by the Lanzos is part of a growing litigation over injuries associated with asbestos contained in the products.
The trial was the latest in a number of recent bellwether cases over the failure to warn about the talcum powder cancer risks, but the first in New Jersey state court, where Johnson & Johnson's headquarters are located.
In December, a similar talc powder case went to trial in California, resulted in a jury award of $17.57 million in compensatory damages and $4.6 million in punitive damages, for the family of man who died of mesothelioma in 2016, after years of exposure to talc.
Mesothelioma is a rare form of cancer that is only known to be caused by exposure to asbestos or breathing asbestos fibers.  It is a lethal disease that is often at a very advanced stage when a diagnosis is made, resulting in a very short life-expectancy.
A number of studies published in recent years have highlighted the link between talc powder and mesothelioma, but questions about the risk were first raised by health officials in Baltimore as early as 1972.
In October 2014, a study published in the International Journal of Occupational and Environmental Health identified a potential link between an unnamed, but popular, brand of talc powder and asbestos exposure, suggesting that use of the product may have caused the death of at least one unidentified woman due to mesothelioma.
In April 2016, Colgate-Palmolive was ordered to pay $1.4 million to a woman diagnosed with mesothelioma after exposure to Cashmere Bouquet talc powder. Colgate-Palmolive reached an undisclosed settlement in November over another talcum powder asbestos claim.
Talcum Powder Ovarian Cancer Claims
In addition to concerns over the talc powder mesothelioma risk, Johnson & Johnson currently faces more than 6,000 ovarian cancer lawsuits brought by women nationwide, and several state court trials in recent years have resulted in multi-million dollar damage awards over failure to warn about the risks associated with use of talcum powder by adult women for "feminine hygiene".
The lawsuits allege that talc particles may migrate through the vagina to the ovaries, resulting in the development of ovarian cancer following years of exposure. According to evidence introduced in prior trials, Johnson & Johnson has known about these risks associated with their baby powder for decades, yet continued to market talcum powder to adult women and introduced Shower-to-Shower powder for that specific market.
While Johnson & Johnson is pursuing appeals in each of the cases that resulted in a verdict, and is refusing to negotiate talcum powder settlements, some analysts suggest that the recent verdicts may be a sign of future problems for the manufacturer, due to signs that juries find Johnson & Johnson's trial defense lacking in credibility.
"*" indicates required fields