Fire Foam Wrongful Death Lawsuit Filed Over Fireman's Fatal Case of Pancreatic Cancer
May 24, 2021
By: Irvin Jackson
3M Company and a number of other companies involved in the manufacturing and sale of fire foams containing dangerous PFAS chemicals face a wrongful death lawsuit brought by the family of a Colorado fireman, who allegedly developed pancreatic cancer following exposure to aqueous film-forming foams used to combat fuel-based fires during his career.
Tina Sue Novotny filed the complaint (PDF) last week in the U.S. District Court for the District of South Carolina on behalf of the Estate of Dennis Harrison Novotny, who died in May 2019, following years of exposure to fire foam that contained per- and polyfluoroalkyl substances (PFAS), which are known to build up in the body and increase the risk of cancer.
Dennis Harrison Novotny worked for years as a fireman, regularly spraying the PFAS-containing fire foams, which the lawsuit indicates was a direct cause of his pancreatic cancer diagnosis.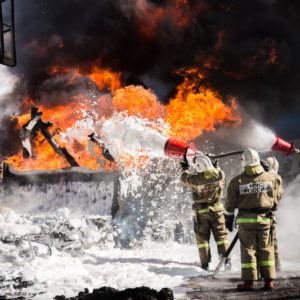 Learn More About
Exposure to firefighting foam chemicals may result in an increased risk of cancer for firefighters, military and airport personnel.
Learn More About this Lawsuit
PFAS were first introduced into the manufacturing industry in the 1940's, because of their ability to resist heat, grease, stains, and water. However, since then the chemicals have been linked to a myriad of adverse health effects including liver damage, thyroid disease, decreased fertility, high cholesterol, obesity, hormone suppression, and cancer.
Aqueous film-forming foams (AFFFs) manufactured by 3M and other companies have been widely used in recent decades at military bases, airports and by civilian firefighters, during training and response exercises.
"Defendants did not warn public entities, firefighter trainees who they knew would foreseeably come into contact with their AFFF products, or firefighters employed by either civilian and/or military employers that use of and/or exposure to Defendants' AFFF products containing PFAS and/or its precursors would pose a danger to human health," the lawsuit states. "The Decedent was never informed that this product was inherently dangerous. Nor was the Decedent warned about the known health risks associated with this product."
It is projected to take thousands of years for PFAS chemicals to degrade, and past studies have shown their ability to enter and stay in the environment and human body through the air, dust, food, soil, and water. Previous U.S. Centers for Disease Control and Prevention studies have shown PFAS chemicals primarily settle into the blood, kidney and liver, and could likely be detected in the blood of 98% of the U.S. population.
The complaint comes as a growing number of fire foam lawsuits have been filed by firefighters nationwide, including a number of wrongful death claims brought by families of fireman who died from cancer. Similar complaints have also been filed by a number of local water districts, where widespread use of fire foam caused PFAS to contaminate drinking water.
"*" indicates required fields