Air Force Firefighter Files Lawsuit Over Testicular Cancer Diagnosis From AFFF
August 09, 2022
By: Irvin Jackson
According to allegations raised in a lawsuit recently filed by a former Air Force firefighter, exposure to aqueous film-forming foam (AFFF) used to fight petroleum fires throughout his career resulted in a testicular cancer diagnosis.
The complaint (PDF) was brought by Gary Flook and his wife, Linda, in the U.S. District Court for the District of South Carolina on August 4, presenting claims against several chemical and safety equipment manufacturing companies as defendants, including 3M Company, BASF Corporation, and others.
For decades the companies manufactured and sold firefighting foam that has been widely used to combat fuel based fires, and has been a common part of firefighter training, often ending with firefighters covering themselves in the foam. However, according to allegations raised in the complaint filed by Flook, as well as a number of other similar lawsuits brought by firefighters diagnosed with various different types of cancer, the manufacturers have withheld important safety warnings about the health risks associated with toxic chemicals in AFFF.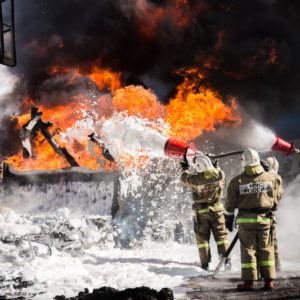 Flook, of Indiana, indicates in the lawsuit that he was exposed to AFFFs while serving as a firefighter in the Air Force from 1977 to 2014 while serving on the Chanute Air Force Base in Illinois, and Grissom Hill Air Force Base in Indiana. He also served as a volunteer firefighter for Pipe Creek Township from 1982 to 2019, where he was again exposed to the toxic firefighter foam.
In February 2000, Flook was diagnosed with testicular cancer. He underwent an orchiectomy, a surgical procedure to remove one or both testicles, and chemotherapy as a result.
The lawsuit claims manufacturers knew the firefighting foam products contained toxic perfluorooctanoic acid (PFOA) and perfluorooctanesulfonic acid (PFOS); both of which have been linked to increased risk of cancer.
"During Plaintiff's use of Defendants' AFFF products containing PFOA and/or PFOS and/or their precursor chemicals, Plaintiff ingested such products, and the PFOA and/or PFOS and/or their precursor chemicals entered Plaintiff's body," Flook's lawsuit states. "At no point during his trainings or career did Plaintiff receive any warning that Defendants' AFFF products containing PFOA and/or PFOS and/or their precursor chemicals were toxic or carcinogenic."
Flook's complaint raises allegations similar to those presented in hundreds of other firefighter cancer lawsuits brought throughout the federal court system, which have been consolidated and centralized in the District of South Carolina as part of a multidistrict litigation (MDL).
As part of the coordinated discovery and pretrial proceedings in the litigation, a small group of "bellwether" cases are being prepared for early trial dates, to help the parties gauge how juries are likely to respond to certain evidence and testimony that will be repeated throughout the claims. However, if firefighter cancer settlements or another resolution for the lawsuits is not reached following the MDL, each individual claim may later be remanded to U.S. District Courts nationwide for separate jury trials in the future.
"*" indicates required fields